Among other on-demand startups, the online food ordering and delivery market are gaining excellent momentum for some years and it is expected that this will persist for more years. Demand for online food ordering is cited as one reason for this, but the most important of all is the ease to launch and run this food delivery startup. Seeing this, many entrepreneurs are getting ready to enter this market.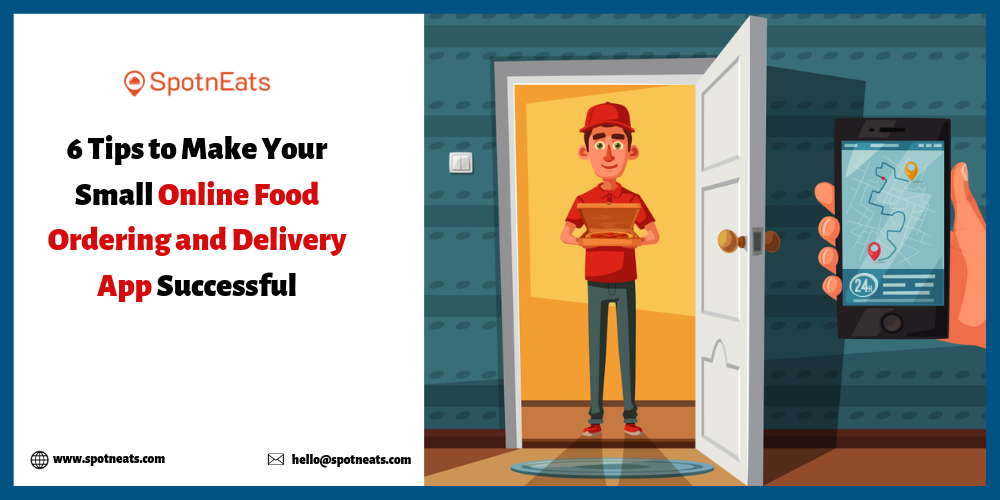 Little do they know that this market also has its set of challenges. Sometimes, they launch this on-demand food delivery startup without even following some fundamental conditions that will severely damage their credibility. So, here I have explained some six essential things you should apply to your app.
What Makes your On-Demand Food Ordering and Delivery App Successful?

Simple Registration Process and Sophisticated User Account

User interface should be simple without any issues for the customer. A customer normally registers with all the details to create an account in the app. The registration process must not involve a lot of editing and entering unnecessary information. After registering, the user will be given a username and password with which one touch login is possible.

Social media integration is a must so that users can easily log in using facebook, google, and twitter accounts. This specific feature alone will bring many customers to your app.

Also, in the user accounts page, it is better to display the past orders, most ordered foods, favorite foods, restaurants, and many more. This can be easily done using data analytics. This type of features just needs a tweak in the app solution. Such user interface must present in the restaurant panel, delivery agent app apart from the user app.

Database Creation

A quality food ordering app should have as many features that are possible and obviously, it must be relevant. So, the app should have the necessary database to hold all the features. Apart from it, millions of users will register their details and password. This data must be safely kept and a wide and strong database should be maintained.

Customer Segregation

If you are starting small, then it is better to focus on specific users. These specific users can be identified based on any factors like age, gender, region, ethnicity, income, etc. This process is called customer segmentation. In simple words, customer segmentation is the process of dividing users to focus more.

By doing this, you not only streamline marketing expenses but also easily create a niche product and branding for yourself in the market which can help you to expand to new verticals.
Get your Free Demo: Whatsapp | Skype

Integrated Payment System

Some years back, online payment was considered unsafe and true to this notion many extortion cases were reported. But it is not the case now and the payments system has evolved a lot better and now the latest addition to a safe, secure, and quick payment method is the integrated payment system.

In your food delivery app also you must have this payment system. Whatever is the type of payment, the integrated payment system seamlessly checks, approves, and connects directly with the bank account. Right from the start to finish, everything is automated.

App Performance

Have you ever experienced the situation when you are fretted with loading in a mobile app? This single factor has seriously damaged many e-commerce and on-demand apps. Even a five second wait can test the user's patience.

So, be sure of the technology stack you use for the app. For example, a hybrid mobile app is flexible and a single code can be used for all platforms and devices. On the other hand, native apps are personalized for specific platforms and devices.

The technology stack must be chosen carefully based on scalability, target platform, expected performance, and complexity of the solution.

Building the App

Finally, the way you build the app decides the fate of all the things I have mentioned till now. Generally, when you develop the app solution from scratch you may miss out a lot of important features and overlook some areas. The cost and time it takes for development are also drastically high.

So, I strongly recommend you to go for ready made app solution. You can get this from experienced solution vendors. When you buy it and customize the solution, there is ample time to pick a niche and unique features to add in the app.

Right from the user interface to app performance, you can revise the solution any no. of time with the help of solution vendor to make it perfect without any issues.

If you want a solution from an experienced vendor, I would like you to take a look at SpotnEats. SpotnEats is one of the online food delivery app solution providers which differentiates itself from others on code quality, futuristic design, experienced testers, seamless deployment, free after sale maintenance, and timely updates.

Get your Free Demo: Whatsapp | Skype
If you are yet to start, then I would ask you to partner with us for a complete food delivery app. Still not satisfied and having many doubts and queries regarding SpotnEats? Just drop a message to [email protected]. We will try to give the best possible answer.