Some years back at a time when Foodpanda like online food ordering startups have just entered the market, a person in the food industry told that the food app is a fad and it will not sustain for long and will fizzle out soon. Contrary to what he said, the food ordering app market is making waves in the on-demand market. A lot of small and regional food delivery startup have mushroomed and doing brisk business.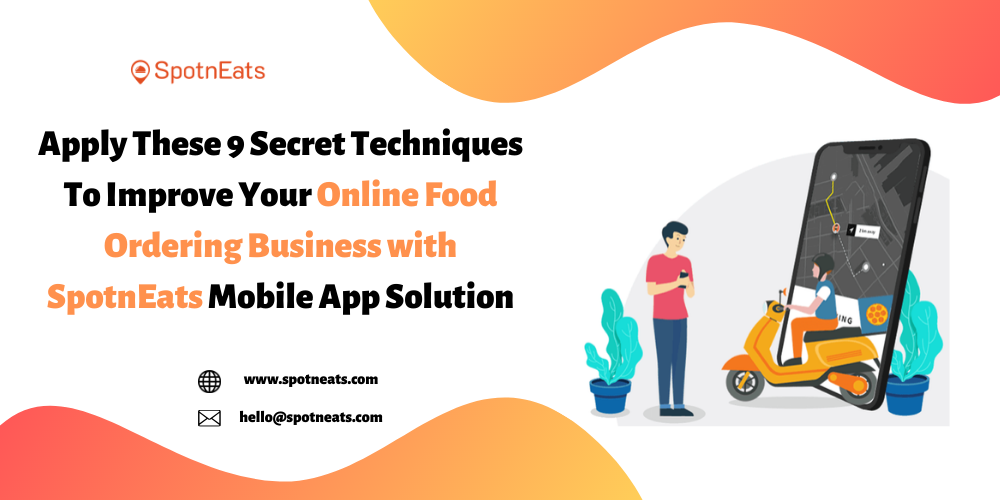 So if you are looking to enter this field, then I would say that it will be the best decision made. By 2022, the food delivery business will reach a market value of $100 billion.

But, what you will see in this blog is a word of caution for people like you. This I say because many online food delivery businesses are going out of the market without any trace due to some reasons that can be rectified.

Here I have explained some 9 techniques to improve your food delivery startup with an On-demand food ordering app. These techniques are best applied with your food app solution you would employ. SpotnEats is a food app solution crafted specially for entrepreneurs like you. I hope you would get SpotnEats and incorporate these techniques in it. Now let us go to the point.

Well Designed App for Menu and Tracking

A typical user opens the app, browses the restaurant, picks some menu, and orders it after paying. This entire process should be made smooth with easy to navigate menu, simple filters during search, one touch payment mode, and intuitive tracking.

All these are available in customer food app of SpotnEats. We are clear about how precise and clear the customer app should be. This also applies to other interfaces.
Proper Tracking by the Driver, Customer and the Restaurant

Even though the location address given by the user is not clear, the app should recognize the exact location in the GPS enabled Map. Top notch map can do this. We at SpotnEats have Google Map API to give immersive tracking experience.

The restaurant panel also has Google Map enabled to track the delivery person after the order is assigned.
Email Marketing

Now we will move away from the technical part. Among many marketing techniques, email marketing has time and again proved to be more effective. Not to mention that email marketing has a return of investment four times more than other methods.

The admin panel of the solution has the provision to do mass email marketing. A proper targeted email with a right to the point Call to Action is more than enough.

For finding the niche and targeted audience you can use the CRM tool in the admin dashboard.

Paid Advertisement by Restaurant

You can allow the restaurants to run their ads in the customer app by charging a specific rate. Uber and Zomato do this. This technique not only improves the reach but also generates an additional revenue from the restaurant.

How Should be the Restaurant Web Panel/App?

The restaurant web app closely resembles the admin panel in terms of the functionalities it has. Incoming orders must be clearly displayed along with the OTP, name of the assigned delivery agent, and order completion time.

Number of order items must be displayed clearly to avoid missing items. After each order completion, the restaurant admin can view the credit points, order amount credited after commission in the transaction history option.

SpotnEats restaurant web app is a replica of the Foodpanda app and it contains all the above said functionalities. Other functions apart from online orders like Inventory Management, Payroll, Menu Management,etc are added on SpotnEats on request.

Proper Client Communication

Both the restaurant admin and the delivery agent should have the option to chat with the admin in case of any grievances. This option should be at the top right corner of the app or in an easily accessible place. The delivery agent and the restaurant can select a particular order during chat to give specific complaints/feedbacks.
How Should be the Delivery Agent App?

Must have feature in this app is the ability to be active and passive anytime. This attracts more delivery agents to partner with your food delivery business. Delivery fee after each order should be quickly reflected in the delivery agent's account and it should be viewed from this app.

Our SpotnEats delivery app has Easy Registration, Delivery Address Tracking and Order History Viewing and many more.

Doing a Research in your Area of Operation

Before purchasing the app or customizing it, do undertake a research in the market to find the type of eateries present, most liked food taste, business model of existing food delivery app startups, strategies used by them, marketing techniques that attract more users, etc.

Furnish these details to your food delivery app developing firm to make the app customization easier and make apt final product.

How to Find the Right Food App Solution Maker?

Most easy step to find is to look for their track record and get the testimony of existing clients. Also, look for their method of app development, coding standards followed and latest technologies adopted.

Integrated payment option is necessary to cover more users and very few app firms have payment system like Braintree, Stripe, etc in their app. Also, look which firms offer stellar post sales assistance, complete source code with constant updates.

I hope these steps are more than enough to find a better app solution. Getting a right app maker is also a part of moving your food app startup towards success.

Get your Free Demo: Whatsapp | Skype
Final wordings!

By going by the last point, I strongly feel that SpotnEats app rightly fits into it. Our USP is the app customization process which is flexible enough to accommodate whatever you ask for.

Join with us for your project and let us have a brainstorming session to discuss the specification of the app solution.
Still want to know more about SpotnEats? Grab your phone and EMAIL US to [email protected]. Our executives will contact you swiftly and also get a live demo.