Want to earn money in a smart way without any physical work? Are you ready to become the owner of the on-demand food delivery app and earn billions? This blog will be most useful for the person who is willing to become a young entrepreneur to taste success without sweat.
The food and delivery system is not a new thing, it's been around for a long time. But due to technological evolution, on-demand food delivery apps have become popular nowadays. People used to enjoy their favorite food by ordering through these apps. The most reviewed and analyzed on-demand food delivery app developing system is SpotnEats. Therefore it's key for you to start your own online food delivery system with SpotnEats. Do you need to know why? Then keep reading this blog to know more about your food delivery app and why SpotnEats should be your first choice. 
In Germany, the on-demand food delivery systems are used by 28.9% of users at the age of 24-34 that shows most users are upcoming generations. The Integration of the restaurants with the online food delivery systems growing day by day. So it's a boom for your upcoming on-demand food delivery business. Before diving into it, you should know about the possible source of income.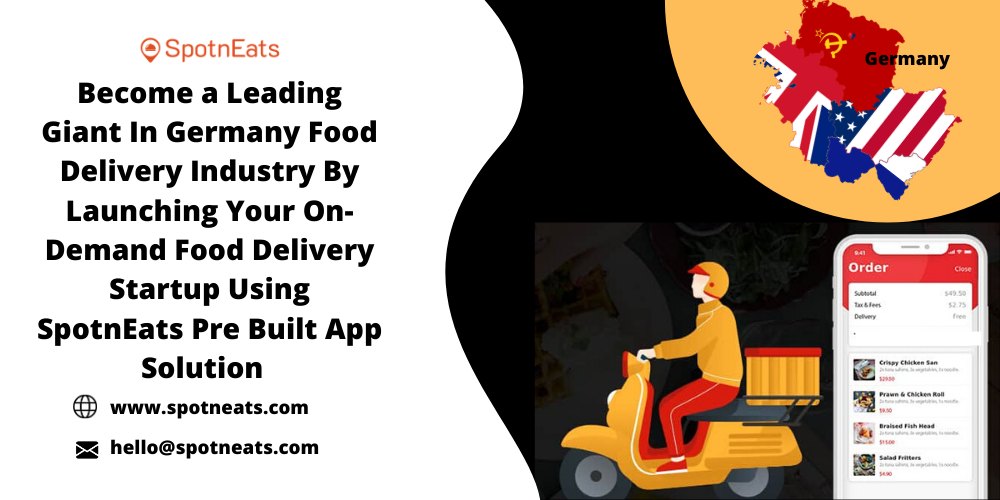 What are the Possible Source of Incomes for your Online Food Delivery App Startup?
There are many possible ways to earn your income through your app, not just by the commission for each delivery. Since the marginal cost of the foods is concern, you can earn through advertising. By the way, the delivery cost should not make food prices go high. Here are some ways you can gain extra-income.
Online Advertising – you can earn money through ads of the other websites in your app.
Offline Advertising – by wrapping your orders with your app logo. There is a saying "people's first choice will be what they are seeing mostly". So that you can wrap your orders through it and link it with more restaurants.
Tactic partnership – You can also invite a small restaurant or a kitchen to join their hands with your app and earn extra amounts as a commission.
So, these are some of the ways you can boost your income from your app. You can also boost your commission more like this similar idea.
How SpotnEats will be guiding you to launch your food delivery app?
We, SpotnEats not only give an application according to your requirements. Our team also deals with the real-time issues and updates accordingly to ensure the success of your business. The correct value proposition based guidance by the experienced business analysts for your business model helps to increase the sales and weightage of your food delivery app. We have already built the food delivery app with flexibility. If any changes are needed, it can be done. Let me tell you the overview of your food delivery app. We have a team of experts and we keep ourselves updated with the latest technologies to give a unique app.
The four different business models for on-demand online food delivery system
order only – This business model acts like the delivery system is also handled to the restaurant itself. Your work is to take the customer's order and pass it to the respective restaurants.
order and delivery – In this business model, anybody can be a driver by just registering their details like Zomato. You have to pay the drivers according to the distance.
cloud restaurant – It's the best way to earn more money where you can sit in your home and check the progress. Once the customers order their food, the kitchen will accept, take away order solely and the driver will receive it. Then, the food is delivered to the respective persons.
Meal kit – this is a rarely used model but you can earn more. Customers can get plans like the family plan, veg plan, non-veg plan and N no of recipes. It will be done and delivered according to the customer's suggestion. Top companies like HelloFresh and Sunbasket follow this model.
Like other food delivery apps, your app also has four interfaces: Customer's app (iOS and Android), Delivery agent's app (iOS and Android), Restaurant app (iOS and Android), and Admin web panel) with the best UX/UI design. The working process is also similar to other top food delivery apps. Once your customers fill the required details, they can order foods according to their needs. Once the order is placed, it will notify the restaurant and the delivery boy near that restaurant.
Who can buy this app? Is this app suitable for the restaurant?
As I mentioned before, this app is flexible and 100% customizable. Two types of people can buy this app. A person who thinks of linking to other restaurants and earning commission or else a person who thinks of taking his traditional hotel to digital. We will make the changes according to your needs. So the web panel will also be modified as per your request.
Get your Free Demo: Whatsapp | Skype
Final say
The online food delivery startups are gradually increasing in Germany and the UK. It's a good opportunity to feed hungry people who are working tirelessly in the office. Building your own app for the food delivery system is the best idea for good startups. For more queries, you can contact our business analyst to make your doubts clear.
We are looking forward to working with young entrepreneurs like you. We will be guiding in all 360degrees.