Running an online food ordering and delivery startup is not easy at present because of the competitive market. Creativity and innovation are required to stay ahead of the competition and remain in the market. We have a lot of impressive technologies at our disposal and it will not be a difficult task to bring it in your food delivery startup.

The innovations you bring into your startup must affect the users positively and make you sustainable.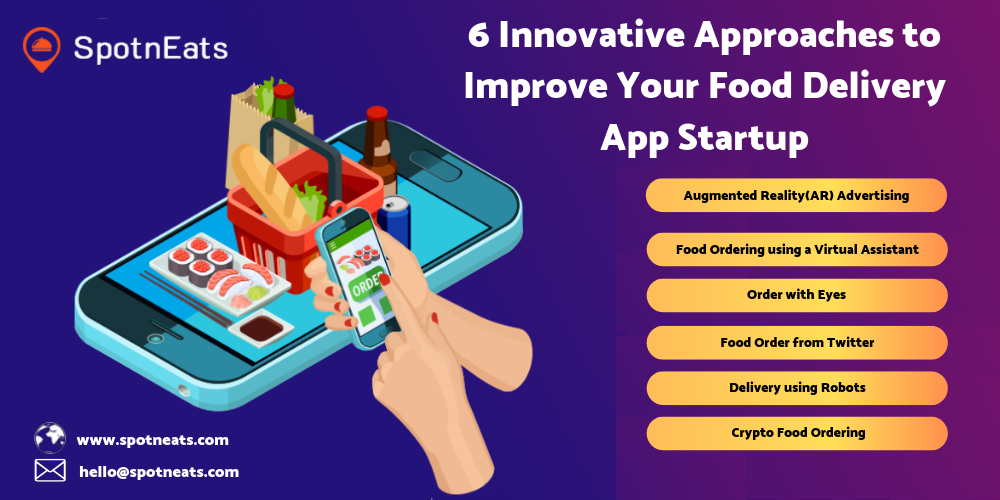 In this blog, I have presented 7 cutting edge innovative approaches to improve your startup. Let us see one by one.
What are the Innovative Approaches in Food Delivery App Startup?
Food Ordering Using a Virtual Assistant

There is Apple Siri and Google assistant for iOS and Android respectively. These are virtual assistants programmed to listen and respond to their users. Even without touching the phone, the users can do a lot of functions using these assistants. This feature is present in all smartphones.

Why don't we use this feature for ordering food online? The food delivery app can be made to support the inputs from virtual assistants seamlessly.

Already this innovative feature is available in dominos and other top food apps. There are also other AI-powered assistants like Amazon's Alexa, which can also be used to order food by connecting it with the app.

Order With Eyes

This advanced feature is still in the development stage, yet it is an interesting feature. Eye tracking technology is the basis for this feature. Just by seeing on the menu a user can order food in the app.

The smartphone user must have this technology in it. When the food app is opened, the eye tracking sensor goes 'on'. It tracks the user's eye movement to select the order from the menu.
Food Order From Twitter

If a customer is using twitter and the location of his address is already in sync with it, then ordering food is made so easy. Just by sending a tweet to your food delivery startup page, food can be ordered.

Dominos is the first one to make this feature a reality. To make an order on dominos from twitter, a user has to send a tweet with a pizza emoji made unique for the dominos. This feature doesn't need any major change in the app design.

Ordering food like this can also help you in marketing. People also would come forward to use this feature.

Delivery Using Robots

Autonomous robots, for instance, can be used to deliver multiple food orders. In peak hours, food delivery agents will not be available and this affects the food ordering. Here, autonomous robots can be used to deliver orders.

The function is simple. The robots navigate using cameras and GPS. Once it reached the customer, a code is entered for delivery confirmation. One major drawback with this technology is that the cost of maintaining is expensive and new startups cannot try this.

Crypto Food Ordering

Crypto payment is the new normal in some food delivery startups. Although cryptocurrency is still not regulated in major markets, the scope for it is bright. For example, Pizzaforcoins is an online pizza delivery app which accepts cryptocurrencies and it accepts over 50 different cryptocurrencies.

The major advantage of using cryptocurrency payment is to eliminate fraudulent activities. Also, different users use different payment modes and crypto payment can be one of them.

Augmented Reality (AR) Advertising

Are you starting your business small and want to spend less but gain more in marketing? Then, augmented reality advertising is the right one to choose. AR advertising is usually done in mobile which uses the mobile camera to superimpose 3d images on the screen. For example, you can show a 3d image of food floating on the screen which can be put into the mouth. AR ads are immersive and establish an emotional connection with the user. The customers will find it interactive and joyous.

Wrapping Up!

Adoption of innovative and advanced stuff in your food startup not only keeps you ahead but also makes it cheaper, efficient, and effective to run the business. And, follow a new approach only if it can enhance the user experience and user interface. Some innovative functions like ordering from twitter and AR ads drastically improves user experience and immediate implementation is also possible.

Even if you are yet to start a food delivery startup but having an idea to start can know the type of possible innovations that can be applied. Also, applying the latest tech advances to the startup is only possible if the app solution is able to accommodate.

So for yet to launch startups, I suggest you SpotnEats food delivery app solution. This app is flexible and can be modified anytime to incorporate any new features.

For more details, please send an email to hello@spotneats.com. Our business team is ready to answer all the doubts.
Build Your UberEats Like Food Delivery App Startup with SpotnEats: