In rural and semi-urban areas, there is a huge problem in getting medicines. The pharmacies that are present in these areas have stocks only for medicines that treat cough, cold, fever, etc. What about medicines for BP, heart problem, respiratory problem, etc. What if they need medicines for an emergency? This predicament cannot be left unsolved in the present scenario where a huge amount of money is spent on healthcare mainly in developing countries.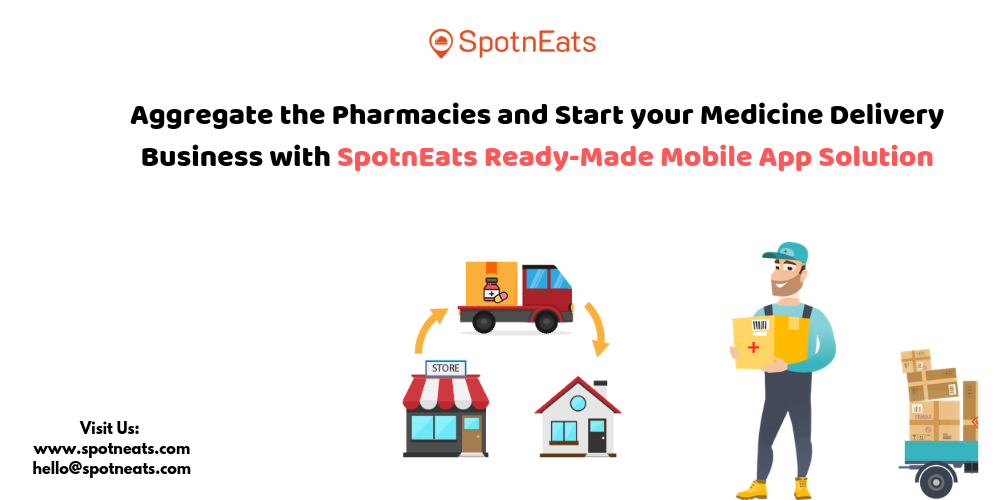 Another problem is that people have to travel long distances to get medicines.

This problem must be solved easily in this age of networking where everything can be done on apps. Nowadays there is an app for everything. Starting from morning till we go to bed at night, we use apps to achieve many of our work. But still, there are only a few firms to order medicine online.

Yes, I am saying about the on-demand model based medicine delivery services. With today's advances in logistics and supply chain, medicines can be delivered even to the remotest places.

For entrepreneurs who want to make a mark in on-demand business with less investment, this medicine delivery startup app will be the right choice. This kind of business will definitely get the support of the government. Let me explain to you about this app business working.

The users have to download the app and register the name, address, basic health details, and some other personal details. After that, the user has to upload the prescription from the certified doctors. The prescription is verified and the required medicines are added to cart. Finally, the user checks the cart and places the order. With an integrated payment system, the user can pay in both digital and COD mode.

Above I said that the user has to upload the prescription to order medicines. This is not necessary for all cases. Some medicines cannot be used without doctor's advice, so to buy such medicines the user has to upload the prescription.

If you are taking this business, all kinds of medicines like allopathy, homeopathy, etc can be made available.

You may worry about the restrictions placed by the government in this industry. At present many country governments are relaxing the restrictions in this business.
According to a recent study as published by the Mobile Health Market Reports, the figures of health mobile apps will increase up to 3.9 million and out of this, a major portion will be dominated by the pharmacy, drugs, and medicine ordering apps.

Those who are running this business can also have a tie-up with local pharmacies. If the ordered medicine is available with them, they can deliver the medicine immediately.
Get your Free Demo: Whatsapp | Skype

Customized Uber Home Delivery Medicine Mobile App Solution from SpotnEats

SpotnEats is an Ubereats app clone script which is focused on on-demand based industries like food delivery, medicine delivery, grocery delivery, to name a few. SpotnEats medicine delivery app is loaded with features never seen in other apps.

Our On-demand Pharmacy Delivery App Solution Consists of:

The customer app
The delivery person app
The admin web panel
The pharmacy panel
Each of the above apps has its own set of features. Below I have mentioned some of the important & advanced features in this Uber pharmacy delivery app.

Multi-language: No longer user have to worry about the language. They can access using different languages.

No longer user have to worry about the language. They can access using different languages.

Document upload: The user can easily upload the prescription document with just one click. The uploaded prescription gets verified immediately and the orders will be placed instantly.

Track nearby registered stores: Spot the store from which you will get the medicines easily.

Collect from a hub: The customer can collect the medicine from the nearest hub and can avoid delivery charges.

Refined search: Using this feature, the user can apply filters and search for medicines. They can also search by specifying the body part which is under pain.

Expert advice: Users can contact the doctor online for any advice on health and dosage. Some medicines should not be taken without a doctor's advice. Under such situations, the user can consult the doctor.

Simple and rich UI/UX design: The user interface is simple to use and gives a rich look. Even a layman can use the app without any confusion.

Apart from the above, there are many more unique features. To know more about the function of this app, please find it from some of the existing medicine delivery companies like 1mg and Practo.

This business will benefit you for a long time since improving the quality of healthcare and access to good medicine will be of utmost priority. All you need to do is put a small investment and select the right app development firm. In app development, SpotnEats will definitely help you and also provide technical support. To make the app usage hassle free and easy, SpotnEats used latest technologies like Firebase, nodeJS, Laravel, Golang, etc. We already have a readymade app for this business and with a little tweak and customization, the app will be completely suited to your business.

To know more details about the app and the business, drop us a message at [email protected] or Please connect with our expert team.
Get your Free Demo: Whatsapp | Skype