Lot has been said about creating an online food ordering solution for restaurants and how to bring them on par with other international platforms. Now it is time for individual entrepreneurs who are not in any restaurant business to set their foot in the famous on-demand food ordering and delivery market.

In this blog, I will explain in detail how you can launch an online restaurant marketplace platform and earn big.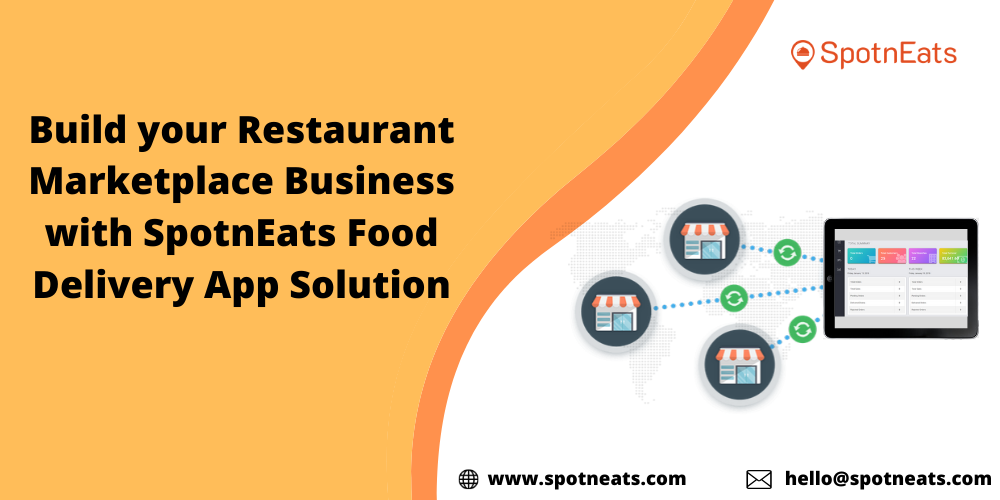 What is Online Food Ordering Marketplace?

Examples of online food ordering marketplace are Ubereats, Doordash, Deliveroo and many more. These are technology apps that just connect the customers with the restaurants. This model is similar to that of a restaurant having a dedicated delivery system. One change is that the app is hosted by a technology startup that gets a commission for advertising, delivery charge, and order commission.

You can also start such an online food ordering marketplace in your region and earn like the top startups. Ubereats at present operates in 700+ cities with more than a lakh restaurants. Its revenue is set to touch $2 billion in 2020. Analytics firms worldwide have forecasted that the online marketplace platform will have a growth rate of 14% and reach a gross revenue of $82 billion in 2020.

Want to be a part of this sector? Then don't look elsewhere, head to SpotnEats to get a multi-purpose online marketplace platform with us.

What Do you Get from SpotnEats?

Multi-store platform

Using our SpotnEats platform you can allow your restaurant clients to manage multiple restaurants in a single dashboard screen. It makes easy for them to manage menus, inventory, payroll, online orders, assign delivery persons, etc. Your merchants can also add restaurants easily and management them parallelly.

Order management

The order management system in our SpotnEats app streamlines the processing of the orders between the restaurant, delivery person, and the customer. Such a robust order management system can go a long way in making the whole food delivery process highly efficient.

Statistical report generation

Your merchant and admin can track the performance of the site by seeing the orders made, favorite menu, sign-ups, traffic, no. of clicks, etc All this you can do in the dashboard of our app solution with ease. The report generation tool is made so easy to operate that you need not be a pro.

For you, a comprehensive business report on commission, delivery charge, traffic, usage rate, peak hours, can be viewed in real-time in the admin web dashboard.

Social media integration

It is a fact that many users don't use apps just because of the registration process. To rectify this problem we have kept multiple social media logins for users. No one can deny the presence of social media. So we have presented you the opportunity to harness the popularity of social media. Regional level social media login is also possible based on request.

Coupon, discount, and referrals management system

Ubereats and other food ordering marketplace allow discounts and referrals to increase the user base. So like all other food app software, you will get a referral and discount management system. How we differ from others is that our software allows both the restaurant admin and online marketplace admin to set and manage discounts, coupons, and referrals.

Get your Free Demo Food Delivery app: Whatsapp | Skype
What Makes SpotnEats Different from Other Online Restaurant Marketplace Software Makers?

Intuitive and lively front-end

The look and feel of the web and mobile app is equally important as design. Our team at SpotnEats has made an attempt to design the front-end with scintillating themes and colors. The menus and options are foolproof with optimal designs. I hope this itself is more than enough to achieve a high user acquisition rate.

Well organized admin dashboard

The admin dashboard gives information based on weekly, daily, monthly, and quarterly results. This helps you to understand the business better and assess your position. Advertisement earnings and ad management tools are also present in our SpotnEats admin dashboard.
Desired payment system

Our integrated payment system is similar to that of other online restaurant marketplace solutions. But we have a unique aggregated merchant account for the restaurant. It enables them to manage all their transactions under a single screen. Any queries regarding the payment and commission per order can be raised in the merchant account itself.

We can also add another payment system present in your region of operation into the app solution to attract local users.

Wrapping up!

I hope you have a good idea about the online restaurant marketplace platform. SpotnEats online restaurant marketplace solution can also be used as a dedicated online food ordering system for restaurants.

You must have multiple queries and doubts regarding our SpotnEats solution because the features and functionalities I mentioned above is just the tip of the iceberg, there is more you need to see. So quickly connect us on [email protected] to get a call from our business executive.

Get your Free Demo Food Delivery app: Whatsapp | Skype
It is time for other Ubereats like the restaurant marketplace. Let us create such a solution and launch it anywhere. SpotnEats is available on both iOS and Android.