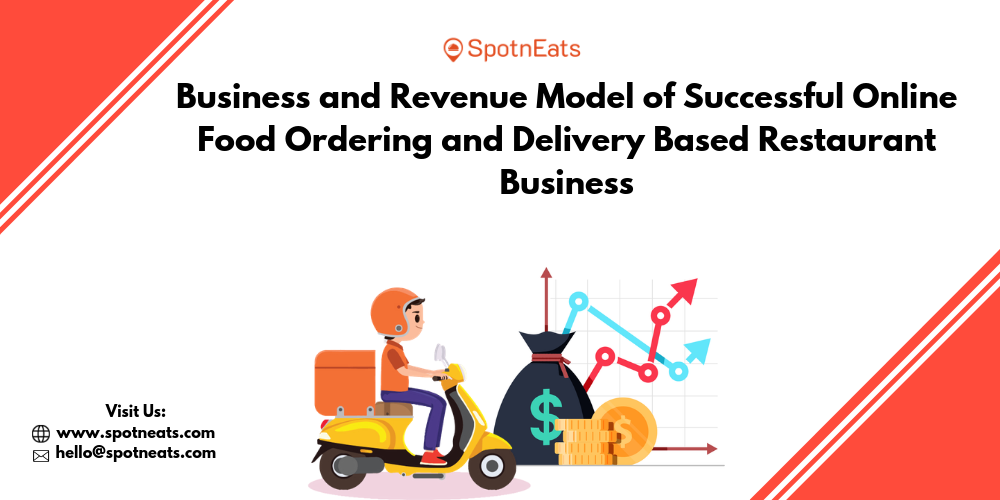 Among other on-demand businesses like cab booking, healthcare, etc, food ordering and delivery business require less investment. The ownership involved in this business is less and hence the risk is also low. This can be an exciting business for those who have an entrepreneurial finesse and want to start a business in their hometown. Even, on-demand business like taxi booking is at risk of getting affected by blockchain technology. This is not the case with online food delivery.

The online food delivery market is estimated to have a CAGR of 10% between 2018-2025. 60% percent of the US population order food at least once a week. App-based food ordering will be a $35 billion industry by 2020. Restaurants which didn't adapt to online food ordering model may lose around 60% of their business in 2020.

By seeing the stats you can conclude that there is no stopping the growth of the food delivery business. So, you can confidently step into this business. For every business, you should have a business plan before stepping into it. On-demand food delivery business is no different. The business plan differs from region to region so does the revenue model.


Business Plan for On-demand Food Delivery Business
The app-based food delivery business consists of a mobile app for the customer and the delivery agent and a web panel for the admin and the restaurant. Nowadays, you can see restaurants, cafes, and eateries everywhere. Using a food delivery app you can easily make the people order in these restaurants from the comfort of their home.

Market research is important in this business. If you are going to start in your locality then, gather information on whether people in your area can adapt to online food ordering. Also, see whether the restaurants can switch over to a suitable framework. If there are any competitors then, analyze their working and operational strategy.

After doing all these, move for app development. SpotnEats is a leading maker of apps related to the on-demand industry. SpotnEats can make all the above-said apps and provide technical assistance until deployment. Be clear about getting on-board the restaurant. Make sure you take a calculated risk because this is a highly competitive market.

Pricing of the service is very important, which should be decided to keep in mind your firm's capital, estimated ROI & CAGR, unit economics, and living standard of local people. Since it is a less ownership business, you should not employ delivery boys in your firm instead you should allow them to work as a partner. Allocate money for fuel allowance and components for the delivery person.

The final act is the business plan is marketing. In the pricing of the products and services, I said about unit economics. Unit economics is the revenue and cost associated with a product/service on a per-unit basis. To fastly cover the unit economics, you have to make the customer use the service again and again. To woo the customers you have to perfectly plan the marketing. Top food delivery firms sell their service by promising to save time and effort. More than the convenience of saving time and effort, they make each and every process convenient in the backend for food delivery application.

The process you have to make convenient are.

Decision process:
Make it easy to choose the menu. Provide review and ratings for each restaurant. UI/UX design plays an important role here. SpotnEats app has an outstanding design.

Payment convenience:
Have provisions for hassle-free payment.

Access convenience:
From registering the name and address to food ordering and payment, everything should take less than 10 mins.
Revenue Model
The revenue model differs from region to region just like the business plan. Before divulging into the revenue model, let me tell you the different operating business models. Each model has different revenue generation. Select any one of them that suits your locality.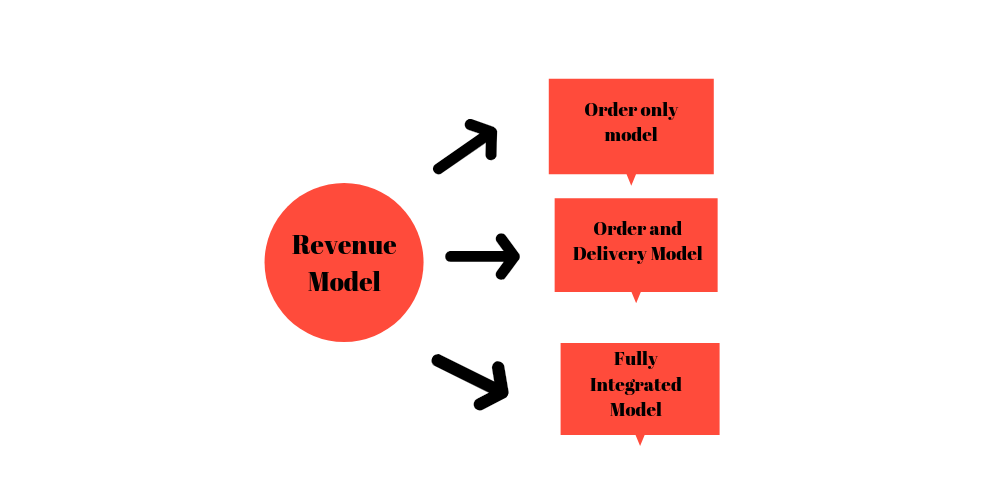 Order Only Model

By this mode, you just act as a food ordering medium. The work of you is to increase the food order rate of restaurants using the app. Delivery is done solely by the restaurants concerned. The restaurants pay you for every order they get through your app.

Order and Delivery Model

This is the most sought after model. Here, along with the provision to order food in your app, food delivery is also done by you. Once the user orders food, it is immediately sent to a particular restaurant. After some time you assign a food delivery agent to pick up the food and deliver it to the user. Apart from the commission from the restaurant, you also get a delivery fee for each order.

The Fully Integrated Model

In this model, you have to prepare food and deliver it to the customer. In simple words, everything from the app, food preparing, to delivery is managed by you. This model is highly cashed intensive. This model violates the idea of less ownership.

Consumer to Consumer (C2C)

As the name suggests, a consumer gets service from another consumer. A platform like an app is created so that cooks, chefs, individuals who have cooking skills, homemade food makers, can list their name on the app. Like any other on-demand food delivery, customers can order food online from the listed people.

And the process is similar to that of a normal online food delivery company. This model gives a chance for individuals to earn extra money. Also, the service is affordable and quality is high. Very few people are in this business. You just have to design an app and get on-board all the interested parties.

My final say is that you have to wisely choose the operating model keeping in mind your business plan, pricing, estimated revenue, etc. In terms of technical things like app development, as already mentioned SpotnEats can help you in development.

SpotnEats have used latest technologies like node JS, Golang, MongoDB, Firebase, and much other design software to give an app with seamless access, outstanding UI/UX, hassle-free payment system, just to name a few.

If you want to know more about the development process and queries regarding the features, feel free to drop a message to [email protected]. or Please connect with our expert team at Whatsapp .

Launch your Own Food Delivery Business Now with SpotnEats: