Running an online food ordering and delivery startups are not short of any challenges. The challenges range from providing quality food to expanding the business operation. If you are already in this business or going to start an online food ordering and delivery software then, knowing these six challenges will be helpful to you. Let us see the challenges one by one.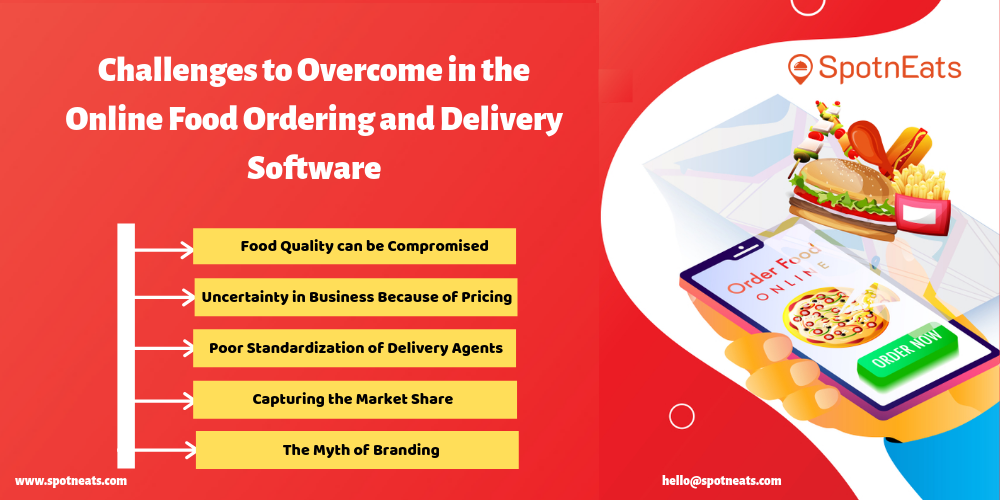 Food Quality can be Compromised

When using a food ordering software, a user gets the food without making any contact with the restaurant and this can be a reason for the restaurant to provide substandard food. You have to keep in mind that only the reputation of food delivery software gets affected because of delivering substandard food.

The online food delivery app can use the latest technologies to prevent this problem. For example, blockchain technology uses the decentralized ledger in which the restaurant can update the quality and the process used in preparing the food in real-time. This can be accessed by the app admin and verify its standard. The quality of the food is not only in preparing but also in the way it is presented to the customer.

People who run online food ordering and delivery business can use tech advancements to mitigate these shortcomings.
Get your Free Demo: Whatsapp | Skype

Uncertainty in Business Because of the Pricing

Even though the no. of startups in the food delivery market is less, the race to capture the market share is hurting everyone in this market. This is because of the price war.

The pricing offered by the food delivery startups should have little difference and any drastic change in the price will affect both. In simple words, the present scenario for food delivery startups is not sustainable.

This can be eliminated by having a standard pricing and delivery fee which will be a win-win situation for everyone in the market.
Poor Standardization of Delivery Agents

Online food ordering software cannot work without the delivery agents. But the delivery agents are entitled to certain benefits of conventional employees. The targets and incentives are so poorly structured that it discourages many people to take up the job of delivery agents.

Food delivery firms can provide attractive payments, incentives, and bonuses to gravitate more people to this job and retain them. Following local labor laws for the delivery agents will also be beneficial to both the delivery agents and the startup.

Capturing the Market Share

This is a tedious process for a food delivery startup. For this, following the Walmart model will be helpful.

Walmart is a retail giant working globally and predominantly in the US. When they started they boldly entered into the relatively untouched and unexplored markets like villages and small towns. By the time they entered big cities, they were already a big company.

Similar to this, to expand the food delivery startup quickly and increase the customer base, you have to venture into the unexplored and often ignored markets. This task will be a huge challenge at first.

The Myth of Branding

Many entrepreneurs and business people think that branding is about having a catchy startup name and an impressive logo. Branding is not only about this. If you run an online food delivery software, you should tell people exactly what you offer and what your core service is. There are food ordering startups that offer only lunch and dinner and some startups offer only breakfast and lunch.

The best way to tell the people about your offering is to show them even before they are searching for it. Sending pop-ups at a specific time will do that. For example, send pop-ups on offers in breakfasts to potential users in the morning. Here keywords matter the most. This is the real branding.
Corporate and Family Bookings

Most online food ordering software has menus aimed at individuals and small family members. Till now, there is no provision for bulk orders for corporates and large families. It is simply because of the fact that the delivery agents cannot handle large orders. This can be an impediment to startup growth.

For this, you can employ delivery agents with vehicles like cars so that they can handle large orders. Delivery fee and incentives should also be high to retain such delivery agents.

Now you may have realized that most of these challenges are not new to you. If you are a person who is yet to start an online food delivery startup then, I recommend you to use SpotnEats food delivery app. Our Solution helps to lessen the challenges in your food delivery startup. For example, SpotnEats is a white label solution which allows keeping a catchy logo and name which aids in branding.

Get your Free Demo: Whatsapp | Skype
To know more about SpotnEats, please drop a message to [email protected]. You can also request a live demo of our solution and experience the app working in real-time.