Entrepreneurs and tech enthusiasts have a reason to be happy now. A leading Ubereats like food delivery app solution is available at a 50% discount. This is a short period offer. So, quickly grab this opportunity with your both hands to launch a niche online food ordering and delivery business.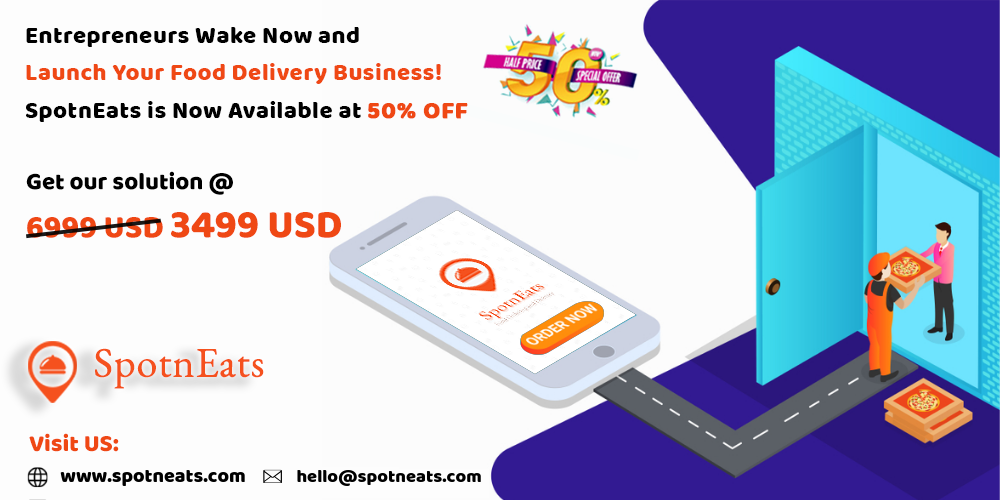 SpotnEats is one among the top pre-built Ubereats clone script provider with patrons spread over 15 countries. SpotnEats solution is for startup geeks who want to enter the exciting food delivery marke

SpotnEats is a flagship product of Uplogic technologies who have proved their mettle in providing one stop solution for on-demand services, mobile apps, web apps, and many more. Their journey to develop SpotnEats started when they sensed a big demand for an app solution similar to Ubereats and Foodpanda. That is when they decided to make an affordable and completely customizable solution.

Ubereats and Foodpanda are the leaders in app-based food delivery. The makers of SpotnEats has kept Ubereats and Foodpanda as a benchmark during the development of SpotnEats. SpotnEats comprises of a customer app, delivery partner app, restaurant panel, and admin panel. All these apps and web panels are finely crafted by experienced and competent developers. Separate teams are assigned to take care of UI/UX, testing, deployment, and post-sales assistance.

SpotnEats is targeted at small and enthusiastic entrepreneurs who want to create an indelible mark in the highly competitive food delivery market with a budgeted cost. To encourage them, SpotnEats is now available at a 50% discount.

"SpotnEats is now priced at 3499 USD, down from 6999 USD after 50% off"

"I have personally come across many people who have dropped the idea of starting an online food delivery startup after seeing the cost of app development from scratch. For people like them, SpotnEats is a boon. Our team meticulously and painstakingly developed the SpotnEats similar to top food delivery apps. I made sure that we leave no stones unturned to honor the commitment to our clients. Even persons from non-technical background can handle our solution easily." – CEO, Uplogic technologies.

For more information visit www.spotneats.com.
Why Choose SpotnEats Over Another Solution?

As said earlier SpotnEats is on par with the top food delivery apps and we have added some unique features which place SpotnEats at the top of other clone scripts. 100% customization is possible and the users can alter the solution to whatever shape he wants.

The solution is designed to accept multi-currencies, multi-language, and multi-platforms like iOS and Android. Scalability can never be an issue since SpotnEats can simultaneously handle unlimited order requests and restaurants.

The apps and web panels are made with dazzling UI/UX designs that drift many customers to the app.

Customer App

Multiple restaurants with subcategories having different cuisines and at varied rates.
Delivery partner tracking from order to delivery.
Hassle free order booking and canceling
Delivery Partner App

Delivery fee, incentives, and bonuses directly to the bank account.
Flexible working hours with part time and full time options.
Fuel and mobile call allowances.
Easy route on the map.
Restaurant Panel

Easy menu listing and order management.
Restaurant inventory management and menu price management.
Admin Panel

AI-based delivery person assignment.
Delivery person tracking.
Offers, discounts, and cashbacks management.
Delivery fee management
To know more about SpotnEats, please refer to SpotnEats blogs. Please feel free to contact them and clear your doubts by drop a message at [email protected] or Please connect with our expert team at Whatsapp.

Hurry up!!!. This is a limited period offer and more exciting things are available. Just purchase SpotnEats solution at 50% discount for 3499 USD and join them to launch your food delivery business.
Grab this Exclusive 50% Discount Now to Build Uber Clone Food Delivery App in SpotnEats: