An increase in the use of technology creates new chances for different kinds of on-demand businesses and delivers the needed items to the users. One such business that is gaining popularity is a customized baking delivery business, where the customers are able to order their cake according to their preference.
The statistics show that nearly 61% of the people are ordering their favorite foods from an application. The bakery market industry is listed up of almost 3,000 independent bakeries that show the annual revenue of $30 million. Along with 6,000 start-up bakeries that bring additional revenue of $3 billion.
This shows that there is a high revenue gain for the new firms too. You as young entrepreneurs can take this chance to brand your own customized baking delivery service in your region. This lets the customers order their preferred flavor from your bakery. This blog is all about the online bakery business.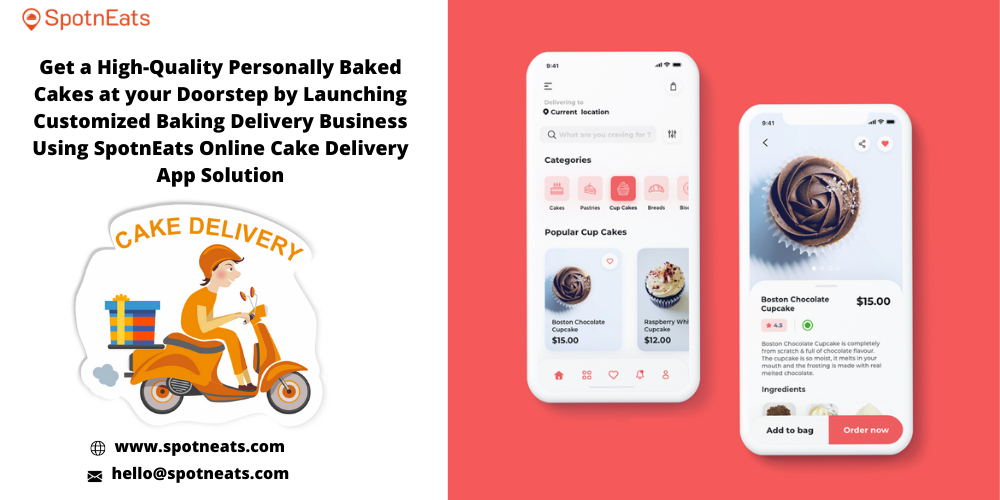 What Brings The Bakery Delivery Business Truly Fascinating With Good Revenue?
It's hard to pass through an area and fail to notice the pastry bakery shop. Baking businesses have been around us for long decades. Baked products are always found in parties, casual dining, leisure breaks, and corporate events.
With an increase in demand for bakery service, there is an immediate need for new firms by custom baking skills. It is a worthy opportunity for young entrepreneurs like you to kick start your own baking delivery business. It will bring visibility to your region and that allows you to gain more revenue within a short period of time.
The market value has been projected to reach a value of US$ 13.3 Billion by 2025. The baking business varies according to the product's types. The bakery market has been segmented in pieces of bread and rolls, cakes and pastries, rusks, and biscuits. Currently, the baking business has the largest share on the custom baking option.
The custom baking gained popularity by owing to their pleasant taste and health benefits as they are baked according to the customer's preference taste from a wide variety of grains such as rye, maize, wheat, and oats among others. It also provides both convenience and affordability to consumers.
So if you're interested in starting your own bakery delivery service, all you need is an application. An application can bring visibility in your region and let you manage your bakery business easily with just a tap. Here, let me share with you an application-based on-demand delivery system. Keep reading to know more about online bakery delivery startup
What brings the fast change on-demand delivery system
One of the key reasons to develop an application for your business is to gain customer loyalty. A smartphone app allows you as an admin to directly communicate with your customer. When comparing to the roadside banners, social media ads, and email marketing, in-app purchases, ads, and promotions have a greater impact on the customer.
Not convinced yet, here I have listed a few of the niche features that you will benefit from by acquiring an on-demand application for your custom baking delivery service.
Get your Free Demo: Whatsapp | Skype
Real-time location tracking – This feature allows the customers to stay up to date with their orders and delivery person's current location. It ensures that your customers are allowed to know their ordered cakes. The information about when their order will be accurate, whether it has reached the kitchen or dispatched.
Accurate time delivery – The success of online bakery delivery depends on a timely delivery service. This on-demand feature ensures that your bakery delivery app will enable the exact estimated time of the delivery service to win all your customers. Rather than it will also give the real-time accurate time when the delivery is delayed.
User-friendly – The on-demand application gives a User-friendly solution to help your consumers to have access to their profile data. Whether what they have been ordered and ordered. The current trend is the customer can share their order review on social media. so that others can order the bakes according to the rate and review.
Multi-currency payment options – By taking your with on-demand service it will provide multi-currency payment options and it is an add-on advantage to the customers. An inbuilt multi-payment system that makes the customer's payment process more easy and secure. This niche feature controls today's business industries.
The above mentioned are a few of the features that will let your business work flawlessly. Rather than that you just need an application that is specially designed for your custom baking delivery service. Here, one such solution is available with us readily in SpotnEats. Keep reading to know about online cake delivery app and our service.
Brand your bakery with SpotnEats customized baking delivery system
SpotnEats is a software-based application solution that has been pre-developed and readily available at an affordable price. Buying a pre-developed app will cost less than you think because you are not going to develop it by appointing a developer or a team. It doesn't mean that it will have low-level performance some might have.
But our service is not so. We have developed your custom baking delivery service application with the latest trends with the best UI/UX to attract your users easily and it allows them to come back again. Your application is developed in such a way to make it user-friendly with bugs free.
There is no need to worry about the application-based knowledge. Once you join your hands with us. Our team experts will take care of it and will let you know everything on regular updates. Rather than that our team will guide you 24*7 with 360-degree technical support on your application while re-structuring it according to your requirements.
We also provide you with before and after service which allows you to get well familiar with your application and that makes you earn more revenue. Here, let me tell you the advanced key-features in your custom baking delivery application.
Deliver a fresh customized cake with SpotnEats advanced features
Pop-up instant notification – This feature helps you to stay ahead among competitors and connective with all your targeted users. The pop-up messages help to convey all kinds of information such as discounts, offers, and location-based offers.
Categorized – The customers can use to order different types of cakes according to their interests. It will also show favorite cakes of your choice and this leads to the avoidance of frequent random search.
Customized service – Customers are also allowed to place their orders from different categories at the same time like cakes and roll at the same box or they can also modify their orders at any time by add-on flavors.
Scheduled orders – The user can also schedule their cakes for special events. So that it won't take much time, the placed order will be at your doorstep correctly. By subscription pack for a year as paid patrons will get extra offers and quick delivery.
Multi-order Tracking – They are also able to track their order in real-time with the exact calculated time of reach. In driver application, once the delivery agent picks up the customer's order he will be notified with a multi-route option for quick delivery.
Feedback system – Customers are able to review their orders and the taste of the cakes, once it reaches their doorstep. The users are also able to review and rate the delivery agent's person's profile.
The above mentioned are the features that are readily available with your application. If you need any additional or unique features it can be added according to your online cake delivery business requirements. There are still more features available to us.
Bottom line
Customized baking delivery service to a reliable and professional on-demand service with experience in the delivery of baked cakes and enhance your customer's experience with SpotnEats customized baking delivery system. Still, why are you waiting? Contact us today at [email protected] or by filling the below form and we will reach you soon.