Are you looking for different solutions for the existing problems? Then this blog is the right place for you.
There are many people who can offer a band-aid if you need it, and approach you with a quick fix solution for your problems but for an orphan. In the world, nearly 140 million are orphans, and 15.1 million have lost them both parents. This shows that there are more orphans that exist all over the world. Many of them use to buy new clothes for our day to day use but for orphans, even your used clothes will fulfill their day. Let you, as a young entrepreneur, can bring a solution for them by delivering them your used clothes. It will do more good when it is in the donation bin than sitting in your closet.
By investing your money on developing an old clothes delivery app for the orphanage. This will not bring a solution to them alone, you're going to bring a smile in their face. This blog will be more useful for young entrepreneurs, who are interested in an idea to bring NGO solutions for the existing problem in the world. Now, let me tell you how SpotnEats used a clothes delivery app benefits and its workflow.
The most FAQ is
What kind of clothing can I donate?
All kinds of clothes are used or the new one which didn't fit you.
Where can I donate clothes?
This is the major issue people don't get the correct solution for it or they don't know that their donations are reached properly. Here is the solution for it.
Get your Free Demo: Whatsapp | Skype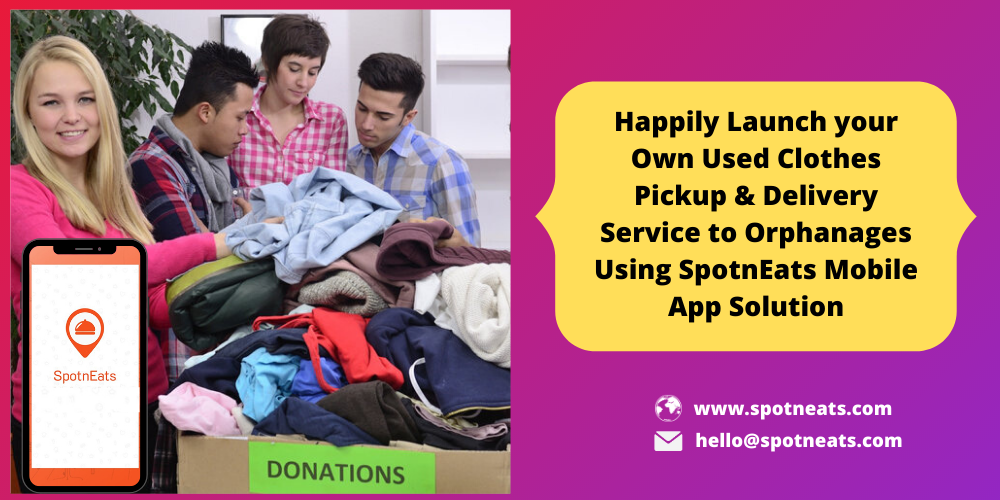 SpotnEats Old Clothes Donation Pick up App Solution
SpotnEats is a one-point solution for all the on-demand challenges that have been faced in the application. This is one of the unique ideas which will bring more people to interface in your app. Before knowing about the workflow of your old clothes pickup & delivery app development, let me tell you about the interfaces in your application.
Interfaces in your application
These four interfaces in your used clothes donation application as listed below.
User's app (iOS and Android)
Orphanage app (iOS and Android)
Delivery man app (iOS and Android)
Admin web panel
These are the four interfaces that connect all your users in a single application. Now let us look into the features that make these interfaces more user-friendly.
How does it work?
The user who wants to donate their dress can download your app from the respective stores and register it with the required details to continue with your service. Once they are done with the required steps of the registration they are allowed to check the nearby orphanage home. They can select the orphan as their convenience and tap the donate button.
Once they tap the donate button it will notify the delivery person of that region and he will reach your doorstep with real-time tracking. To pick up the donations.
The delivery boy will deliver the clothes to the NGO and then it will be transferred to the orphanage that the user has been selected. This is the working process of your application. Each and every donation data will be stored in your panel.
By now you might have a clear understanding of the working flow of your app. Now let me tell you why people will prefer your application.
Feature in your application
The three features which make the users more comfortable and convenient in your old clothes delivery app for an orphanage.
Scheduled pickup
Nearby orphanage
Donate extra
Reward
If there is any other unique feature in your thoughts then it can also be included. Since our software is more flexible it can be added/edit according to your requirements.
Why donation through your used clothes delivery app for orphans?
There are many people looking to help the needy but many don't know the exact way or some don't have time to drop their help in the right place where you will be the old clothes donation pick up solution through your own app for all those problems.
Schedule pickup – the user can enter the pickup location & schedule their pickup as a convenience. The drop option is also available in case if you want to drop it by yourself.
Donate at your doorstep – The delivery person will come to pick up your donation at your doorstep and drop it to the NGO where the user has been selected. They will handle the needy once.
Reward – The donor will be rewarded with the batch near their name or profile. As much they provide they will be rewarded as wise. So that giving the users more pleasure and making them happier will bring a positive effect on you.
Saving the environment – Then by filling your unwanted belongings one can give it to the needy once and this will bring them a new life.
Up to now, you might have got a clear understanding of your app's working flow, interfaces, features. By now you might have doubt that who will be the delivery person. You can appoint a delivery team or you can also get aid from the NGO for the delivery process.
SpotnEats offers features for delivery persons
The following features make the delivery person more easy to do his/her service. By instant notification, the delivery person can quickly reach the respective home to pick up their donation by a real-time tracking system. They are also able to manage their donations and profiles.
Let us spread happiness today by donating it to the right place.
Final say
By now I hope that you might have got a clear understanding of your application. No matter which clothes and charity you choose to donate. The clothes you're donating are still in style for the needy once. Still, why are you waiting for? Kick start your application by filling the below form or tap a message to [email protected]. we will catch shortly.