If you're looking to start a different niche food delivery service in your region then this blog will give you an exact idea. Keep reading to know more about the breakfast food delivery business and how to make it quicker. Since its breakfast customers would like to get it early and quickly. It can be done by well-developed software for your application.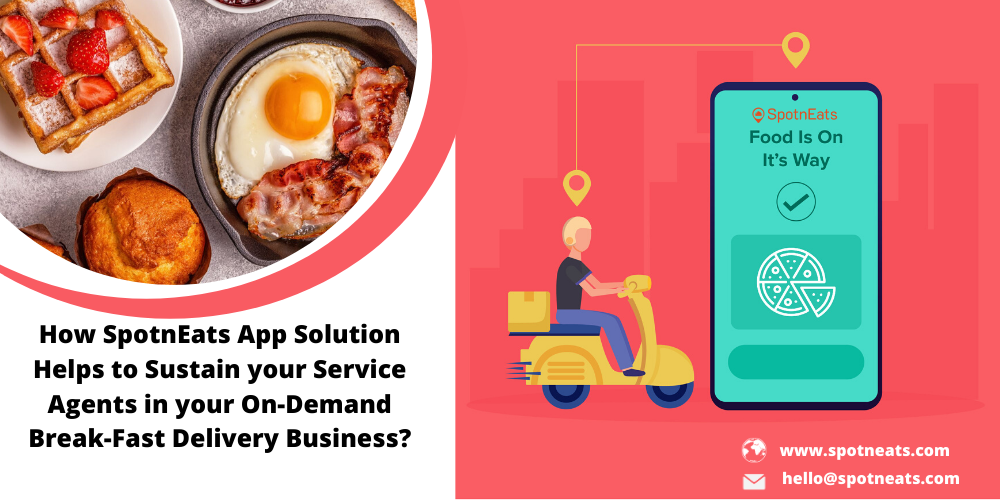 Why there is a High Revenue Gain in On-Demand Breakfast Delivery App System?
We all use to snooze our alarm in the early morning and the time left is only to get ready for our office. In 2020, 65% of parents both are working people they all use to get early and get done. Breakfast is really a tough job.
Nothing is impossible because the on-demand application gives us everything that we want at a convenient time. One such on-demand service is the breakfast delivery system, this delivers the breakfast at the right time at the customer's door-step.
Parents are always more conscious about their kids' breakfast to fulfill the children's day with good healthy nutrition for a happy mood. This also becomes one of the pluses of the breakfast delivery service, they use to deliver high-quality slices of bread, eggs.
This brings the breakfast system more applicable among working parent's lives. Parents are very much satisfied that their kids are getting good nutrition breakfast in the morning by just a tap. This shows the high revenue gain of the breakfast delivery system.
Though it generates high revenue there are few key challenges in the on-demand delivery system that have been faced by the service agents. Here, let me explain to you the issues that are being faced by the delivery of persons in the breakfast system.
The major challenges in the breakfast delivery system
In today's world, we are allowed to access any service at any time by just a tap on our mobile. And the customers have high expectations when it comes to the food delivery system. In simple words, customers want simplicity and a quick delivery process.
Complicate workflow – When the algorithm matches the delivery boy who is far away from the restaurant to pick up the customer's order then it takes time. There is a need for a good algorithm that matches the right person. This is one of the major issues in the food delivery system in a specific breakfast service.
Improper navigation – Many poorly developed breakfast delivery apps have improper navigation features. The delivery person wasn't able to navigate the customers in real-time, due to lack in the navigation process it takes time to deliver the breakfast.
Lack of communication – There should be good communication between the delivery person and the customers. When your breakfast delivery service application didn't provide good communication for interaction then users will get fed up with your service. The users may shift from your service to another timing.
The above mentioned are some of the major issues in the breakfast delivery system when the customers get their breakfast late they will get irritated quickly than other services. So it's better to choose or update your application today.
Here, I suggest you choose our service SpotnEats, a software solution for all the on-demand industries. Keep reading to know a bit more about us and your on-demand breakfast application without any delay let's get started to it.
Get your Free Demo Breakfast Delivery App: Whatsapp |Skype
SpotnEats on-demand breakfast delivery system
SpotnEats is the one-stop solution for all the on-demand industries. Here, you will be benefited from the pre-developed software application for your delivery business. Our software is more flexible so it makes your work easier.
Since your software is more scalable you are allowed to add or remove the features as you wish. If you have a unique feature idea, we will develop it for your business model. Though there are good software or niche features, your app should be an attractive one.
Here, one such solution is available with us. We have an experienced team of developers and UX/UI designers. I'm 100% sure that we will provide you an attractive unique look for your on-demand breakfast delivery system.
By now you might have got the knowledge about our software and its flexibility. It is not only flexible for features but it's also more flexible for business models too. Keep reading to know how our software fits the two types of business models.
SpotnEats flexible business models
You can start your breakfast delivery business with two types of business models as listed below
Production to customers – This acts as an end to end-users where there is no need for a store (Third-party) involvement. So that your customers can get their breakfast directly from the production (Milk, slices of bread and eggs).
Restaurants to customers – In this business model you are allowed to connect all the nearby restaurants(Third-part) who are providing breakfast. In this model, your users can get the early morning high nutrients food for a good start.
There is no much difference in the above-mentioned business model. You can get started by taking an accurate survey in your region. You can gain high revenue in both the models but to overcome the delivery challenges you're in need of good software solutions.
Here, let me share with you how our software overcomes those challenges with niche features to sustain your service agents.
Sustain your service agents with SpotnEats software
In all the on-demand industries delivery service agents play a major role, so it is a must make their workflow easier and smoother. Here, with the help of our software, you can make your delivery service agents sustain in your breakfast delivery business.
Our software well-developed algorithm will make a quick match with the delivery agents who are near to the service provider. This overcomes the complicated workflow the delivery boy has no need to travel a long distance to pick and drop the order of the customer.
Multi-option route optimization – In the delivery business, you as the application owner should make sure that the routes are optimized with advanced features for your delivery agents. This will give them a chance to do their work without getting annoyed with the unwanted obstacles while dropping the orders. In our software, the delivery boy will be shown the optimized route with multiple-choice, he can choose anyone to continue his service.
Smart Navigation – Apart from the route optimization your delivery agents are also benefited by the smart navigation feature in our software. This makes them work with great efficiency, It can be accessed easily just by a tap.
Automated Task – In the digital era, everything has been upgraded to the digital why not the task too. Are you wondering how it could benefit your breakfast delivery business? It's simple, as soon as the delivery agent starts their work. It will assign the task to the nearest delivery agent automatically get the order from the respective place and drop it to the customer's location.
A quick Appreciation – A better way to motivate the delivery agents on each drop of the orders. In the delivery boy app, once he drops the order at the customer's location he will be appreciated with an automatic text or emoji. With frequent applications, they will get boosted and quickly deliver the order happily.
The above mentioned are some of the features that allow your delivery agents to sustain with your service. An in-build chat box allows them to communicate with their customers.
Get your Free Demo Breakfast Delivery App: Whatsapp |Skype
Final say
By now you might get to know about how to sustain your delivery agents and how to run your on-demand breakfast service successfully with our software. With our software, you're allowed to build a strong relationship with your users.
Still, why are you waiting? contact us today by filling the below form and we will catch you soon. If you have any queries contact our business lead [email protected] to make your doubts clear.