Restaurants that are not partnered with Ubereats like food delivery apps are facing the heat now. Many of them suffered around 60-70% sales cut. This was obvious, if people can have food at their doorstep by ordering from app, then why would they bother to dine-in in the restaurant.

If you are presently running a restaurant, then now is the right time to go online. It is even better to offer a cloud service where you confine your restaurant business by serving only online orders.

Instead of joining with a third-party online restaurant marketplace you can start your own online food ordering app system. As simple as that. 
Get your Free Demo: Whatsapp | Skype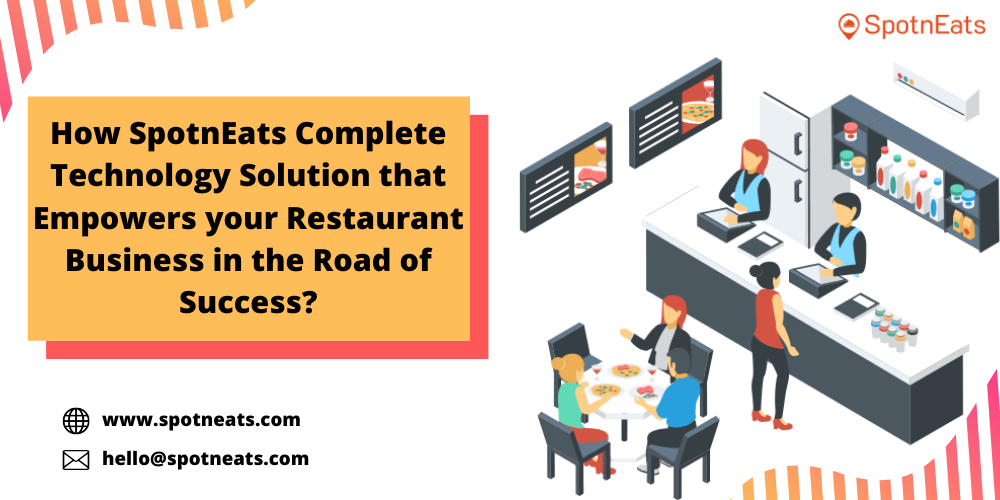 How SpotnEats Food Delivery App Solution Empowers your Restaurant Business?

SpotnEats is a technically sound food delivery application that can be used as both a standalone app or as an online marketplace like Ubereats and Doordash.

You just need to purchase our solution, customize it(which we do), and make it live. You can control all the orders from the admin dashboard. Apart from the order cost, you earn from third-party ads and delivery commission.

What are the Significant Features Presented in SpotnEats Food Delivery Application?

Efficient customer and order management

SpotnEats admin dashboard has a CRM tool that gives reports about the customers, their order preferences, likes and dislikes in a comprehensive manner. This is not possible in a dine-in alone model. Using CRM, you can understand the customer more and narrow down your business approach.

Second is order management. All the placed orders are displayed in the admin panel so that it becomes easy to manage food preparation and inventory. With one touch you can add or remove menus and edit prices.
Easy marketing

Going online is itself a type of selling your service to people for free. Restaurants who went online noticed a 30-40% increase in total sales in both online and dine-in orders.

Once your online app has reached a standard downloads, you can comfortably promote everything related to restaurant in the app itself. Deals and offers can be sent via notifications to users directly.

Real-time monitoring of finances

A lot of restaurants had in the past shut their shops because of following a flawed business model. This can be averted or at least observed by using an online food ordering system. The admin panel of our app has financial tools which shows the cash flows in real-time. By observing this you know where you stand in terms of business.

Improved order accuracy

20% of the orders in restaurants are misplaced, result? Angry customers with bad experiences. Order accuracy is a thing of the past in online food ordering. We can make modifications in the app solution to even directly revert the incoming orders to the food preparation site.

An added advantage of using our SpotnEats app is that we can combine it with restaurant management software. So, all kinds of errors normally happen in restaurants are reduced to a greater extent.

Why choose SpotnEats over other food ordering application?

If you still want to know why you must choose us, then here is the reason.

Full customization

SpotnEats is a pre-built solution that has all the basic features you would expect in a food app. Still, we offer many optional features to choose from. You can also give us insights about some innovative features to add. Since ours is a white label solution, we allow you to have your logo and designs.
Geo-tracking

We integrated Google map API into the customer app and delivery person app. Geo-fencing is present in the admin panel to send targeted location-based notifications.

Predictive search option

The predictive search feature gives users the comfort of getting highly accurate search results. Our team worked earnestly on this feature to improve using the latest advances. Sales can improve by up to 20% because of this.

Third-party restaurant listing

You can also allow other restaurants to list in your app. We can make this possible by modifying the admin panel. This allows you to earn more by getting the licence fee.

Wrap up!

Coming to the cost of SpotnEats, it cannot be fixed with certainty. Although the MVP version of the app is available at a fixed cost. Still, you will get a finalised cost even before the development work starts.

I hope you will join with us to get our SpotnEats app. I assure you that after having an online food app solution your restaurant business will grow by leaps and bounds and stay ahead of others.

We have 50+ additional features that can be added to SpotnEats. What you need to do is to do market research and find out the functionalities liked by your target users. We will have a one-to-one discussion and decide on the final version of the app.

Get your Free Demo: Whatsapp | Skype
Tap a mail to [email protected] to find more details. Our business executives are here to serve you.