The online food ordering market is dominating the on-demand industry. The main reason is that it eliminated problems battled by the restaurant industry for decades. Digital payment is another part where many restaurant owners benefited a lot.

If you are operating a restaurant and still not have an online food ordering app, then it is high time that you get it immediately. If you are from the US, it is an added advantage because the average revenue per user in the US is the highest at $190. The gross revenue from the US alone is expected to reach $27 billion by 2022. Not to mention that the US market accounts for more than half of the on-demand food app market. The next question that comes to your mind is how to get the food ordering and delivery app for my restaurant? Let us see that next.

Get your Free Demo: Whatsapp | Skype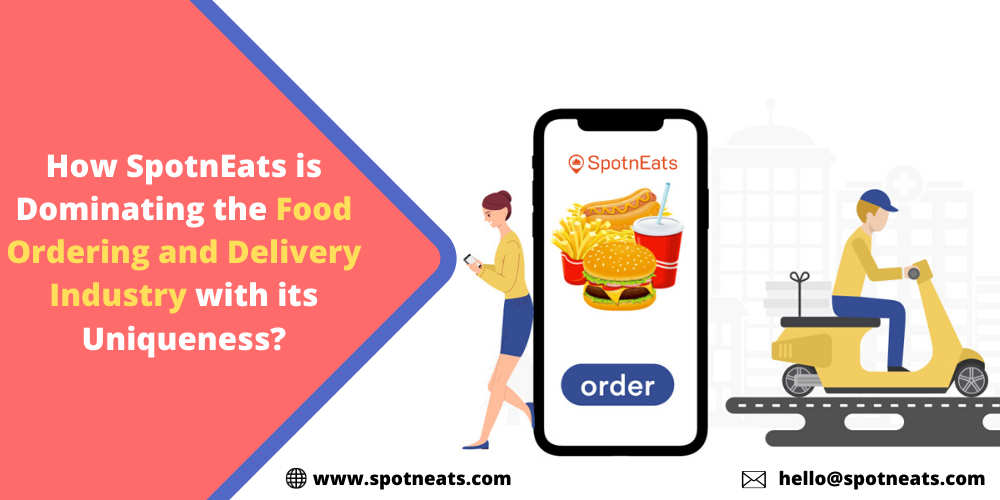 How to Build an Online Food Ordering App?

You might be baffled by the question of how to build the app solution since you are not technically proficient. You need not have any apprehensions about it. We have a pre-built solution to the food app named SpotnEats.

SpotnEats food app is made very much similar to Ubereats and Foodpanda. We deliberately made this app similar to these top apps. Our skilled developer's team took extra effort to make SpotnEats like Ubereats because we thought only an app like this can take you forward.

Like other food apps, SpotnEats too has four interfaces namely, restaurant panel, Customer mobile app, Admin web dashboard, and driver mobile app.

The mobile apps of SpotnEats are available on both Android and iOS. Plus the web panel is available for multiple OS.

Let us now see the highlighting features of SpotnEats.

Easy registration

One-touch registration from Ubereats is exactly replicated in SpotnEats. With three details like name, location on map, and mobile no, the customer and delivery partner registers with so much ease.

User-friendly with neat and simplistic design

No one is going to use the app if the first impression goes awry. Let me make this point, it is estimated that 50%+ users uninstall the app owing to poor navigation and low app performance. This is detrimental to your business. So we carefully made the app with simplistic design and neat navigation & drop-down menus.

Two-way ratings

We in SpotnEats have completely done away with customer only rating because of the changing scenario in the on-demand food app market. In order to get more data regarding the customer-delivery agent, it is inevitable to add delivery person rating the customer option. You get more data to work with using this feature.

God's eye view

This feature enables you to accurately pinpoint the existing users' who're looking for a certain kind of services. By knowing this you can send targeted ads and notifications. The logic behind this is simple. This feature works using machine learning. It gathers a lot of data from customer order history and manipulates it to present new information pattern.

Third-party restaurants

Using SpotnEats you will earn through order delivery charge, increased sales, etc. But you can also earn by accepting third-party restaurants to list in your app. For every order you get commission. This change from SpotnEats gives you an integrated food app which is a combination of restaurant platform and standalone app.

Cost, tech stack, and our style of building a unique SpotnEats app for your restaurant

The cost of building SpotnEats can be listed in terms of different components.

Backend development – There is no specific timeline about completing the backend. However, you can contact us to get the workflow.
Web development – The web is developed with preferred technologies and servers of your desire. On request, we also give our experts recommendations as well.
Design – Axure, Adobe XD, etc are used as design tools. UI/UX will be top notch and there will be no compromises.
Testing & quality assurance – Testing is undertaken on multiple devices to ensure smooth operation. Beta testing is mandatory.
Post-sales technical assistance – This is the interesting part. We do offer this for free for some duration. We always strive to establish a long term commitment.
Languages we used for backend are Java, PHP, Node.js for Android and Swift for iOS. For live tracking and navigation, Google Map API which gives vivid representation is used.

If you want to cut down the cost of development, we can do it by customizing SpotnEats in the hybrid platform. Hybrid app development is no lesser than its counterpart and it is highly underrated.

We are a trusted figure in the on-demand app development sector. Our existing successful users are a testimony to it.
Get your Free Demo: Whatsapp | Skype

Wrap up!

For starters like you who are looking to get started with a nominal cost, I think SpotnEats will be a great bet. SpotnEats is a perfect minimum viable product to start with. Additional customization is definitely required and our team can complete all the process in a matter of days.

Catch us on [email protected] to find exciting things about SpotnEats food app. Let us come forward and discuss creating new innovations and avenues in your online food app.