In the 2020 modern era, everything has gone digital from morning routine to our bedtime which also reduces our daily work totally. Nowadays, every industry is going digital to reach its customers/users. So every restaurant owner is looking to digitize their restaurant business to take it to the next level with the help of a food delivery app.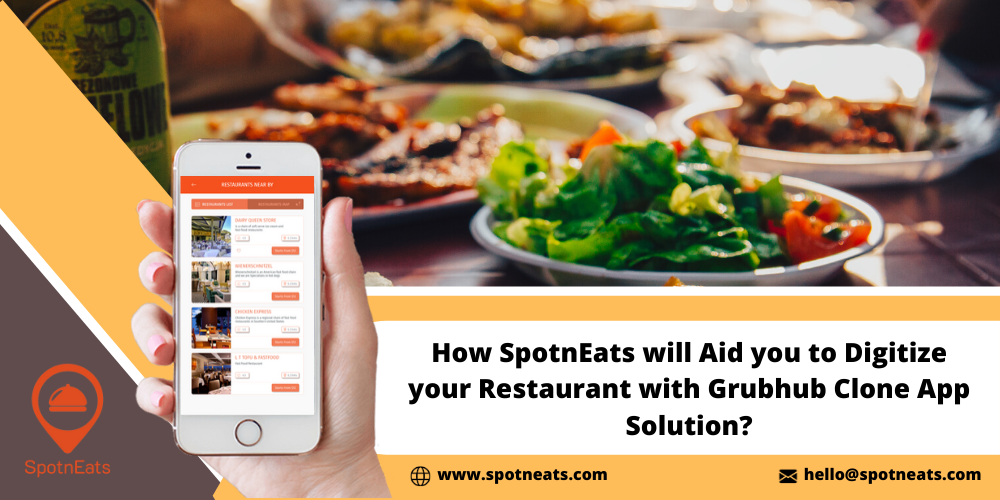 How SpotnEats Grubhub Clone will be the Perfect Solution to Digitize the Restaurant Business?
Key factors for movement of digitization
Delivery charge – Better you hire a team to deliver your foods with the fixed amount for the delivery charge. This can also vary according to the distance between the customer and the restaurant. Or you can also charge them according to the number of dishes they ordered by percentage. So by charging in the percentage you can have certain for the delivery person and keep the rest of the amount with you.
During peak hours – Yea, during peak hours like a night at a specific time but it will not be a specific time for everyone. At that time you can also charge your customers with an extra amount. At peak hours you can also reduce your menu according to your convenience.
Advertising in your app – You can also earn by advertising a third party's thing in your app corner. By doing this you will get extra charges on a regular basis.
If you want you can also collaborate with the other restaurant in your app and get a profit of 20% per month. Designing Grubhub clone app will not only increase your online presence also gives you more profits because your customers do not need to travel your restaurant to taste their tasty foods, just by a click the food will reach their place in less than a few mins. So you're reducing the need for waiting long and it makes them have their food at their comfort place.
Why Grubhub?
Grubhub is an on-demand food delivery platform which has good opinions among the people by their service. It has great customer support in the USA because of its constant upgrades in the technologies and by their good marketing skills in both online and offline platforms.
The unique value proposition of the Grubhub
Grubhub has a unique value proposition for restaurants, as it has a higher margin of takeout orders at full menu prices. The restaurants can take it out as a way to grow their business. Thus, Grubhub is offering a secure and hassle-free service to restaurants to grow their business. Restaurants can also track their orders on the platform quite efficiently, by connecting restaurants with local diners with the least effort and best match.
Before making a similar app like Grubhub you should consider these
Market research
Focus on the right targeted audience
Choosing the best framework
Scheduling pre-launches
Security measures
Even if the above process is breathtaking for you then you can prefer to buy a pre-developed app. There are plenty of developers who have all the pre-developed apps of the top tires. Before buying it from them you should know about the pros and cons of that app and then there is no need for unwanted features. Due to unwanted features, your app will lose its worth in the industry and among your users.
Doing all this process really takes time we are here to aid you with the best-developed app for your restaurant according to your needs. Why do you have to choose us? We have developed many similar apps and have good industrial experience. Which will give you a good user-friendly app?
How we SpotnEats helps to change your restaurant into digitized
Online food ordering system
Digital menu
Online payment
Digital points
Delivery tracking app with real-time
Admin panel can maintain everything
User reviews
As per the recent survey, people tend to order more when they have given more time to surf the menu. Olden days customers have to make quick decisions while ordering and they would order fewer items than they are online order. Every restaurant owner is shifting from traditional to digital ordering system which leads them to earn more profits.
The uniqueness of SpotnEats
There is no need for any technical knowledge when you join your hands with us. You can also try our app demo immediately. We provide your app with a good user interface in a short period. This allows your users to work on different OS smoothly and user-friendly. We also provide you free services for a certain period after launching your app. Any on-demand feature can also be added to your app as per request. 
Get your Free Demo: Whatsapp | Skype
Final say
As hours run, technologies are also growing day by day. So what is the future of the restaurant industry? The answer is very simple in many countries they have started to use robots and AI in their restaurants. Thus due to this technical growth, it is highly needed to improve your restaurant standards and put more effort into implementing a mobile app with the latest trends. Still, why are you waiting to contact us? filling the below form and we will contact you back soon.