The startup boom is happening everywhere and the Gulf market is no different. In this market, Bahrain has caught the eyes of investors from many Asian countries. Recently Amazon opened its AWS platform in Bahrain much to the surprise of many people; reason is Bahrain was never known for hosting tech MNCs.
Now, things are going smooth and in a few months time it will be a startup hub. This is not an exaggeration because their govt has created Bahrain economic board(BED) to incubate and fund startups not only locally but also from outside.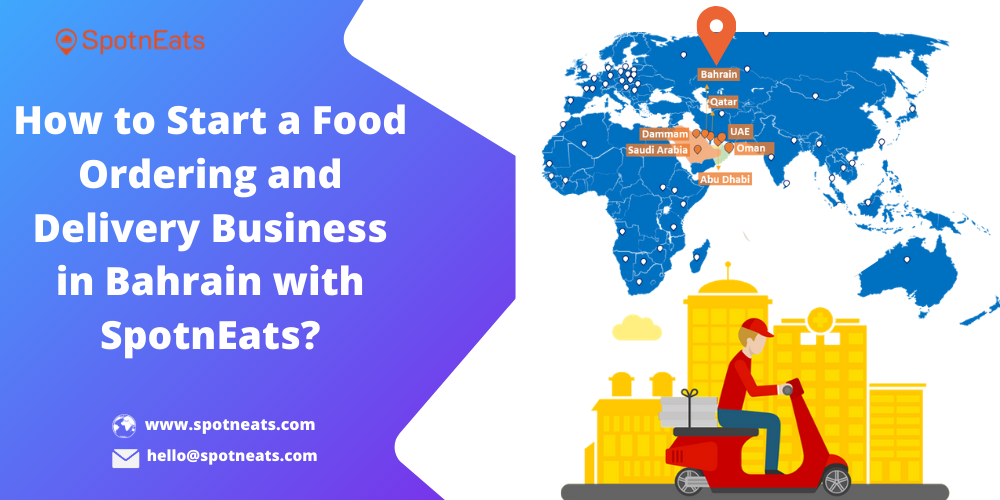 Why Bahrain for your On Demand Food Delivery App Startup?
BED's aim is to make Bahrain a hub for small and medium startups. Many on-demand food delivery startups too have enrolled themselves for mentorship in BED. Small, medium, and bootstrapped startups are the main focus for BED.
They have also brought single-window clearance and quick insolvency proceedings for startups as an incentive.
Hence, you have every reason to launch a startup in Bahrain and believe me their startup ecosystem will gracefully embrace you.
Get your Free Demo: Whatsapp | Skype
Type of startup idea
On-demand business model is the trending business idea right now and it has a stable success rate across the world. Also, the services industry in Bahrain is still following the traditional way. Hence, the on-demand model can be a game-changer to revolutionize the traditional market.
Online food ordering and delivery which comes under the on-demand market seems to be a great option. There are many pros than cons of launching online food ordering and delivery startup.
Online food ordering startup
Food ordering startup-like Ubereats can create a lot of jobs in the form of delivery agents. So locals are also getting benefitted from this business idea.
Food Outlets and restaurants services contribute a lot to the Bahrain economy and they have to serve the locals effectively along with the tourists. It would be a wonderful thought to launch an online food ordering startup.
Already the Bahrain market is topped by Talabat online food ordering startup. Talabat is managed by Delivery Hero, a multinational firm like Ubereats. In Bahrain, the online food app sector is a duopoly with Talabat having more shares.
Setting up your new startup in Bahrain
With assistance from BED it is a matter of a few days to set your startup. The process takes just three steps.
Preparing business and revenue model, no. of jobs generated, funding details, office space requirements, and all other information must be submitted.
Request passing through various departments for final license and regulatory approvals.
Upon completion of all the approvals you will be given a commercial registration certificate.
See, in no time you can launch a tech startup. The online food ordering and delivery startup is an online marketplace and hence your main product will be the app solution. Hence, the capital amount required is very low.
Get the app solution from SpotnEats
It is not only easy to set up your business startup, getting a complete app solution will also be a seamless process if you partner with SpotnEats.
SpotnEats is a comprehensive on-demand food ordering script with all the features you would expect in a food app. Even though it is a pre-built script, we undertake extensive customization to make it business-ready. We go a step further than just app customization.
SpotnEats solution is a replica of the Talabat app; so it is easy to make a connection with the local users using SpotnEats. We have enhanced some of the features of Talabat before applying to SpotnEats.
Our development process
Assembling requirements for the food ordering startup based on existing market research data and ideas from clients.
Deliberation with developers, designers, project managers, and clients to finalize features and functionalities for the app. Pitching our unique feature sets and ascertaining the feasibility of client ideas.
Developing a draft for the development process by allocating resources for areas like UI/UX design, iOS app, Android app, backend development, Admin panel, and Quality assurance.
Testing the app to confirm whether it is working smoothly. If possible we also help in beta testing where the app is offered to a specific set of customers for usage.
App installation and app optimization in play stores are done freely by the SpotEats team.
Perks of partnering with SpotnEats
SpotnEats solution has been delivered to startups in 20+ countries and in that Gulf countries are very close to us. Many small and new startups from UAE, Bahrain, Qatar, Saudi had approached us for SpotnEats. So, we are good at understanding the needs and customizing solutions according to it.
Our firm always has exciting offers on the base price of the solution. We believe in transparency and so there will be no hidden cost. Some of the features are even provided free.
After-sale assistance is something we are good at. Long-term commitment with clients is one of our policies and we stick to it by providing constant updates, technical assistance, issue fixing, instant response for bugs, and many more.
Final words!
That's all I want to say about the wonderful online food ordering business idea and our SpotnEats solution. Connect with us to know more details regarding SpotnEats by sending an mail to [email protected].
Get your Free Demo: Whatsapp | Skype
You can get testimony from our Middle East clients to find about our commitment and work ethic. Soon Bahrain will be a hot destination for startups and be quick to find a place for you there!