Have you personally experienced a situation where within a city you found it difficult to send an item to your friend/relative? Have you faced a situation where you need to purchase a small item from a shop but couldn't go there for some reason? These are situations faced regularly by many urbanites. Certainly, there are apps for food delivery and medicine delivery, but what about a multi-item delivery? 
There is one multi-delivery app startup in Asia and it is doing exceedingly well; it is the Dunzo app. Dunzo enables users to order any item from the shops listed in their app and then assigns a delivery executive for pick up.
The working of the multi-delivery app is similar to other online delivery services. A time limit is set for each order and the customer gets notified at each crucial point.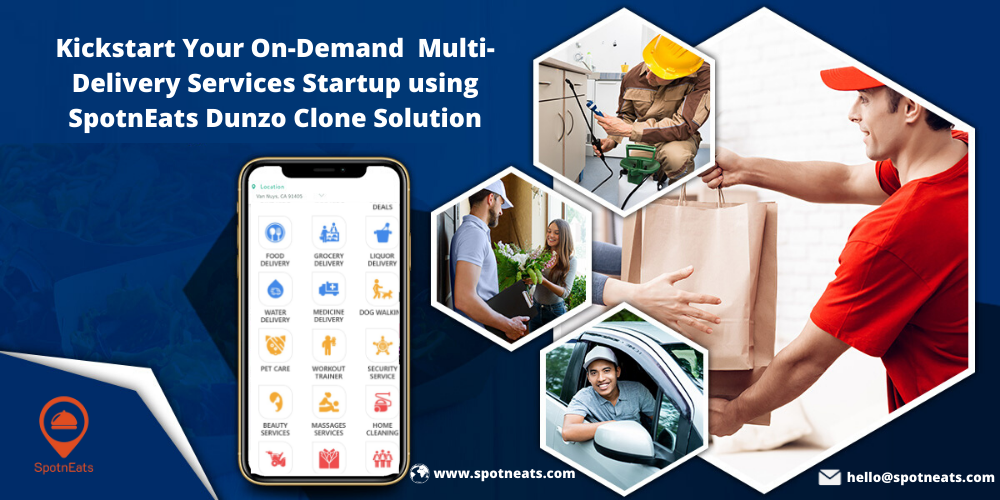 How Dunzo Clone App Solution Works?
Hyperlocal delivery
The business model followed by Dunzo is hyper-local delivery. Dunzo is now operating in 10+ cities and growing rapidly. Many rounds of funding have been passed by them in a short time.
In order to grow the existing business and expand the user base, few on-demand startups are transforming into hyperlocal delivery. There is no limit to the type of things that can be delivered and people like this very much. There is still a vacuum for this idea in the on-demand sector. Now is the apt time to enter this area and capture a large market share.
Get your Free Demo: Whatsapp | Skype
Can hyperlocal delivery be a future proof idea?
Not all on-demand startups are future proof and have a reliable business model. But hyperlocal delivery can stand out from other on-demand models since it solves a great problem faced by people which won't stop anytime. We can conclude that hyperlocal delivery faces no challenges at least for the next few years.
A hyperlocal delivery model like Dunzo will cover all stores in a specific region and because of it the stores covered get overwhelming visibility. More online visibility means more sales. Offline stores will be fond of hyperlocal startups because of its model.
Top e-commerce companies are looking to acquire hyperlocal delivery startups for a big sum. Chances are there that if you launch a hyperlocal delivery now it may capture the eye of any e-commerce giant in some years.
Hyperlocal startups require very little funding and the time and money required for its app development are declining. Few development firms like SpotnEats are coming up with the latest development tools and techniques which makes app-building quicker.
Small stores and shops that cannot afford a dedicated online ordering app will use hyperlocal apps. Online presence is inevitable in the future and hence offline stores have no reason to be away from hyperlocal startups.
Tips on how to build your Dunzo like startup
First, decide on the type of products/items that can be delivered using your app. Examples of basic products to include are food, grocery, medicine, gifts, small parcels, tiffin, pet supplies, milk, etc.
Consolidate the stores that have the items you decided to deliver by pitching an impressive revenue sharing. Cover as many stores as possible to capture a wide user base.
Develop an impressive delivery fee to acquire delivery executives. Have a better plan for their living since a higher attrition rate is a sign of bad business culture.
Develop the app solution from a professional app vendor who can make something like Dunzo. Anything lesser than Dunzo is a waste of time and you will not even go closer to success.
Dunzo like app from SpotnEats
Only professional makers of on-demand apps can build something like Dunzo and SpotnEats is one of them. Several additions were made in our Dunzo like app to make it look unique and convincing for new entrepreneurs.
Key features in SpotnEats hyperlocal app solution:
Shipment scheduling: The end-user has the option to schedule any shipment or order for a later date & time. This allows the user to sit and relax and avoid last-minute hassles.
Auto-detection of customer's location: The end-user can use the hyperlocal delivery app anytime from anywhere. The moment the app is opened, the user's exact location will be identified and saved for delivery.
For delivery partners: Anyone can open the partner app and register as a delivery executive. The user experience for SpotnEats partner app is finely made so that it is foolproof and easy to use.
For stores: Any stores and businesses can register in the app to offer their service. An in-app chat is given to chat with admin of the app to get any instant clarifications.
We have just listed some features to give a glance of our SpotnEats Dunzo like app. The technology stack we use for development is made up of recent advances. All the interfaces are available as both mobile app and web app. 30+ optional features are present with us. You can pick any of them based on your needs and wants.
We currently limit ourselves to developing the solution for iOS and Android versions. Our team is equipped with the skills and tools to apply any kind of ideas from your side to reality.
Wrapping up!
There is more you need to know about the working of SpotnEats; kindly send a mail to [email protected] for more details. Our team will contact you immediately and answer your queries. Do join us immediately for your new Dunzo like a startup and get exciting benefits!
Get your Free Demo: Whatsapp | Skype