Everyone knows how hard it is when the craving hits and you're not able to satisfy it due to lack of time. So here is the solution ice-cream delivery system, that brings all of our favorite sweet treats from traditional ice cream to modern ice-cream desserts that deliver right to your doorstep during this circuit breaker period at your office.
Before getting into this blog let me share with you the statistics of the ice-cream delivery business in the upcoming years. The global size of the ice cream market was worth 57 billion U.S. dollars in 2017 and is expected to reach nearly 75 billion by 2024. This shows the needs of the ice-cream delivery system that will increase 30% revenue in the upcoming years.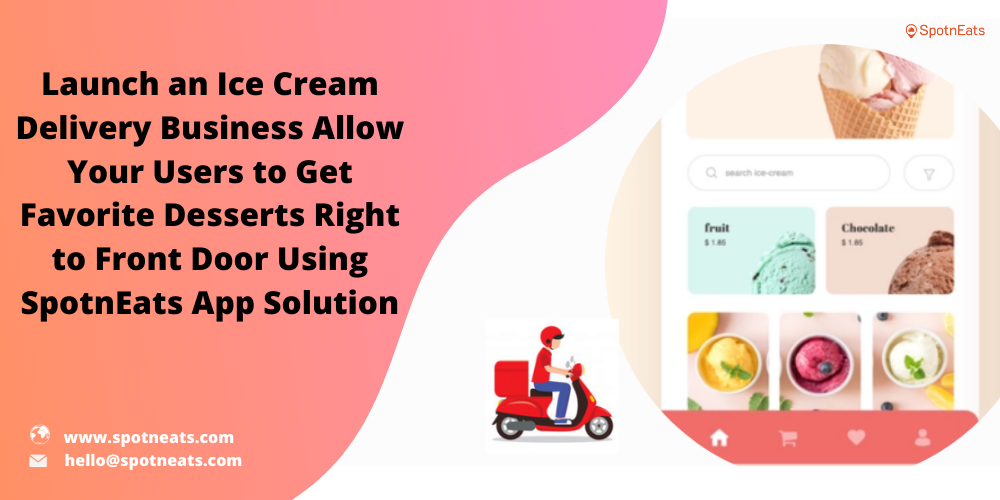 What Brings The On Demand Ice Cream Delivery App As The Comfort Of Food Carving?
Finding the best ice cream, food, drinks, and groceries near you has been made simple with an application. Once the order is placed, the delivery agent is ready to deliver it to our place.
There are fewer competitors so that you can easily gain high revenue and place your brand in the marketplace easily. Why should you prefer an ice-cream delivery service? Working people are always carving to have some fresh cool desert at their break time. This can't be fulfilled than a dessert delivery app solution
This blog will give you full detail about the ice-cream delivery system and what are the challenges that have been faced by the ice-cream industry nowadays. How these challenges are being overcome by our software-based application with niche features. To know all about this, keep reading the blog without skipping.
Few of the biggest challenges that have been faced by the ice cream industry
Either it is a chain-based or wholesales, gelato shop owners are facing a lot of challenges in recent days. There are N number of challenges that must be overcome by the dessert shop owners to make their customers come back. Here, in this section let me share with you the major 4 challenges that have been faced by the ice-cream industry.
High health-conscious customers – In today's world, Gen Z people are more health-conscious than ever, and this grabs the customers to choose the low-calorie ice-creams. For example, Halo Top is one of the famous brands that provide low-calories and high proteinate ice-creams.
In the last three years, Halo Top grabbed the entire attention of the people and experienced a 20,000% growth rate. So the startup isn't able to grab the customers for their service. Delighting with the icecreams with the ingredients information is also the necessary one to grab the market.
Multiple dessert shops competing for market share – Another problem in the ice-cream industry is that there are many different types of dessert shops competing in the market shares. Such as soft-serve chains, smoothie shops, chain-based ice cream, and local ice cream parlors. So that all the new firms are unable to gain even a standardized revenue.
Differentiating from the others – The previously mentioned challenge is quite more difficult than this because people don't get the exact difference between the gelato and ice-cream. In other words, it is hard for people to understand so they simply prefer gelato stores rather than the frozen dessert parlor (ice-cream shop).
The constant change in taste – In the past few decades, desserts have been the part of every person, mostly Americans. They used to add desserts in their daily food routine, but now people's taste is changing constantly due to more rise of flavors and dressing of the ice-cream. So people not just expect an ice-cream they are in need of add-on options in every order.
The above mentioned are a few of the challenges that are being faced by the dessert shop owners today. If you're interested in an idea to start your own ice-cream parlor then be well-aware that your shops are able to overcome it. Even if you had a plan to overcome these issues, then all you need is to bring visibility in your region to grab the people's attention.
Here, with the help of our Software-based application, you can easily overcome these issues without any plans. It also helps you to make your brand visible in your region that gradually generates the revenue of your ice-cream business.
Get your Free Demo: Whatsapp | Skype
Brand your dessert shop with SpotnEats on demand ice cream delivery app
SpotnEats is a software-based solution, that has been sharped with the latest technology to overcome the on-demand based industrial problems. Here in SpotnEats, you will be benefited from a pre-developed ice-cream delivery app. Why do you have to choose a pre-developed application rather than choosing the traditional way of developing an application?
This question might have appeared among every one of them, young entrepreneurs are always ready to choose the pre-developed application. Because it doesn't cost you high and you're allowed to quickly start your business in your region. Why do you have to choose SpotnEats for your ice-cream delivery business?
We offer you the application at an affordable price with four interfaces on both the platforms (iOS and Android). We also provide you with the before and after launch service for a certain period of time. Our experienced team's main aim is to provide you the application with 0% of bugs or lacks.
Here, let me tell you how our software-based application overcomes today's challenges in the ice-cream industry.
How SpotnEats allows you to overcome the challenges with high-quality application that is right for today's market conditions?
Before getting into the features that let you overcome today's challenges have been faced by the ice-cream shop owners. Once you launch our software-based application you can easily bring the visibility in your region that allows you to overcome the second challenge (Multiple dessert shops competing for market share). With our unique design, people will easily get attracted.
Listing of categories – By listing all your desserts in the application allows the people to check the different varieties of ice-creams you're providing. This feature allows you to overcome the first challenge, it not only lists the variety of ice-creams. Customers are allowed to filter the listing categories by high-calories to low calories.
Alternative choice suggestion – Rather than the listing, with the help of this feature the customers are able to check the alternate choices for their current basket. So that the customers are able to check the alternate taste and similar taste desserts easily with the quick suggestion. This allows you to overcome the differentiating challenge with alternate choices.
Add-on option – Once the customer fills the baskets with the required ice-creams they are able to add-on the listing items namely sweet dessert, chock-full of sugar, nuts, chocolates, and fruit. So that they are able to check different tastes according to their mood. This lets you overcome the constant change of taste. With this customers can taste a different taste daily.
The above mentioned are the features that allow you to overcome today's challenges rather than that your application will also a few basic add-on features as listed below
Real-time tracking and monitoring – Once the customer orders their desserts they are allowed to track their ordered dessert and the delivery agent with the accurate estimation time without any lack. The delivery agent can also track the customer's location with multiple route optimization choices.
Quick in-build Pop-up notification – This feature helps you to stay ahead among competitors in your region and also allows you to create a constant connection with all your targeted customers easily. The pop-up messages help to convey all kinds of information such as discounts, offers, and seasonal-based offers.
Paperless feedback system – This is one of the best features that allow potential customers to say about your ice-cream delivery service. This feature helps to promote your service as well as brings new customers. By seeing those reviews and ratings the upcoming new customers will prefer to try new desserts.
Bottom line
Though the frozen dessert industry has remained flat in the past few years. It can be easily overcome with an application to gain high revenue and take your business to the next level. We SpotnEats not just provide you an application, we will analyze your requirements and handle a well-developed application-based solution. Still, why are you waiting? Connect us on [email protected] or fill the below form and we will reach you soon.