Flowers are used in almost all occasions and the demand for it is always high throughout the year. Starting from birthday, family function to personal beauty and decoration, flowers are largely used. The flower industry itself is very large and is valued in billion dollars. Like any other traditional industry, this too suffers from a few limitations.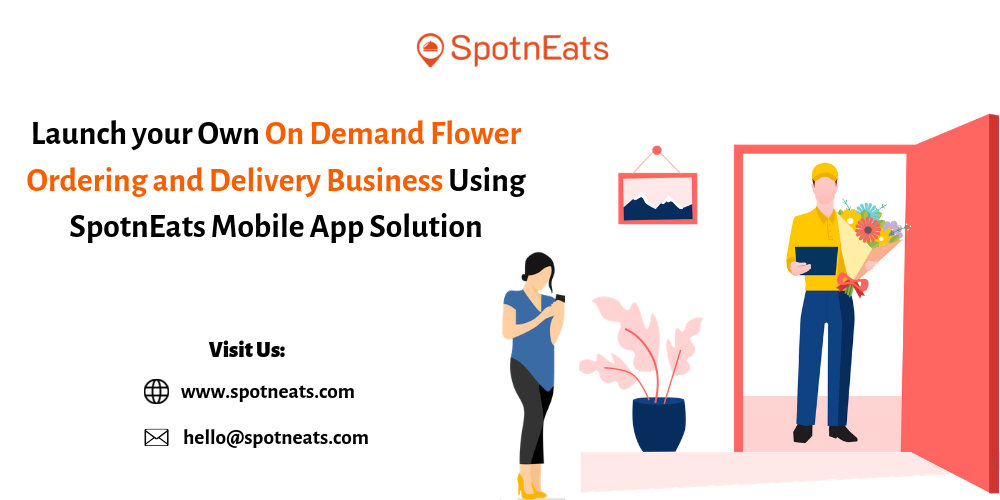 Consumers who need a particular flower wants to search for a florist who has it. This is a difficult task.
Flowers don't have a long shelf life and cannot be kept unsold for a long time which results in a loss for the florist.
Flower ordering and delivery suffer from supply chain problem and most of it gets spoiled in between.
Obviously, the solution for this is the on-demand model. The present scenario is such that there is an app for everything and so it is possible to have an app for the flower delivery.

Why We Need On-demand Uber for Flower Delivery App?

To say in simple words, the on-demand model can eliminate all the limitations said earlier.

If the consumer needs a particular flower, with the help of the app he can easily spot the right place and order from there.
Demand for flowers are there but most of them remain unsold because the buyers and florist are not well connected. The on-demand model can efficiently connect them using the apps.
Since delivery agents are used, flowers are delivered quickly and freshly to the customers.
Entrepreneurs can take this business and run as a marketplace model and create more employment, make money through commission.
Get your Free Demo: Whatsapp | Skype
Flower Ordering and Delivery App Solution
Following interfaces comprise the on-demand flower delivery app:
Customer mobile app(Android/iOS)
Flower delivery driver app(Android/iOS)
Admin web panel
Main website
Admin mobile app
How Does the App Works?

There is a customer app, florist app, delivery person app, and admin app like any other on-demand service.
The user first has to download the customer flower delivery app, register the name with other details and login using the created account. Payment details can also be saved by the user.
After searching and picking the flower, the user makes an order for it which is succeeded by payment and delivery address.
The florist will get an order message and immediately notifies nearby delivery agent. After approval from the delivery person, the florist prepares the order.
The florist shares the delivery address to the agent. The delivery person then picks the order and deliver to the specified user.
The owner who runs the app is also the admin and he can manage all the orders, flower shops, delivery agents, commission, and all transactions.
Flower Ordering and Delivery Startups

FTD

Florist Transworld Delivery is the world top most flower delivery startup. They have same day delivery in many places. Apart from delivery agents, FTD uses DHL, UPS, FedEx like parcel delivery firms to deliver flowers to long distances. FTD acquired BloomThat which is based in the US. BloomThat offered next day delivery in many US cities. BloomThat received up to $8 million in funding before it was taken by FTD.

Flaberry

It is another flower delivery startup from India. They offer flowers for birthday, children's day, and many more like that. Also, they offer customized flowers on special occasions. Affordable and locality-based flowers are delivered in this startup.

Euroflorist

Euroflorist operates across Europe and Australia. It has so far partnered with 54,000 flower shops. It is functioning for the past 30 years and recently it changed to app based flower ordering and delivery. They provide same day delivery, worldwide delivery, and secure checkout process.

Three distinct features of the flower delivery app

Customer App
View Flower Listing:

After user registration, the user can view the variety of flowers with pictures, price, and stock availability, etc.
Flower Customization:

All types of flowers with different size and shape will be displayed in the app. If the user is not satisfied with any of it, he can customize a flower of his own from color to the type of flower and place the order. This order goes to the nearby florist who can make this customized flower. This attractive feature draws more users to the app.
Order Tracking:
From the time of order until the delivery, the user can track the order from the customer app using GPS navigation.
Scheduled delivery:

Want birthday flowers at 12 am? or flowers for a family function in the early morning? Users can use the scheduled delivery option in the app to pick a delivery time.

Delivery Partner App
Profile Management:
The delivery person can manage their bank details, incentives, commission per order, deals, contact number, etc.
Order Management:
Delivery request can be viewed in the app with accept/reject options.
Reviews and Ratings:
Customer reviews and ratings are shown in the app. The delivery person can see it for further improvement.
Start Your On-Demand Flower Delivery Startup Right Away With Our Pre-Built Apps!

When you ask me to select the best app solution for Uber like on-demand flower delivery, without a second thought I will select SpotnEats. SpotnEats is a flexible app script which can be seamlessly customized for many on-demand businesses and flower delivery is one of them.

With little investment in the app solution, you can start this flower delivery startup as a marketplace for the florist. Earn good money as a commission on every orders and advertisement.

Got the idea to start flower delivery business? See nowhere, come straight to us. We involve you in a two-way discussion to arrive at the best app solution suited to your business.

Get your Free Demo: Whatsapp | Skype
For doubts and queries send your message to [email protected]. You can also call us anytime. We are ready to answer 24/7. We are looking forward to partner with you.
FAQs for Flower Delivery Mobile App
What will be the type of app development we undertake?
We are equipped to build apps in both Hybrid and Native area.
What is the total cost of development?
The basic app script comes at a fixed cost. Feature addition and customization costs extra.
Who can get this app?
If you are an existing florist and want to go online, then you use the app. And individual entrepreneurs can use this app as a marketplace platform.
Can we customize the app?
Yes, since the complete source code is given to you after purchase you can modify the solution independent of others.
Do we get any support from you after deployment?
We have an awesome technical assistance package for all clients. The cost of it is free for some time and after that we charge a nominal fee.