Running a restaurant is the most profitable business of all time irrespective of the technological change and disruptions. And this holds true only if the restaurant is managed well without any unnecessary costs. It is also a fact that 80% of restaurants fail in the first year of entering the market. Among other reasons, failure to manage the operations stands at the top.

This is even true for restaurants making good revenue. Tech disruptions cannot affect restaurants, but technology can be used to aid restaurant operations. If you are running a restaurant, then it is time for you to devise a strategy for the next step.

I hope there cannot be a better strategy than going online. Online ordering and delivery is the latest fad that uses digital technology to the fullest.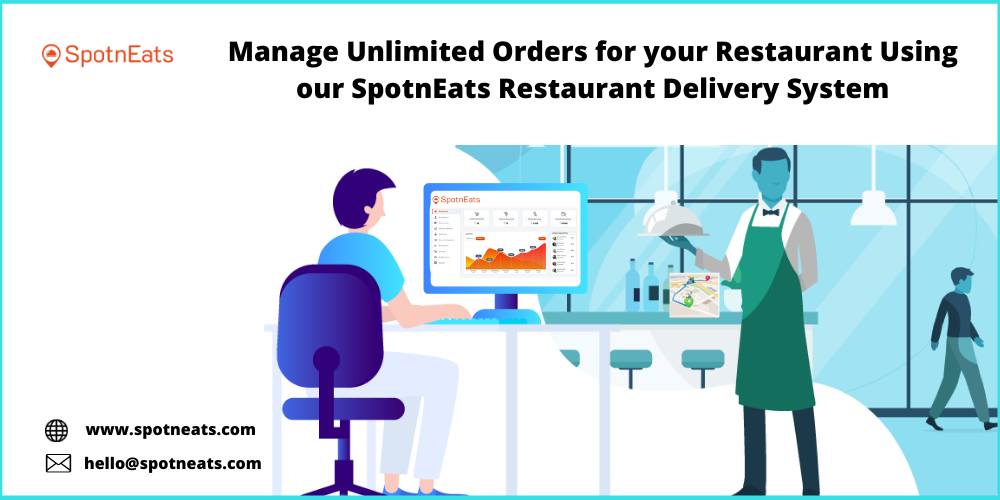 How SpotnEats Restaurant Delivery Software Aids You to Manage Unlimited Food Orders?

When you go online, the no. of orders you normally get increases drastically. Apart from managing such a volume of orders, you have to optimize the inventory, dine-in order, and menu management.

A centralized restaurant food delivery system with a good scope for scalability and performance is required. SpotnEats is one such software solution; It is delivered to restaurants across the globe; domain-specific experts are used to developing this product.

Having SpotnEats delivery system not only helps you to manage everything but also to focus on other vital factors like marketing, accounts, finance, etc.

Get your Free Demo: Whatsapp | Skype
Niche features and functionalities in SpotnEats

Unlike the regular on-demand restaurant delivery system, SpotnEats is a notch higher than others in every aspect. Here are some of the niche features in SpotnEats.

New purchases

The purchase of ingredients and materials are managed in one place from the admin web panel. Inventory is updated automatically after each entry. Real-time level of materials also shows in the software. Ingredients and materials based on demand are placed first to monitor its availability.

Low-stock alert

Once an important ingredient goes below a specified limit, an alert is sent to the admin web panel. The alert limit can be set by the restaurant.

Table management

Dine-in orders are a hassle in weekends and more problematic if it is not aligned properly with online orders. There is a separate section in the admin dashboard to manage dine-in orders. Hence, handling dine-in and online orders are easy.

Performance tracking

Performance tracking for both online and offline orders is possible. Menu which has good reorder rates based on location can be identified easily to gauge future operations.

Kitchen display system (KDS)

A kitchen display system eliminates the communication gap. Any order will be reflected quickly in the kitchen display system without any delays. KDS can also be used to manage menu preparation by assigning chefs rightly.

We have optimized the KDS to view from any devices like mobile phones and tablets.

These functionalities are just the tip of the iceberg. To find out more, contact us right away.

What benefits do you get when you use SpotnEats?

More comfort and ease of working

When you scale your restaurants, you have additional responsibilities and with SpotnEats solution, you need not worry about that. Unlimited offline and online orders can be effortlessly maintained. Labor force is finely optimized to use without any last minute confusions.

Reports from the restaurant admin web panel have info on food ordering behavior and expectations; these data can be harnessed and put to good use.

Starting from payments, invoices, payroll, and sales, everything comes under a single screen; this eliminates paperwork and increases decision-making time.

Everything in real-time

All the data that is displayed in the restaurant web app is in real-time. Real-time data are so precise that it can be comfortably used for quick and informed decision making. The tools in the dashboard use these data to generate patterns easily comprehensible by the admin.

Top-notch customer experience

At the end of the day, it is the user who is getting the real experience of using the app solution. The customer booking mobile app is finely made with the latest tools to make navigation and browsing frictionless.

Once an order is confirmed, the delivery agent's app gets a map with navigation to the customer location.

Our experience in serving multiple restaurants around the world along with the grip on the latest advances in the on-demand sector helps to give a complete solution. If serving tasty and quality food is your priority, add one more to this and it is customer experience; join with SpotnEats to make that a reality.

Get your Free Demo: Whatsapp | Skype
Final words!

If you think you are not satisfied with the details regarding SpotnEats, tap an mail to [email protected]. Our business team is available 24/7 to connect with you. Let us launch an improved version of your restaurant using SpotnEats!