The existing grocery and milk market is unorganized across the world and still, this sector is thriving because of its daily necessity. In Asian countries, milk production is at its peak and in spite of it the wastage or spoilage of milk is a big menace. The same is true for grocery items like eggs, bread, vegetables, etc. Fresh produce is not properly made to reach even the affluent classes; then think about the plight of the rest. 
Apart from this, there is a problem of cost increase because of middlemen. In spite of tech advances, the no. of middlemen between the consumer and producer is not reducing. The factor that makes this a never-ending problem is a poor supply chain. So, we must do some serious innovation in the supply chain.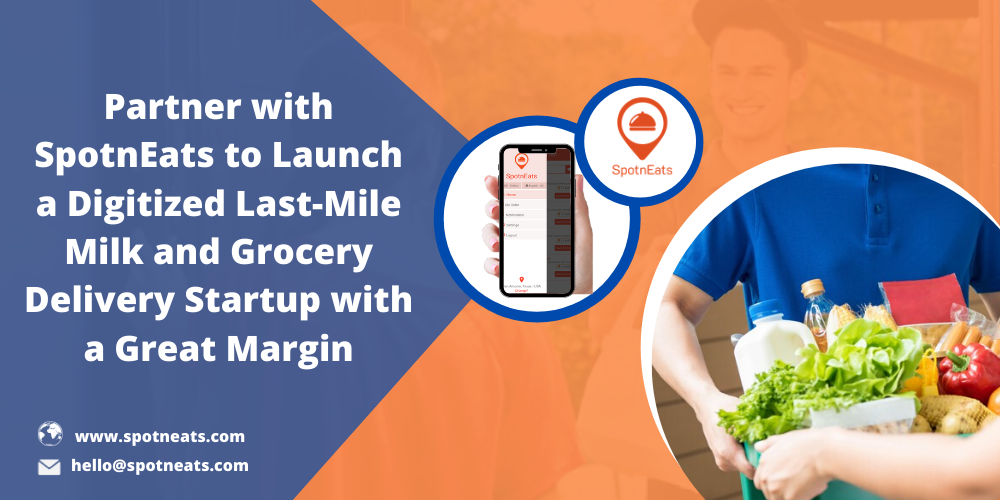 Why you Go for On-Demand Delivery for Milk and Grocery?
Disrupting the milk and grocery space
The menace of unorganized milk delivery can be disrupted effectively using fabulous technologies. Digital technologies like the internet and mobile apps are a great tool to strengthen the supply chain.
Already there is a business model that is effectively disrupting the way essential services are offered and it is the on-demand model. The on-demand model is an online marketplace where goods and services are listed and customers access it from apps anywhere, anytime. Let me come to this point later. 
Can on-demand delivery be a good idea for milk and grocery?
On-demand food and water delivery is already making rounds in many cities and it is solving the day to day problems very well using technology. Can the same be applied for milk and grocery delivery? To some extent, I would say yes. Because both milk and groceries are daily needs and people in large numbers want it without fail, so a different approach but closest to the on-demand delivery is required.
Immediately, the on-demand subscription model flashes in my mind. Subscription-based milk and grocery delivery is a fabulous idea for a startup. This model solves the problem that plagues the supply chain like middlemen, transport, communication gap, etc. The efficient last-mile delivery of milk and other produce is not a dream anymore with the subscription-based delivery model.
Digitized last-mile milk delivery
If you wish to start a startup that needs to be innovative and solve a pressing problem, then digitized last-mile milk and grocery delivery would be the right choice. In digitized last-mile delivery, you procure milk directly from producers and delivery to consumers. The delivery agents here are similar to the one you see in the food delivery service.
Below I explain the business model of this startup idea so that you are clear about it.
How digitized milk delivery works?
Have an app for the customers to subscribe for milk or grocery delivery with a plan ranging between 2 to 30 days.
Another app for milk producers so that they update about milk availability.
Consumers shall order milk or other groceries the day before and the items are delivered the next morning.
Delivery executives get requests in their app and delivery is done accordingly.
The orders are automatically placed for recurring delivery of milk and grocery.
Customers shall cancel the subscription anytime.
Future scope of this idea
This model can give people fresh and tasty milk and other groceries. People are ready to spend a little more to get fresh produce. Also, the milk passed between middlemen is often adulterated but this is not the case with digitized delivery. Since there is an option to opt for the subscription, consumers can sit, relax and get milk delivered in the morning.
These are all strong points to reinforce the idea that operating a milk delivery startup is prospective and future proof.
Milk delivery app
You need an app set up for this start idea right? Get a ready-made fully customized app from SpotnEats. We are in the field of on-demand app development and have developed a slew of apps for many startups in 20+ countries.
So with less effort we can give you the app you desire. Some of the features you will see in our SpotnEats last-mile delivery app are:
Recurring order: Don't want your customer to experience the hassle of daily booking? Use the scheduled order feature for a span of 2-30 days and get milk ordered automatically.
Vacation mode: If your customer is on vacation or out of the station but subscribed for milk delivery can opt for vacation mode. In the vacation mode the delivery executive is notified about user absence.
Change quantity: You user can change the quantity to be delivered anytime by just making a tap on the customer app.
There are more interesting features with SpotnEats. Other interfaces like the milk producer app, delivery executive app, and admin app all have a good amount of features. 
Top apps in last-mile milk delivery
Suprdaily: Supr Daily is an Asia based startup focussing just one city at present. They deliver milk and other basic groceries. A user shall order milk at 11 pm and get it delivered before 7 am the next day. They are now in the process of scaling to new areas with the help of VCs.There is no minimum order and give many deals to users. In one year they completed 500k deliveries.
Partner with SpotnEats!
Want to know more about SpotnEats? Quickly send an mail to [email protected] and get immediate responses from our business team. Request for an exciting live demo of our app to experience the reality. 
Like I said before, the last mile milk and grocery delivery is unexplored territory and with little effort and the right app you can make wonders! So look nowhere and partner with SpotnEats.
Launch your On Demand Milk and Grocery Delivery Startup with SpotnEats: