Who doesn't love to eat? Everyone loves to eat their favorite food at the respective restaurants but the modern platforms take over it. The technology brings our favorite restaurant foods at our doorstep by an on-demand food delivery system.
It also increases the convenience, imagine there is a break for 30mins to reach the restaurant and ordering your food all the process will gradually take 25mins. But the delivery system brings your order to your place within a few minutes.
Though it gives all the convenience and offers but still many startups struggle. Here are the solutions for them, in this blog you will get to know about CRM and how our software CRM tool makes your business revenue high.
What is CRM?
Customer relationship management is also known as CRM. It is used to manage the current and potential customers of a company. It uses the data analysis of the potential customer's order history of the respective company to improve their business.
This will gradually drive sales growth easily and effectively. It plays a major role in the food delivery system for sustaining the current and attracts new customers. For running a successful food delivery business you're in need of a good CRM tool.
Get your Free Demo: Whatsapp | Skype
In simple words, CRM systems aid you to manage and maintain user relationships, track sales leads, marketing, and deliver actionable data. Here, I will suggest you choose our software for the best well-developed CRM system.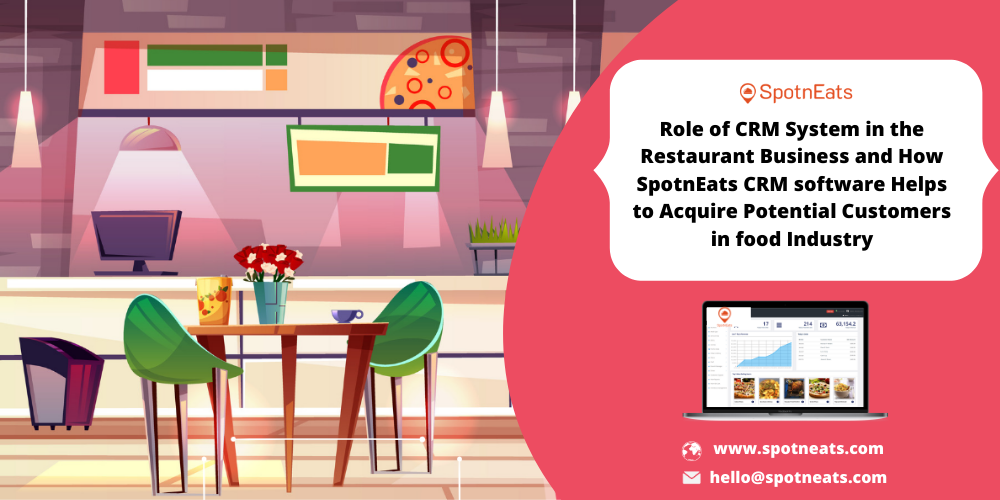 How SpotnEats Customer Relationship Management Software Serves Your Restaurant Business?
SpotnEats is a modern software solution for all on-demand food delivery systems. We have a pre-developed software application with 100% scalability. It can be customized as per your needs, add or remove features made simple.
Since we have pre-developed it doesn't mean our software is an old version. We keep ourselves updated with the latest technology to give the best solution for our clients. With the help of our software, you can launch your application across the seas.
We are grouped as a variety of developers and everyone is experienced in different frameworks, this shows the potential of us to give a unique product to our clients. We guide you with before and after launch service for a certain period of time.
Our software has a good CRM tool to take your food delivery business to the next level easily and to meet the potential customers from all over the regions. Here, let me tell you how our CRM tools bring you high revenue, keep reading to know about it.
SpotnEats customer relationship management system
Managing the user's database – With the help of the user's database, which contains extensive information about your users, their past orders, history, location, and mode of transaction, helps the delivery system serve better.
Worthy offers and discounts – Everyone loves offers and coupons, One of the best things is the online food delivery system. Then why does your business turn down? Not all of these offers are suited for your users.
Active user's support – Though you provide the best service, people still expect good customer care to get their queries clear. Having an active user's care system helps them gain trust over the site.
These are some of the customer relationship management systems, once you understand with the above-mentioned CRMS you can easily make high revenue in your food delivery service. Here let me tell you how SpotnEats features to aid you with the CRM tools.
How SpotnEats CRM tool aids to take your small scale to large scale
Pop-up notification – This feature helps you to stay ahead among competitors and connective with your targeted users. The pop-up messages help to convey all kinds of information such as discounts, offers, and location-based offers.
Active GPS tracking – one of the needed features of food delivery apps, that enable users to track their orders through real-time GPS. It is useful for both the player's drivers and users of your application.
Social media integration – There is no doubt in the past few years social media has become more popular. The users can quickly log-in with social media and they are allowed to share their favorite foods and restaurant by your app.
Tap to place the order – Most people prefer to order online because the order placement process is quick and simple. Here, with the use of our software, your users can easily place their orders with a tap on their favorite foods.
The above features will help to improve the user experience along with the sales and customer loyalty of your on-demand food ordering service.
Final say
By now you might have got to know about CRM and how our software aids your food delivery business with the best CRM tool, to gain more revenue in your business. Online food delivery systems look simple from outside but have a lot to deal with it.
Get your Free Demo: Whatsapp | Skype
By using our software you can easily meet your user's expectations and make your small scale business on a large scale. Still, why are you waiting? contact us today [email protected]. We will reach you soon.