Postmates is a leading delivery startup that literally delivers everything from food, courier, flowers, etc. In simple words, postmates is a logistics firm that gets its users to connect with third-party individuals to accomplish tasks. The basic workflow is similar to the on-demand model.

Startups like this which helps to deliver a slew of items under a single app has good potential. Tech entrepreneurs like you can step into this segment and compete with the likes of Uber, Grab, and Postmates.

The ultimate selling proposition of this postmates like business model should be the swiftness with which items are delivered. This speed factor largely depends on how the app solution is built.

Now comes the question of the app solution for this business model. SpotnEats is our postmates clone and I strongly feel that our product can give an edge for you. Below I have a detailed explanation of this postmates clone.
Get your Free Demo: Whatsapp | Skype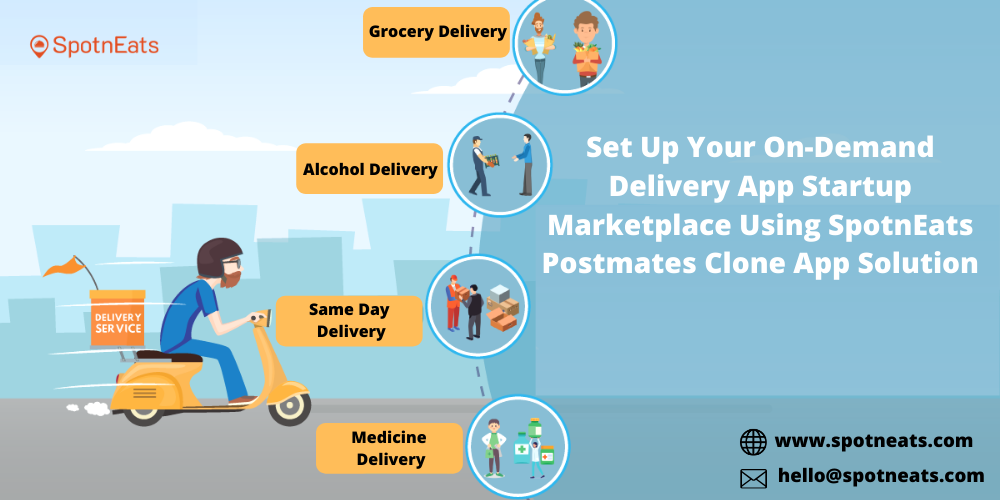 How SpotnEats Postmates Clone is Flexible to Launch Various On-Demand Delivery Services?
Our SpotnEats delivery app has the following services to offer:

Food ordering and delivery

The food ordering is similar to Ubereats and the user order shall food from the listed restaurants. Delivery person gets the delivery request and picks the order from the restaurant and delivers at the user's doorsteps.

Why order from a separate food ordering app when you get an integrated ordering solution?

SpotnEats has already delivered food ordering app solutions to multiple businesses, so we have a good hold over this and never cease to give a complete setup.

Laundry and dry cleaning

This option, help connect users with laundry firms. Laundry will be collected from doorsteps and delivered after wash. Each process can be tracked from the user app. So with a tap on the phone, users get washed their clothes.
Courier & parcel delivery

Logistics is a big problem in the present courier delivery businesses. No amount of technology was able to completely solve this; postmates like a model which uses third-party delivery persons can reduce overall cost and quicken delivery.

We curated this service so that it is as simple as possible without any hassles. Real-time tracking of the parcel until delivery is displayed in the customer app. User just needs to sign-up; enter courier details; request nearby agents for delivery; track item, and finally get an invoice.

You can manage everything in the courier delivery service from the admin panel which I'll explain later.

Medicine delivery

Pharmacy shops nearby are made to get on-board the app. Customers shall enter the medicines and search for it in the listed pharmacies. The rest of the process is similar to restaurant food delivery.

The search algorithm in the SpotnEats app is tweaked heavily to match the medicine with the pharmacies. Hence, there is no room for error.

Grocery delivery service

The grocery delivery model is the same as that of medicine and food delivery. But we at SpotnEats have added another feature which increases the monetization power. Apart from listing third-party stores, you sell your own grocery products in this service. This we added after consulting with our existing users.

Managing all the works ranging from inventory to shipping is done from a single dashboard. This is completely data-driven and reduces costs big time.

Other services are alcohol delivery, seafood delivery and many more. There is no limit to the no. of new services to be added. SpotnEats is flexible and scalable that it can handle multiple services seamlessly.

Customized mobile and web app

Interfaces for all the services in this postmates like solution is the same. There are not many significant changes to some services.

The customized mobile app and web app is made for the customers who want to access the service. As to the question of why web app for customers:

Nearly 40% of on-demand users access web app rather than mobile phones.
Usability and browsing is smooth in the web app
Navigation is easy and more clear.
There is a slew of features in this customer app. SpotnEats customer app is a tweaked version of the postmates app; heavy emphasis was laid on design, look, user experience, and performance. This app is available on both iOS and Android.

After registration, the user needs to select the service required. Since it is similar to postmates with multiple services, you cannot expect it to consume large data; thanks to the app architectural framework.

All in one admin web dashboard

The admin web dashboard is easy to use with sophisticated functionalities. Each service is given a separate panel in the dashboard; each panel displays the real-time data like active bookings, no. of delivery agents registered, order status, payments completed, commissions for each order, etc.

The panel also has filters to view daily/monthly/ weekly data. The in-app chat option can be used to send messages directly to delivery agents.

Automatics SMS and emails are sent to the users from the admin panel. Targeted messages are possible and the admin has full control over it.

Get your Free Demo: Whatsapp | Skype
Getting SpotnEats solution

We give a powerful and robust back-end to control all the proceedings. Laravel, MySQL, Swift, and Java are used for product development and hence performance issues won't be there. After purchase, you get a year free support on all fronts.
Get your Free Demo: Whatsapp | Skype

Wrapping up!

If you are interested in starting Postmates like startup using SpotnEats, then feel free to contact us on [email protected]. We are looking forward to working with you!