By now, most of the entrepreneurs have started to plan a business model to kickstart in 2021 effectively. To start an online food ordering and delivery business at least need a $50,000 dollars investment. For new entrepreneurs and startups, it's a huge fund to collect and many hesitate to invest.
However, don't worry, this blog will be a helpful guide for the startups who planned to launch food ordering and delivery business shortly at a less investment. A business model that can be implemented with the top-rated readymade clone script will generate high traffic and sales quickly.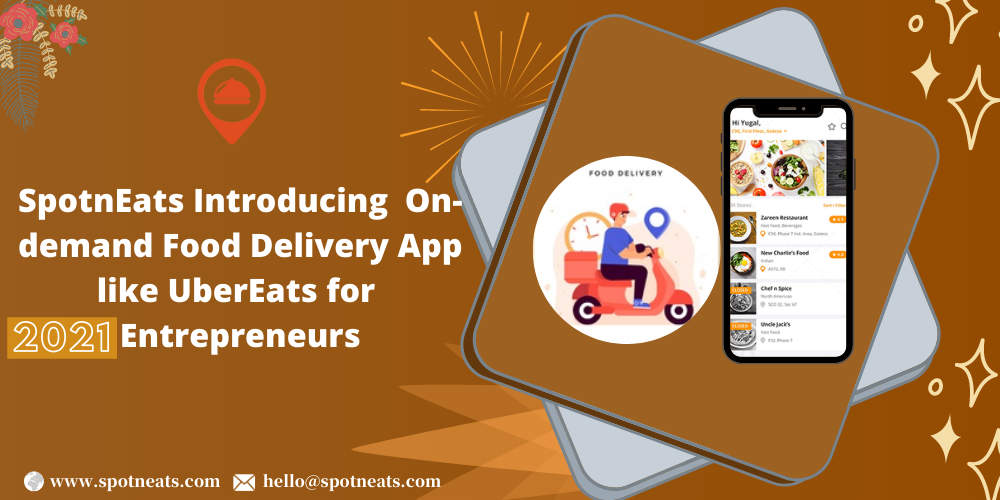 If you're doubtful about what online food delivery service ideas will work in 2021 and how to succeed in this competitive market? Then this blog will be a handy tool for you to choose the right UberEats clone script and improve your online food ordering and delivery business instantly. Below listed are the following subtitles that are covered in this blog.
Increasing Impact for Food Delivery software 2021
Online Business Ideas and Opportunities for Startups in the Food Industry
How Does UberEats Clone Act like a Perfect Food Delivery Business Model for Startups?
Build UberEats Clone Efficiently with React Native
Be Frontline in On-demand Food Delivery Industry with SpotnEats Sparkling Key-features
Increasing Impact for Food Delivery software 2021
Online food ordering and delivery is not a new platform in the market. Moreover, this industry has attracted many new and existing entrepreneurs to start their business directly with an app solution. If you really want to succeed in the business, then on-demand food ordering and delivery business models will be the right choice as per the market survey.
Online food delivery has shown a significant rise of 4,807 million US dollars of revenue by the end of 2017.
It is also expected to reach a revenue boundary of 10,196 million US dollars by the end of this year 2020.
The increasing impact has also expected to show a growth of 14,670 million US dollars in 2024.
The market survey shows the clear growth of the food delivery service till now and the impact for the food delivery in the upcoming year too. There is a huge opportunity for new startups in 2021. If you're still doubted about the worthiness of the online food ordering and delivery service in the market. Here, I have listed in detail the industrial scope.
The latest forecasting has revealed that by the end of 2024 the user's number for food delivery services will be higher and it is projected to reach nearly 155.8 million.
As single-person statistics, the average revenue generated by a person will be $46.06 dollars in 2020. It is expected to increase by $48.62 in 2024.
The market report has concluded the survey that 37.6% of people who place orders regularly are in the age group of 25-34 years.
Food delivery has become a hot trend in the market. Either the ordered food is delivered directly by the restaurant or through a third-party delivery agency service. On-demand food delivery software acts as a connecting bridge between the foodie and restaurant wonders. To enrich the service even better, the delivery agents help to deliver the food on time.
Online Business Ideas and Opportunities for Startups in the Food Industry
Online catering booking service
Catering service acts as a basic need for the small gathering to large gathering event in the market. However, to meet the customer's needs and expansions, technology has become an essential part of every business today. Developing an adaptable application solution will be the best choice to uplift the catering business.
Pro tip – Usually people used to surf the internet to know about your presence. To gain their attention, it is better to reach the right food delivery app development company for a unique output with enriched key-features.
Online frozen food delivery service
The latest forecasting details on the frozen food industry is expected to reach a revenue of 380.5 USD Billion by the end of 2027. The growth also predicted that the high demand for frozen food delivery services is in regions like Asian, European, and Middle-East countries. This sector is still unexplored in many regions, there is a huge opportunity for startups with the best app solution.
Pro tip – Today 70% of the food delivery revenue was generated with the help of a delivery app solution. It is essential to build an enriched frozen food delivery app solution, for a quick reach and brand visibility among the people.
Rich nutrient food delivery service
Most of the young generations have become more health-conscious and seek nutrient-rich food to keep themselves fit and hygiene. Since the young generations are running on a busy schedule, they aren't able to get time to cook and go grocery shopping. This brought the need for the nutrient food delivery service.
Pro tip – Health conscious, people seek detailed information on the food they are ordering. Therefore listing and showcasing the food with listed details of calories and other things that have been added to the food will help the customers to choose wisely.
Get your Free Demo: Whatsapp | Skype
Custom meal delivery service
There are many customers who still love to taste the custom food. There are fewer competitors in the market to deliver custom foods in the market. So, it will be a great idea to be implemented in the food industry to get uniquely branded in the market soon and gain the people's attention shortly.
Pro tip – It is good to implement new ideas in the market. There are many existing ideas that have been used by apps like Gruhbu, Deliveroo. To enrich the service quality, listing out the custom opinions under every meal will improve the customization easily.
Corporate food ordering and delivery service
Today there are many corporate companies in the metro cities and corporate owners are ready to order bulk food for their employees. This will be a great business startup idea for entrepreneurs who want to start their food delivery service in metro cities. From morning healthy breakfast to spicy dinner.
Pro tip – You can consider the best food delivery clone 2021, for the best start. This will help you to start and succeed in the food industry immediately. Choosing the right clone will give you effective metrics to handle the bulk orders smoothly.
Daily essential delivery service
Right from the morning, essential milk to a daily egg diet has become a needed thing for every homeworker. Most of the time, due to the high workload in the home. They aren't able to reach the grocery store and get the needed things with a worthy offer. This will be third-hand support for them on a daily basis.
Pro tip – Since this UberEats clone 2021 business model has been focused on a wide range of audiences with different age groups. Trying to keep the application interfaces and widgets as simple as possible will help the customer's engagement time.
Online bakery items delivery service
Everyone loves to treat their tongue on a regular period with sweet bakery items. There are a variety of bakery items and flavors from chocolate to vanilla. An online bakery item delivery service will be the right choice for the bakery owners to add all their cakes, pastries, waffles, and desserts.
Pro tip – Try to build the food delivery clone 2021 with high capability to upload real-time high-quality images to impress the foodies. Also, try to focus on the UI/UX designs to build a matching interface according to your service.
Home-cooked food delivery service
Still, there are people who prefer only home-cooked food delivery service. It is a great idea to implement by connecting the home cookers with the homemade food seekers. By focusing on the one thing (home-cooked food delivery), you can easily reach a wide range of audiences and get placed in the market quickly.
Pro tip – Make sure your app provides a short step by step instruction guide for the home cookers. Because most home cooks and the elders are not well aware of the technologies. By making their service as simple as possible there is a high range for turning them into potential consumers.
How Does Ubereats Clone Act like a Perfect Food Delivery Business Model for Startups?
Everyone might be aware of UberEats and it's service. Which has reached significant growth in the food industry and gained a worthy amount of profit. UberEats has brought many more entrepreneurs to start their own food delivery business in the 2020 market. Still, there is a huge opportunity for new startups in 2021.
Choosing a ready-made app like UberEats for 2021 will be the best choice for the entrepreneurs to build a presence in the on-demand food delivery service industry. SpotnEats has decided to create a platform for new startup entrepreneurs with UberEats clone 2021. We provide a high-quality Ubereats clone without any compensation and with full customization.
SpotnEats UberEats clone app business model, perfectly work on 4 simple steps as follows
Quick searching for the right restaurants near the customer,
Placing the order in the respective restaurants by viewing the list of menu and current offers,
After ordered, delivery agents will be assigned to picking up the order from the restaurant,
Delivery the orders correctly to the right customer and receive the payment.
Our UberEats clone script is a combination of Aggregator and Hyper-Local on-demand business model. Our app solution acts as a 3 transaction strategy, that falls under Business to Business (B2B), Business to Partner (B2P), and Business to Customer (B2C). Our solution is so flexible to adapt the platform according to the client's preference.
B2B – Business to Business, where an existing restaurant business comes under another business to get visibility and gain worthy revenue by raising the sales easily in return for money.
B2P – Business to partners, wherein UberEats the delivery agents come under the partners. If you want to build a food delivery service with the delivery agent's support for your connected restaurants. Then you can choose this model B2P or you can go for B2B.
B2C – Third aspect that comes under the customers, where the customers book the food for cash and pay extra to get it delivered at their doorstep.
You can gain revenue by the commission, promotion, and delivery charge. The revenue percentage can be fixed by you as an admin. Mostly every on-demand delivery service used to charge 13%-30% commission. If the delivery distance is long from the restaurant, then you can charge an additional amount.
Build UberEats Clone Efficiently with React Native
SpotnEats UberEats clone script has been developed by React Native to keep our software solution unique from others and to give a perfect finish with the right metrics. React Native is an open-source framework that has been used to develop the app using well familiar language JavaScript.
Many popular apps like Facebook, Instagram have been developed by the React Native framework that has good market stability and people like top tires prefer React Native. The communication between the participants and other devices is easy with this framework. Perfect for any devices without edge cuttings.
Be Frontline in On-demand Food Delivery Industry with Spotneats Sparkling Key-features
Pro tips included in the above are already included in the SpotnEats UberEats clone 2021. This helps you to easily start your business with all efficient metrics to boost up the sales and keep your service engaged. Other than the above-listed features, we have also included a few metrics to uplift the service even higher.
Route optimization – To make the delivery quick and short, we have integrated the multiple route optimization feature.
Multiple payment options – Helps you to attract all sorts of customers and make their payment online or as direct cash.
Offer perks to drivers – If the customers get fully satisfied, he/she can pay extra credit to the respective driver.
Easy and quick login – To make the service as quick as possible, we have integrated the social media login option for the customers.
Grocery inventory management – The restaurant owners can easily keep track of their grocery inventory in real-time with their app interface.
Final thoughts
On-demand food delivery is an on-growing industry that offers plenty of wide choices for entrepreneurs to gain their business goals timely. If you're planning to invest in the on-demand food delivery industry, then SpotnEats UberEats clone 2021 will be the right choice.
Get your Free Demo: Whatsapp | Skype
We offer a basic food delivery app plan at $4,000 USD. If you want higher metrics and additional features or interfaces, it can also be customized easily and the charge will be applied according to your preference or business model you're demanding. Reach us today by filling the below form or drop a mail at [email protected].