We have Uber-like on-demand services for everything, but one area where this model is still not implemented is the grocery delivery. Wait, obviously there is doorstep grocery delivery for a very long time, but app-based ordering and doorstep delivery was not there until few firms entered this business.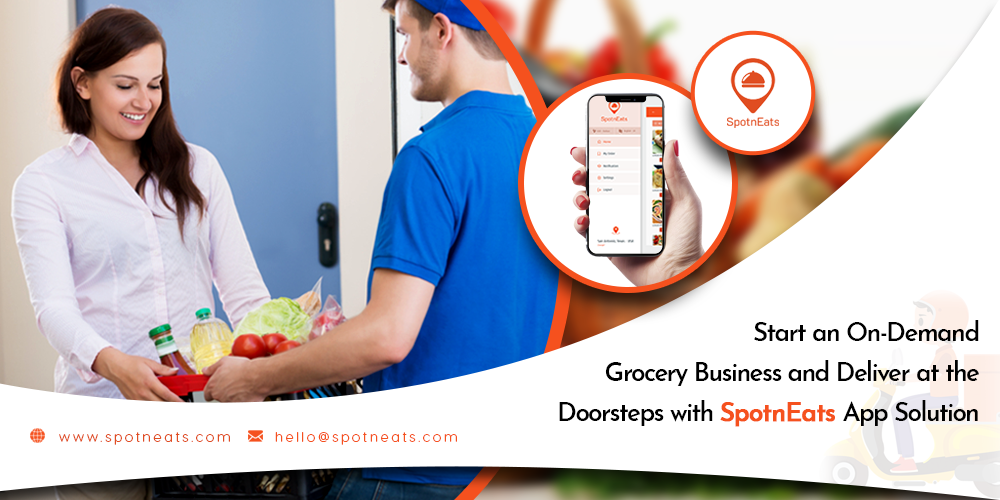 After seeing the huge reception for many on-demand food delivery services, grocery delivery firms like AmazonFresh and Brandless were started in the US. Unlike food delivery and cab booking, app-based grocery delivery business has not much competition.

Get your Free Demo: Whatsapp | Skype
If started, there will be great patronage from office goers who want to cook healthy meals at home. In the start of 2019, 20 million new people have adopted online grocery ordering. Out of which 90% of them prefer home delivery.

In 2015, only 15% of the US residents ordered groceries online and this figure jumped to 70% in 2016.

No wonder this grocery delivery is a booming industry and it is poised to grow at a faster rate since developing countries like India are faster adopting to on-demand services.

Who Can Start this On-demand Grocery Delivery App Business?

Entering this industry will be very easy for those who are running a supermarket and offline grocery shops. No problem individuals who have a knack of entrepreneurship skills can also enter this business.

This business can be run in two ways. One as a marketplace model and second as complete ownership model.

This business can be run with little investment by bringing local grocery shops and stores under one roof, kind of a marketplace. This gives a healthy competition and eliminates unfair business practice and monopoly.

According to the second model, the groceries and other materials are procured by you and deliver it to the customer. Running this model is cost sensitive and requires a lot of initial investment in terms of infrastructure and supply chain systems.

How does it work?

The user downloads the app and registers the name and address. The exact location is provided by the user. Nearby stores and supermarkets are shown in the user app. The user can select the store and order the grocery items based on his/her requirements. Add the selected items to the cart and checkout.

In the checkout page, the user can pay via various payment modes like COD, e-wallet, credit/debit card, etc.

Post order, the user can review and rate the service. The ordered grocery items will be delivered immediately. Order returning is also available in under some conditions.

Revenue Model

For each order, you get a commission from the store/supermarket. The commission percentage can be mutually decided. Also, apart from the commission, delivery charges are paid by the customer.

Applications

The grocery delivery app has Customer app, Delivery person app, Store/Supermarket panel, and an Admin panel.

Manage Products, search different types of products, manage categories, payment statements, see billing history, track delivery person etc are some of the store panel features.

The features in the delivery person app are new order request, delivery charge managing, daily earnings, track customer location, update location status, etc.

The customer app has a slew of features like grocery categories & subcategories, ingredients, quantity, add to cart, track your order, payment options, order tracking, get order details, discounts/offers/cashbacks/referral points, call the delivery person, tipping delivery person.

The admin panel is web based and has a dashboard from which the admin can control maps, users, drivers, stores, orders, mass push notifications etc.

App Development from SpotnEats

SpotnEats is the flagship product of our company under which we develop apps not only for online food delivery business but also for other services like grocery delivery.

On clients request, we are ready to provide crypto payment feature, subscription model, chat integration, etc. If you have any idea of starting this business or already in the grocery business, then we are at your disposal.

Get your Free Demo: Whatsapp | Skype
We have immense experience in developing apps for taxi booking solutions, fleet management software, and Uber for X services. Given, we develop a grocery delivery app for both iOS and Android platform.