If you are in the starting stages of opening a restaurant or already in the restaurant business but following the old method to manage it, then you should definitely know about the restaurant management software. This software is not new and has been used in isolated places. Now the need for it has increased exponentially because of the intensely competitive restaurant and online food delivery business.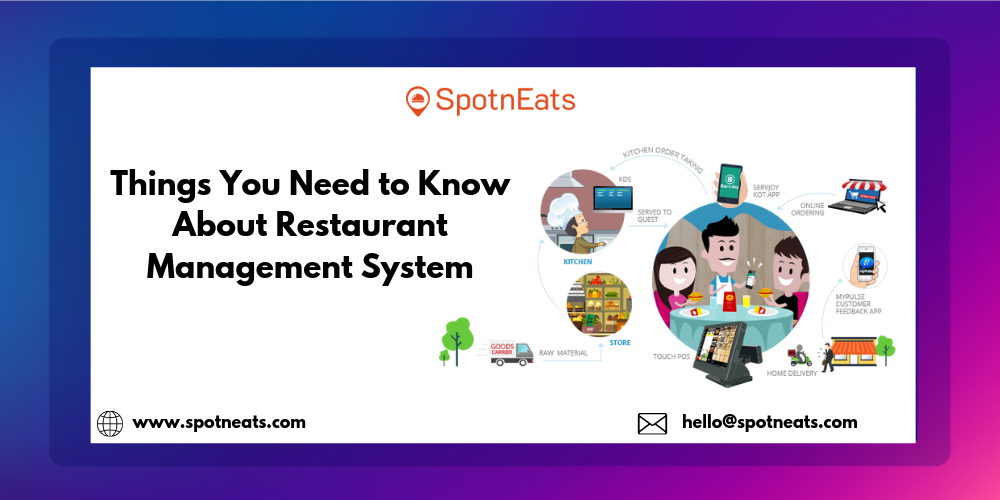 You may have many questions regarding the restaurant management system and here I will explain it in detail starting from a brief intro about the software.

Also, not every restaurant or online delivery business needs it. So read this till the end and evaluate the need for this software for your business. After all no one knows your business better than you.

What is a Restaurant Management Software?

The name itself has the answer. The software is used to manage all the operations in a restaurant on a single screen. The restaurant owner or admin will have a web panel dashboard which is used to manage the following things like.

Managing dine-in orders.
Menu price management.
Inventory tracking.
Employee timesheets.
Salary processing.
Online food ordering.
Delivery agent commission management.
Recipe management
Needless to say that this list is just an example of the tasks done by the software. Based on requirements, more features can be added to the software.

Restaurant management system was first used to process the transactions between the restaurant and the customer. Slowly, other processes are added to it and it has evolved a lot till now. At present, this system is used to manage all the operations in a restaurant.
Need For Restaurant Management Software

For decades every operation in a restaurant is done manually and it involved a lot of human error and resulted in less productivity. When the demand for restaurant increased, the need for efficiently managing all the operations also became a necessity.

Challenges faced by a restaurant:

Employee scheduling
Pricing of menus
Organizing inventory
All these tasks are simplified in the restaurant management software.

Also, most restaurants are moving to online food delivery system which further increased the need for a single system to manage all the operations.

Operations in online food ordering and delivery:

Managing online orders from customers
Assigning delivery agents
Commission and delivery fee management
These online food ordering operations are seamlessly integrated into restaurant management software.

Top Features in this Software

Inventory Management & Tracking

This feature allows you to have a real-time account of the raw materials and ingredients. You can know which material is in demand and which one requires in great quantities. This narrow down your process of making arrangements with the supplier efficiently.

Dine-in Order Management

With this feature, you can keep track of the dine-in orders. Customer reservations and menu pre-booking can be done with this feature. Assigning food to the chefs, payments, and assigning waiters can also be done in this system.
Accounting
Need to process employee salary, supplier dues, delivery agent fee, food cost, and maintenance cost? Then, the accounting feature will help you. Apart from this, generating monthly reports, sales reports, and material usage report is also done using data analytics tools. A pattern is also created using this data to give a valuable result which can be used to improve the operation.

Marketing and Offers

Both for dine-in and online ordering customers you can manage offers, discounts, loyalty points, and other incentives using the software. This can be done using push notifications which can be sent from the system.

Menu Setup

Change menu and pricing based on demand and timing. For example, during dinner, you can provide some specific menus and during weekends you can change the price of the menu because of demand. For online ordering, you can show the image of the food to excite the customers.

Cost of the Software

The absolute cost of the software depends upon the service provider and features included in it. Normally, there are two types of payment mode to use the software.

SaaS Mode

In this mode of payment, you use the software based on a monthly or yearly subscription. This mode is used by most of the software providers. The initial cost is lower but the periodic money spent is high. One big advantage of this mode is that you can discontinue the service at any time if you the software is not yielding good result.

Perpetual Mode

In the perpetual mode of payment, the software is bought completely for a price without any time frame for usage. This mode of buying the software is expensive at first but the cost of running is low. Only during any software update, a small fee is paid to the provider.

SpotnEats is a restaurant management software which has a separate online food ordering system which can be combined to form an integrated regular restaurant management system. We offer this solution on a perpetual licensing basis. So, you own the complete solution forever after the cost is paid.

Some additional cost is charged for each additional feature in the software. Marketing tools and inventory control are some third party features which will not be in the original solution but can be added based on requirements.

We stay up to date with the latest technologies in the market and pass on the relevant tech advancement to the solution. For these updates, we charge a nominal amount. Post sale assistance is provided for a long time until you are familiar with the usage.

Who Else Can Use this Software?

All kinds of restaurant startups, bakeries, ice-cream shops, eateries, wineries, bars, food truck chains, coffee shops, etc can use this software for smooth operation.

Before deciding on the type of software, it is recommended to analyze your restaurant type, location, target audience, demographics, etc to find the features required in the software.

If you are interested to join with us to use our SpotnEats restaurant management system, mail us to [email protected]. We are excited to partner with you.
Build Your Own Restaurant Management Software with SpotnEats: