I have always seen entrepreneurs who are going to step into the online food ordering space being in a dilemma on how to develop the app solution. While there are four ways to make it happen, not all of them are the same in terms of development, cost, quality, scalability, convenience, etc.

Here in this blog, I have explained the ways of developing ubereats clone app along with its pros and cons. I hope this will help yet to launch startups to make informed decisions. Before going into it, let me clear the basic about the food app.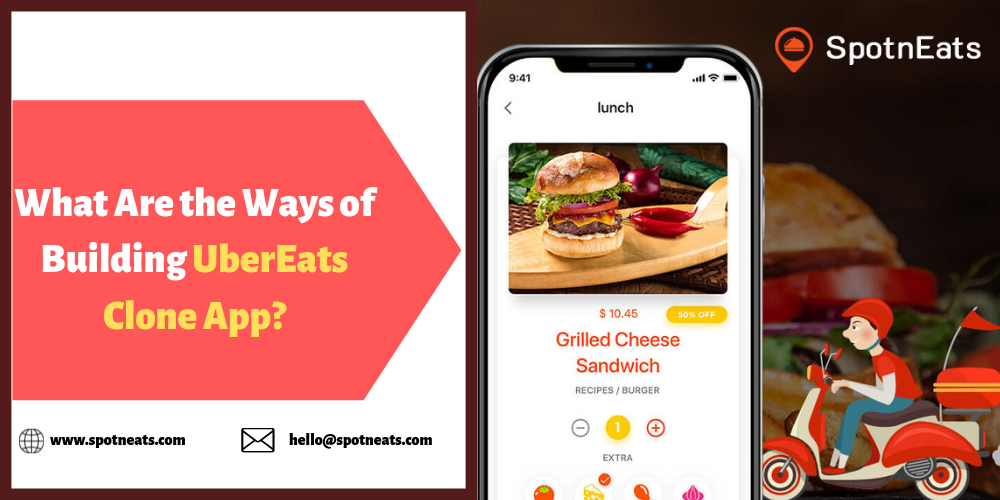 A typical food app comprises of:

Customer mobile app(iOS, Android)
Delivery agent mobile app(iOS, Android)
Restaurant mobile panel(iOS, Android)
Restaurant web panel
Admin web dashboard.
So the development of a ubereats clone is not like other app development since it consists of multiple apps and multiple users involved in it. Now we can get into the subject.
Steps to Build UberEats Clone App
Hire A Freelancer

Hiring a freelancer to build UberEats like food app solution has more cons than pros. If you don't have technical knowledge then checking the code quality and final product is going to be difficult. Code quality influences the scalability, performance, and user interface of the app. The apps in the on-demand business is the one that connects the users and so the code quality cannot be compromised,

Since the food delivery solution comprises of the customer app, delivery app, restaurant web panel, restaurant app, and web admin panel, I don't think a freelancer can make all these apps with equal quality and at short time.

On-demand apps needs constant updation with new features added and tech advancements applied at regular intervals to ease user interface. To do this requires experience in the on-demand app development field and constant touch with food delivery startups. Freelancers may not have experience working in on-demand and also not be in touch with startups.

Lower cost and flexibility in working are the sole benefits of preferring freelancers. If you need a perfect quality solution and one that needs to make a mark in the market, then hiring freelancers is a bad choice.

Hiring a Team of Developers

In the food app solution development one needs to consider these things.

Platform(iOS/Android)
Native/Hybrid
UI/UX design
Back-end
Mobile analytics
These factors cannot be given equal focus by a freelance developer and one cannot be equally good in iOS and Android, Native and Hybrid. So hiring a team of developers each having expertise in separate field is better.

Again, the advantage here is the cost factor, flexibility, and development at short time. Here also if you don't have sound technical knowledge, it is going to be difficult. And hiring a developer team will not ensure that the standards are met in terms of user interface performance, scalability, and adaptability.

Partnering with a Mobile App Development Company

Don't have any technical knowledge on app development but want to excel in the food app startup market? Then working with a mobile app development company is the right place. There are some app development firms dedicated to the development of on-demand apps. Both native and hybrid apps for all kinds of platforms can be built from scratch.

These firms engage with you for discussion during every part of the process. Piloting and beta testing which helps to find and sort failures, bugs, and major issues are done in these companies before the official launch

Getting an experienced and skilled resource won't be a problem and 24hrs support will be provided even after the app is made live. Constant feature updates, timely issue fixing, technology changes are done effortlessly by app development companies.

Since the app is built from nothing, the cost it takes will be between $30,000 – $40,000. Also, a lot of failures and crashes will happen and it is difficult to build the solution on par with other top apps like Ubereats and Foodpanda.

Communication gap is true here and addition of features, design, and any kind of changes you say will add more to the cost.

Purchasing White Labelled Solution

If you need an app that is similar to UberEats and FoodPanda, then building from scratch won't do any justice. What if you can get a readymade minimum viable app solution and customize it the way you want?

Yes, there are some on-demand app development companies like SpotnEats which have a pre-built online food ordering app. These firms already made the app with reference to UberEats and FoodPanda. So you can expect the solution to be the same as that of other top apps in terms of design, performance, and scalability.

Process that takes months will be completed in days if you get readymade solution and all at one-third of the app development cost from scratch. Some obvious advantages of preferring white labeled food app solution are:

Quick to market
Greater visibility
Low cost
Better ROI
Less maintenance
Fully tested
SpotnEats: UberEats Clone Mobile App Development

Even many other on-demand startups prefer pre built white label solution. Having said that, we at SpotnEats give 100% source of the food app script so that the client can independently alter it. Any customizations are undertaken and possible new technologies and features are incorporated into the script.

Our team is working with AI, ML, Big data, Analytics, etc so that it finds application in the app. SpotnEats food app is used in 10+ countries. Frequent feedback are taken from our existing clients to further improve the solution.

Cost is fixed which includes source code, customization, implementation, and post sales maintenance. Feature addition and design changes incur a nominal cost if done after the app is made live. If you are looking to quickly launch the food ordering startup at low cost, then I strongly recommend you to partner with SpotnEats.

For more details, send a message to [email protected].
Build Your Own UberEats Clone App with SpotnEats: