Do you know what happens at the back of a food ordering and delivery startup? If you are going to enter this sector with a brand new startup, then it is better you know how sophisticated the functions of online food ordering and delivery are. This business model has to rely more on accuracy than other on-demand because food is delivered. The time of delivery is inversely proportional to the quality of food; nobody wants bad food delivered. Enormous amounts of data are used to make delivery fast and a lot of real-time factors, tech advances are being applied.
It is imperative for you to have knowledge of all these so that you do not overlook any important things while developing the app solution.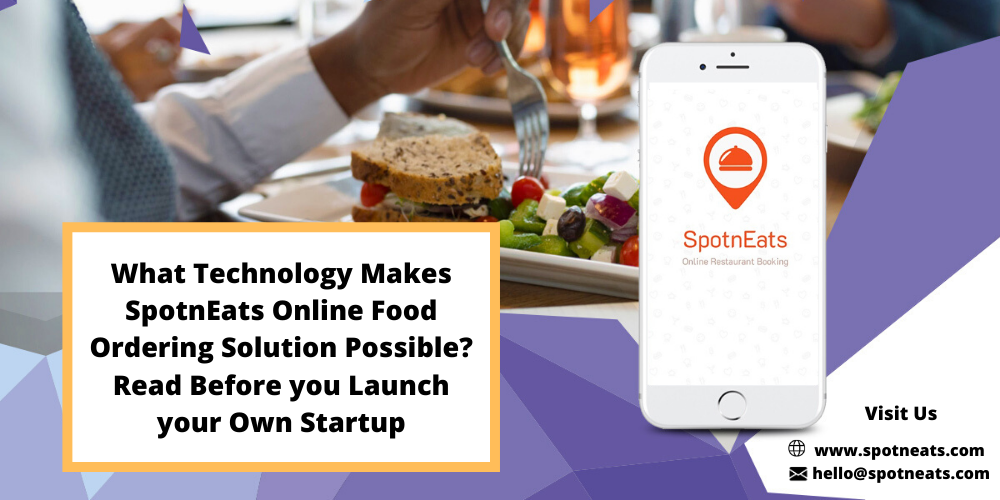 How SpotnEats On Demand Food Ordering App Helps Your Startup?
SpotnEats is a custom-built food delivery solution and we are in the process of improvising the solution and updating it with the latest trends. Many of our clients who are operating in different regions across the world give us feedback to improve SpotnEats.
The USP of SpotnEats is that we are in line with the latest trends that are mostly followed only by top food apps. It would be nice if you can understand what goes behind the working of SpotnEats.
Technology behind SpotnEats
I will try to explain this part in layman terms. The main function of our solution is getting food delivered to consumers. But behind it there is systematic coordination between three users.
Coordination between consumer, restaurant and delivery agent(DE)
For SpotnEats to work smoothly there has to be a sizable number of consumers, DE, and supervision from an admin. Also, the demand from consumers must match the restaurants and the menus in it. If there is a mistake in any of it, the whole system breaks down.
So the consumer experience depends on how DEs and restaurants operate. The customer app, DE app, and restaurant panel are all connected with little to no latency so that data is transmitted without delay.
The restaurants and DE get many requests at a time and any delay in requests will affect one after the other like a cascading effect. Since time plays an important factor, we at SpotnEats have made extra effort to incorporate technologies that speed up decision making. For example, machine learning which is used to predict ETA was improvised by our team.
Updating menus in the customer app
Restaurants listed in an online food ordering app on average get 10 order requests at a time. This in addition to the takeaway and dine-in in that restaurant. So there is a problem that a menu can get over by the time a consumer orders online. This gives a bad reputation to both the restaurant and the food app.
We found that some of our existing clients experienced this problem. We immediately took note of it and made a new feature in the restaurant admin web panel. In the new feature, the restaurant admin will instantly get the option to update menu list after an order is accepted. The idea is very simple.
Harnessing enormous data
Unlike other on-demand apps, food apps are complete real-time running apps. Every second, data is captured and used for processing. The moment your customer opens the food app, numerous calculations and algorithms run behind. For example, the customer preference, nearby live restaurants, delivery executives nearby, ordering history, favorite menus, reviews, and ratings are some data that are processed.
The aim is to give better results to the consumer. The same applies to the DEs as well as restaurant admins. Over a period of time we have made extensive changes to this data gathering and decision making.
Why SpotnEats?
Major technology change so far has happened in this data gathering and processing area. SpotnEats teamwork more in this area to improve efficiency and give a good user experience.
The admin web app for SpotnEats is foolproof and makes it easy to manage volume of DEs in a specific region, demand-supply ratio, cancellation rates, restaurant with more orders, etc we are now in the process of automating these things and make informed decisions out of it. Maybe some 2-3 years down the line we may have it working in our client's startup.
This is how SpotnEats work and we differ from others because of our affinity to technology and aiding the solution adapt to changing markets.   
Get your Free Demo: Whatsapp | Skype
Wrapping up!
SpotnEats can always be the best food delivery app solution for your new delivery startup. We are not just another development company to create a base solution and deliver it to others; SpotnEats work deeper and even solve some pain points of users.
For more details about SpotnEats, please send a mail to [email protected]. Request us for a live demo of our product and get exciting incentives and discounts!