Online food ordering and delivery industry are popular and dynamic. Entrepreneurs and investors are thronging this market to make unimaginable profits. Not to mention that this food delivery economy will grow at 16% CAGR till 2020. So there is no pitfalls to this on-demand industry for some years. This is why investors are placing huge bets on it and aspiring business persons showing little hesitation to launch these startups.

That said, this food ordering and delivery app industry is filled with a lot of challenges. While the demand for doorstep food delivery will always be present, but the food delivery industry may get disrupted if the existing challenges are not sorted.

Here I have explained the ongoing challenges in running a food app startups and possible solutions to sort it. People who are already running such startups and those who are planning to start must know these challenges. It is possible for you to act as an example by launching a food app devoid of all the persisting challenges.  
Get your Free Demo: Whatsapp | Skype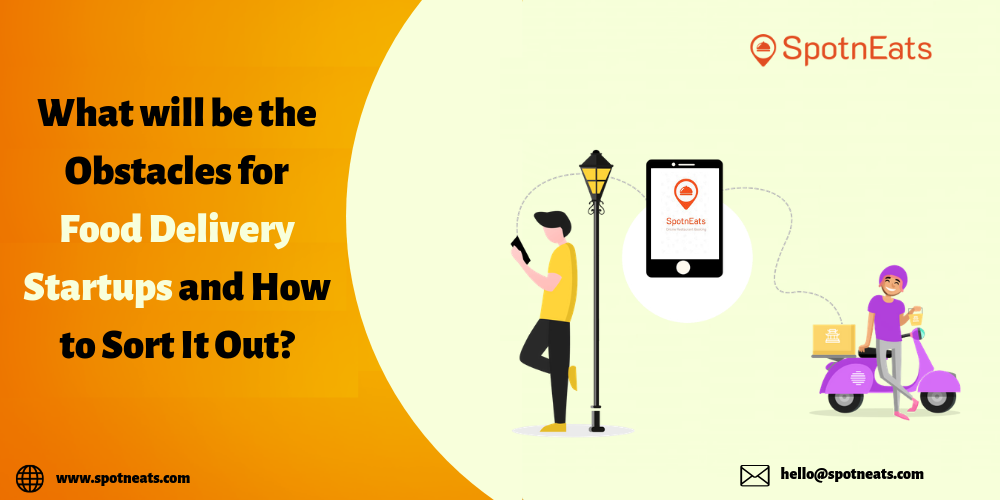 What are the Challenges Faced by Food Delivery Startups?

Wafer-thin profit margins

When a food delivery startup has their own fleet of vehicles for delivery, then to cover the enormous operating cost they need to put some extra charges plus 10-20% on food cost. This exorbitant charge and high commission share on food price will bite back in the form of low sales. So they fix the charges as low as possible. This gives a wafer-thin profit margin making the business unsustainable.

This can be eliminated to a great extent by not having own fleet. Instead, interested individuals who need to make extra money can join as delivery agents along with the vehicle. For every delivery, some charge is provided to them.

Another way to get more margin is to levy a higher percentage on every food cost without transferring this cost to customers. It is found that online food delivery has tripled the sales of restaurants. So this extra charge won't affect them much.

Inefficient delivery system

Inefficient delivery is always a problem in last mile delivery companies. Beyond a point, it is practically impossible to achieve high efficiency. What would you do if a delivery agent is struck in traffic that moves in snail's pace? Such situations are inevitable but the delivery efficiency can be improved a notch higher by using some smart ways.

Assigning delivery agents can be made even more precise when a restaurant gets an order. Sometimes delivery persons far away from the ordered restaurant take more time to even reach the said restaurant. Another solution is to make delivery agents be at some vantage points where they can reach multiple restaurants quickly.

Drone delivery can be quick and costs and cuts down the delivery cost and time drastically. But that technology is some years away. Still, you keep an eye on it.

Poor quality of food delivered

Bad quality food being delivered is the new normal in the food delivery industry. Poor package of food, food spillage, damaged package is also happening. The cause of this problem lies with both the delivery agents and the restaurant.

Delivery agents must be trained properly to handle food packages. Proper bags must be provided to deliver the food properly.

Restaurants should be given certain standards for packing the food. The package should be such that tampering is not possible. Restaurants and delivery agents can be penalized for the damage of foods. For the quality of food, the restaurant must be allowed to update the materials used, cooking methods followed in real-time.

Food app startups need to undertake inspections in the restaurants they have partnered with. Latest technologies like blockchain can be used to find any lapses in the quality of food.

Inefficient to handle large volume of orders

Among other on-demand business services, food delivery sees a huge volume of orders. So the excellent service offered by them should not stop after the food is ordered but must continue till delivery.

Startups when they start small, they focus on having a perfect app with immersive user interface and performance. This takes them to the next level where they need to face a huge volume of orders. Here both the restaurants and delivery persons were not able to handle the sudden influx of orders. This increases the delivery time and compromises food quality, packing, etc.

Such scenarios can be handled by anticipating demand and engage more delivery persons. Data analytics tools can be used to derive data from the past to find the period when the demand goes up so that the restaurants can be intimated.

Delivery in remote areas

People in remote areas too have very good access to smartphones and the internet. They will also use food apps to get food delivered at their doorstep. Make logistics arrangements or partner with eateries in outer areas to deliver food.

What SpotnEats Can Do For You?

SpotnEats is a food ordering and delivery script used by many businesses. We mainly partner with bootstrapping entrepreneurs to deliver high quality scalable solution. Our admin panel is loaded with sophisticated data analytics tools to view valuable data.

In-app chat is present in SpotnEats which can be used to communicate with delivery agents and restaurants. Our delivery person algorithm is so precise and the aptest person is assigned. 

Get your Free Demo: Whatsapp | Skype
Our team is working on latest technologies to find ways to eliminate poor quality food being delivered. Not satisfied with SpotnEats? Then get a live experience of it by taking a demo.

For all details, tap a message to [email protected]. We are looking forward to joining you.