There is a common belief that countries in African continent are not well developed and because of poor infrastructure it is simply impossible for tech startups to survive. This belief may have been true until some years back; continuous effort from all sides, especially in Nigeria, has turned the table towards niche tech startups.
For the last 3-4 years, Logos and Abuja in Nigeria have transformed into a hub for tech on-demand startups. Tech experts and entrepreneurs believe that Nigeria will create a strong startup ecosystem that can turn the continent a hot market for startups. The GDP growth of Africa is 5%, which is healthy no. when their past is taken into account. Every year 1 million skilled workforce join the economy.
Already Google and Facebook established data centers in Nigeria; Startup accelerator programs are running actively to help aspiring individuals. What is true for Nigeria also exists in other countries in Africa like Ghana, Egypt, Mali, Congo, and many more.
In this blog, we will be more specific and explain the scope and potential of on-demand food ordering startup sector in Africa.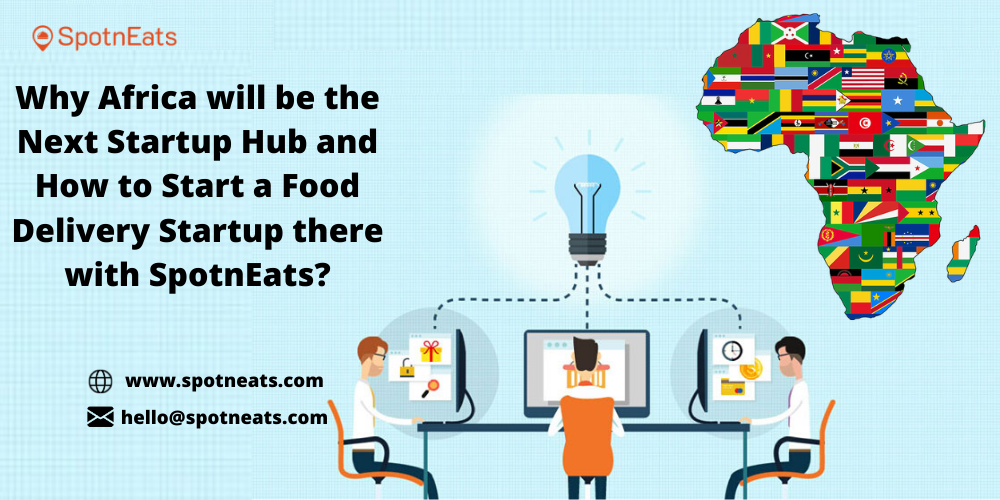 What is the Scope and Potential of On-Demand Food Ordering Startup Sector in Africa?
On-demand startups
On-demand startups are the most successful and sort after startup model in recent times. On-demand is an app-based business model that uses just the mobile apps to connect the customer with the service provider.
In African continent the internet access is spreading at a rate of over 90% every 7 years. This is a healthy factor. for on-demand startups.
The African population is known for their appetite for food, not to mention the tourists in Africa who spend much time to explore delicious food. The restaurant sector in this continent is also vital since it contributes much to the economy.
So, I hope that an on-demand food ordering startup model will have good times in Africa.
Start an online food ordering and delivery startup with minimal capital
Restaurants in Africa are already on the top because of tourists apart from local demand. If you are owning any such restaurants, it would be a better idea to move online by offering online ordering and delivery.
You don't have to worry about the transition, there are firms like SpotnEats to provide full technical support.
There is another way to cash in on the African population's appetite for good food, it is the online restaurant marketplace model. You just build an online platform for restaurants to list; customers use your platform to search and order foods. Ubereats and Foodpanda work by this model and make millions.
For both the model, SpotnEats can help with a brand new tech solution. You don't have to ponder over finding the best partner. We will see more about SpotnEats later.
Scope of online food ordering
In 2019 alone the food ordering market had witnessed a growth of a staggering 210% relative to the previous year. Also, the annual growth rate of online ordering exceeded the international average.
Ubereats and Mr D are the top startups in the African market with a combined market share of 90%; this sector in Africa is more of a duopoly as you can see. With increasing purchasing power and infrastructure development, the demand will increase and hence a new player with an innovative solution is the need of the hour.
Why an innovative food delivery app for your startup?
It is expected that in coming years there will be more players in the on-demand food delivery segment. To capture the market with a sizable share it is inevitable to be innovative. Innovation can be showcased in the app solution you will be using.
Generally, the food ordering setup consists of four interfaces:
The customer app
Delivery agent app
Admin web panel
Restaurant panel
You can differ by offering unique features to each of the interfaces. AI, machine learning, and IoT based functionalities have good applications in the food app solution. Augmented reality advertising, accurate ETA, anytime login/logout for delivery persons, are some examples of innovation.
SpotnEats, as I mentioned then, can aid you with an innovative solution.
SpotnEats food app software for small startups
SpotnEats has so far served in as many as 20 countries to launch an online food ordering startups. The reason for SpotnEats to attract global clients is the fact that we use Ubereats app as a benchmark. Not to mention that our team of developers, designers, testers, quality analysts, and project managers strive to match SpotnEats with Ubereats. Our skills also enable us to pick niche features of other apps like Doordash, Foodpanda and put inside SpotnEats.
Most of our users are small and entry-level startups who choose us for:
Impeccable architecture framework with flexibility to add new functions.
Quick turnaround time at affordable cost.
Modular solution with an easily replaceable tech module.
Impressive assistance and timely support
No hidden cost and one-time payment except for new addons.
30+ optional features specific to different business models
A glimpse into SpotnEats tech stack
Payment gateway: Braintree, stripe, Cash, Cards, e-wallets, UPI, etc.
Analytics in Admin app: Google analytics and Mix panel. Other tools can also be placed.
GPS tracking: Google Map API for Android and Core location API for iOS
This is just an example. To get detailed info about tech stack, please contact SpotnEats.
Wrapping up!
The time is ripe to make a revolution in the on-demand startup market in Africa. Just pick this wonderful online delivery idea and come to SpotnEats; we customize the solution to any desired business model and any geographical area.
I assure that you will get to work with an expert team who can pull off the project effortlessly. Contact us on [email protected]. We are waiting to be your tech partner!!!.
Launch Your Food Delivery Startup in Africa with SpotnEats: