There is no area left by online ordering startups. First, we started to order food online, now it is extended to groceries. But at present, the craze is mostly for food ordering. How long will this craze last? It is estimated that grocery orders will be in the top place from 2020. If we can cook food quickly, then why order food from outside?

Already in the US, Canada, and Australia, online grocery ordering has become a new normal using app like grocery delivery app. Not to mention that these places are also popular for many on-demand startups.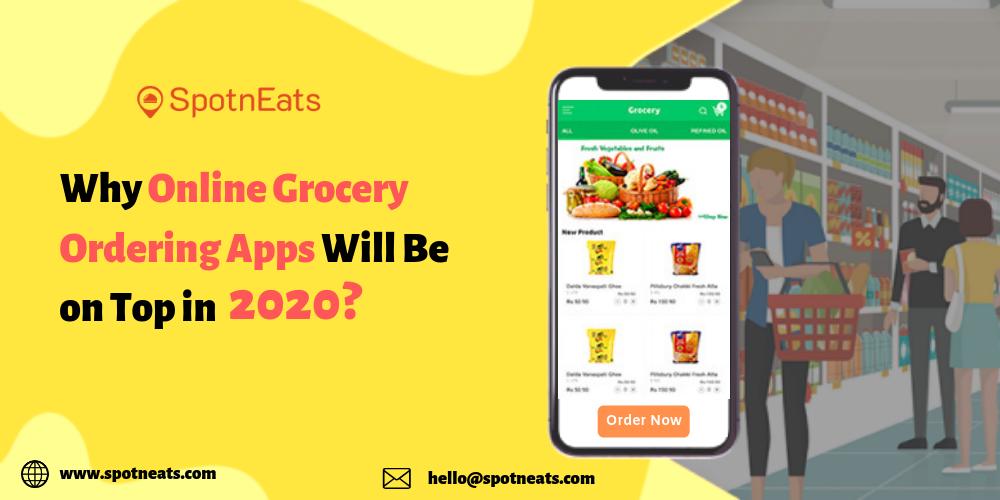 Today in this blog I will briefly explain the present and future market for grocery ordering and the reason why this will be trending in 2020.

What is Present Stage of Online Grocery Ordering?

Till now in 2019, the online grocery delivery experienced year-on-year growth of 40%. This tremendous growth busted the notion that whatever may available online but people buy groceries only from shops.

Even popular e-commerce firm Amazon ventured into this space in 2019. This shows the potential in this area. In the US alone, 22 million adult smartphone users have a grocery order app in 2019 This is expected to reach 30 million users by 2020.

One complaint made by non-users of this app is that groceries are not as fresh as we get from local shops. This changed now with innovative supply chain solutions coming.

What future is awaiting this market?

The future is only bright. Grocery app users will grow by 50% from 2020. Retailers are also showing interest in this and thinking of partnering with startups. American users are expected to spend more than $100 billion in 2025.

Offers, deals, and coupons are a big push for digital delivery and 3 out of 5 people use online shopping only for coupons and deals.
Why people will choose online grocery ordering more than ever?

Food freshness

So far people showed resistance to online grocery delivery only because of poor quality vegetables and provisions. Things have changed now with Fresh fruits, vegetables being sent directly to users in no time. So, freshness and good taste are guaranteed.

Even if the delivered goods are spoiled, refunds are given immediately. Such activities increased the reliability of online food ordering.

Convenience

Lazy to go outside to the local shops? Then you can get respite from grocery app. You can order anytime from anywhere while sitting at home. This kind of convenience is what drives people. The delivery is also made with neat packages at the doorsteps. Normally, delivery is done on scheduled time slots. User can book a specific slot for delivery while ordering.

Another good thing is the ease of payment. Both cash and online payments are accepted. Foods that need cold packing like processed meat, tin foods, etc can be delivered perfectly.

The grocery app usage is dense in metro cities mostly because of young working people who spend long hours at the office. These people are also willing to spend more to buy things online.

Offers and deals

When fruits, vegetables, and other provisions are listed online it will get good attention from users. Often there will be deals and offers for some goods, this also drives people to buy more and save money.

Like I said before, 3 out of 5 people use grocery apps only to get deals and offers.

Round the clock service

No time window for ordering online. The service is available 24/7 and delivery will be made at selected time slots.
Launching a grocery app startup

Going by the present and future trends it can be seen that the demand for this market is only going to increase. So this is the right time to start a grocery delivery startup. Amazon Fresh, Grofers, and Bigbasket are some top firms in the market.

First, you can start this business as a marketplace where you partner with local retailers to list their groceries in your site. This model doesn't need much infra.

Next, you slowly move to buy and sell model where you place an inventory of the groceries and sell them online. This model requires good infra and you get more profit margin.

Get your Free Demo: Whatsapp | Skype
Bottom line

In a few years time, you will see people buying groceries only using the app. If you plan to start this business now, I assure you have a great time ahead. Now coming to the app development for this startup. I request you to look into SpotnEats. SpotnEats is made keeping in mind the humongous need for it.

SpotnEats grocery delivery app is also suitable for other delivery services too. Our developer team can alter it with a small tweak. The only thing we need from you is a proper business plan of yours. We take the best decisions by analyzing it.

We can make grocery app solution similar to Grofers and Bigbasket. Additional features you like can be added.

Send any messages and queries to [email protected]. We are hoping to join you.