Entrepreneurship is a tough job and very few of them taste success in their first attempt. The on-demand online food delivery marketplace is one of the few startup ideas that have a quick ROI. It is not always necessary to come up with new ideas for a startup; online food ordering is already there and the catch here is to come up with ways to satisfy the target audience.

First, to innovate and bring something creative to the food delivery market you must have a robust app solution to handle anything; hope you use the Ubereats clone solution for it, for it is highly recommended because of its basic developmental framework and flexibility to modify.

SpotnEats is one of the kind app products for on-demand food delivery startups. The reliable and efficient app solution is preferred by many new startups. Before delving into its features, let me give some points regarding the built of SpotnEats.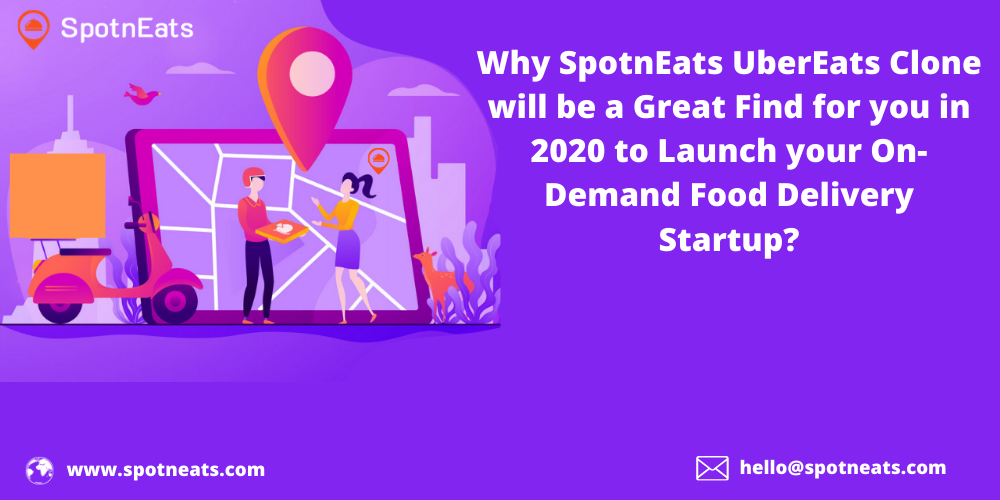 What are the Features Presented in SpotnEats UberEats Clone Script?
SpotnEats in-built specifications

GPS tracking: GPS tracking is vital for the hyperlocal delivery system like food ordering. We used standard Google location API for Android smartphone-enabled apps and Core location framework for iOS app.

Navigation: The standard Android map API is used as a navigation tool. Google consistently releases an enhanced version of this tool; we quickly update all the new releases.

Web development: The on-demand restaurant solution consists of two web panels, each for the restaurant and admin. We normally use PHP and laravel framework. Whatever it is, only the latest framework is used so that future modification is easy.

SMS notification: Twilio and Nexmo are third-party firms that send mass notifications and they have clients from top tier on-demand firms.

Payment system: We are now in the process of integrating bitcoin payment module. At present we use Braintree and Stripe payment gateway systems.

Features portfolio of SpotnEats

User menu customization

SpotnEats recently released a new feature to improve customer satisfaction; in this feature, the customer shall customize the menu before ordering. In a step ahead, we made it possible to directly display the orders in the kitchen display system of the specific restaurant.

Smart curated food search result

Machine learning and AI techniques are applied extensively to give the best possible search results. Past order history, reviews for food, order timings, etc are some of the data used to arrive at accurate search results.

Ordering food for friend

This exciting option is made to enable a user to order food for another person in a different address. Payment shall be split or paid by a single person.

Recurring orders

Hereafter it is not necessary for users to order food just before you want, instead, the order can be scheduled anytime. Users are also allowed to place recurring orders for a specified time frame to eliminate last-minute hassles.

Dispute claiming

The restaurants and the delivery persons need some strong feedback system to address problems like late delivery and poor packaging. For this we incorporated dispute claiming option for the users; users can immediately claim disputes regarding orders and this is sent to the concerned stakeholders.

Geo-location tracking

After the order is ready for pick up by the delivery agent, both the restaurant admin and user shall track the order till delivery. Geo-location tracking using Google map API is intuitive to follow.

Bulk booking

Bulb booking for commercial or domestic purposes can be made in the app by directly connecting with the restaurant. A separate chat is provided to give suggestions, descriptions and order specifications to the restaurant.

How long does it take to make the app live?

SpotnEats is a pre-built app with all the basic features present in it. Hence, the deployment of the solution will not take more than two days without customization. Obviously, new startups require customizations and feature addition based on a lot of factors. Anyways, the total time taken by us won't exceed a week.

We put more emphasis on testing in multiple interfaces and devices; quality standards are maintained and the solution is deployed if and only if the standards are met.

We will work in a way so that you don't miss the deployment date.

Reason to prefer SpotnEats over other firms

Our work is not completed after you purchase and deploy the solution from us. SpotnEats believe in long term commitment and hence we provide all-around support.
The pricing structure of our solution and services is transparent and competitive. There is no hidden cost and most of the add-ons are implemented at a nominal price. Also, we give a competitive price in the industry for a quality solution.
Multi-level testing ensures the solution to be foolproof and works well on all instant.
Technological advancement is the need of the hour for the on-demand food delivery industry and we have gauged this very well. Hence, our work focuses on improving the solution to meet the global trends using technology.
Final say!
SpotnEats script will definitely help you to up your position in the on-demand food delivery segment. To get more details about SpotnEats, feel free to mail us on [email protected]potneats.com. We are looking forward to partner with you.
Launch your Food Delivery App Startup Using SpotnEats UberEats Clone Solution: