Nothing tastes like homemade food but the major issue in homemade cooking is a shortage of gas. We have to order it before it's going to end, some might forget in their busy schedule. But what if you just get to your doorstep in your preferred time, isn't it worthy?
Just by installing an application on your phone and booking your gas at your convenient time. Sounds great, right? Here one such solution is available with us, this will reduce your time and make it easy to book and track your gas cylinder once you book it.
Nowadays there are many on-demand applications, each has its own niche features which make the users work simple with just a tap. If you're an entrepreneur looking to start your own application business in the on-demand industry then this on-demand gas delivery application will be the right choice for you in this 2020.
This application comes with amazing features. By launching your on-demand gas delivery business with our software application, I'm 100% that you're going to catch your own place in the on-demand market soon. Do you want to know? Then keep reading, this blog will provide you full detail about your application.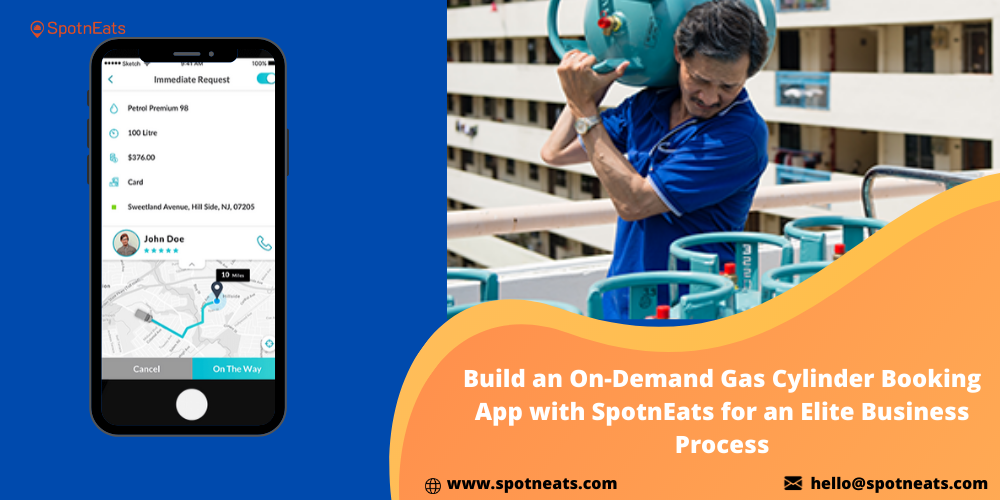 SpotnEats On-Demand Gas Delivery App Development
SpotnEats is a software solution for all the on-demand industries. We have an experienced team of developers who have years of experience in developing on-demand applications. We have also successfully launched our service all over the world.
You may be doubting that our software application might cost high? No, since our application is a pre-developed one with 100% flexibility. It's easy to add or remove the features as per your needs. And we have developed your application with the latest trends of UI/UX design.
A gas delivery system without the right software will lead to more problems. Here we SpotnEats a well-developed GDMS (gas delivery management software) that aids your users to track and manage their bookings. Here, let me tell you how our modern GDMS aids your delivery system.
Get your Free Demo: Whatsapp |Skype
SpotnEats modern GDMS
Gas delivery management software (GDMS) is a fully integrated gas cylinder delivery tracking and management solution. It is designed in such a way that to track and manage the entire delivery fleet including the logistics and delivery agents. It acts as a Logistics Tracking Software for gas cylinder delivery agents, helping to track down the delivery till the last mile.
Our software overcomes the issues of lack of tracking and it also consumes the cost as well as optimizes the route for delivering the gas cylinder. Now let me tell you how your application brings the changes in the gas delivery business.
What makes the change? Since it's an application people are quickly able to order their gas at their convenient time without any delay. The special thing in this gas delivery business is people are able to track their orders in real-time.
Without an application, no business can see their profit. Alike a gas delivery business because people are always in need of a quick solution for their needs and where they can able to check all the details of their needs.
Gain a worthy profit by the on-demand gas app
The world made us everything convenient by providing everything at our doorstep just by a tap on our phone. All on-demand has its own pros and cons, here let me tell you the revenue you will be gained by the on-demand gas app.
There many more countries still facing problems with gas booking and delivery, your application will be a cure for the problem they are facing. Since the on-demand industry has takeover all the transportation business to the next level.
It clearly shows that worthy of the delivery service by adding it with the real-time problem will give a high gain in your business. Let me explain to you the business model and the business process of your on-demand gas delivery application.
On-demand gas delivery system business model
Just by knowing the worth of the business without its process will not give you the full knowledge about your business. As I mentioned before this blog will provide you the full knowledge about the on-demand gas delivery business.
In your business model, there are four plays as listed below
The admin
The user (iOS and Andriod)
The delivery boy (iOS and Andriod)
The gas station (iOS and Andriod)
Your business will be benefited from the two platforms both iOS and Android. The user can be anyone even the restaurants also can be because they are users who need gas frequently than households.
Niche features that make your standard with the revenue growth
Real-time tracking – The real-time feature plays a major role in this delivery system, where it is useful for both the players. Where the user is able to track his/her order in real-time as well as the delivery boy is also allowed to track the user who has placed the order.
Route optimization – it will be one of the most useful features to deliver the order in the right by optimizing the route. The delivery boy is able to optimize the route before starting the service.
Point-point – The admin is able to track the delivery boy and the user along with the full details of them. The admin can even add or remove the riders from the platform and can edit the info.
Social media registration – This feature in your app helps the user to register their account easily using social media integration, it won't take too long. Within a sec the user can able to signup and continue with your service.
How SpotnEats aids you with your gas delivery service?
Once you join your hands with us, our team will kick start your application development work along with the 360-degree support. You are allowed to contact us anytime for the doubt clarification. We are here to aid you with before and after the support of the application launch.
A certain period free after launch service will be provided. The basic building of the app will take more time than you think. But here your app is already built and it will be remodeled with the needs that you have been requested.
Get your Free Demo: Whatsapp |Skype
Final say
By now, you might have got to know about the emergence of on-demand fuel delivery apps and services. How it brings a high revenue in your business. Want to launch your own gas delivery app then fill the below form. We will reach back to you soon. For any queries contact as [email protected].