For over a decade, the on-demand economy has been gaining popularity among consumers all over the world. It made everything simple with just an application, where the customer can easily order their needs and it will be delivered right at their doorstep within a few minutes. Alcohol delivery is also one of the popular on-demand delivery services.
One such service is provided by Saucey, it is a trustworthy brand in the US for alcohol delivery service. Saucey came into the on-demand alcohol delivery industry by partnering with some startups at the onset. Saucey is one of the leading on-demand alcohol delivery apps as far as California and other select cities in the United States are concerned.
The average year over year growth from 2014-2019 for the online alcohol delivery industry was 11.6% and it is expected to grow 13.8% at the end of 2024. This blog is all about the on-demand alcohol delivery business and how our software application helps you to gain revenue by the Saucey clone script.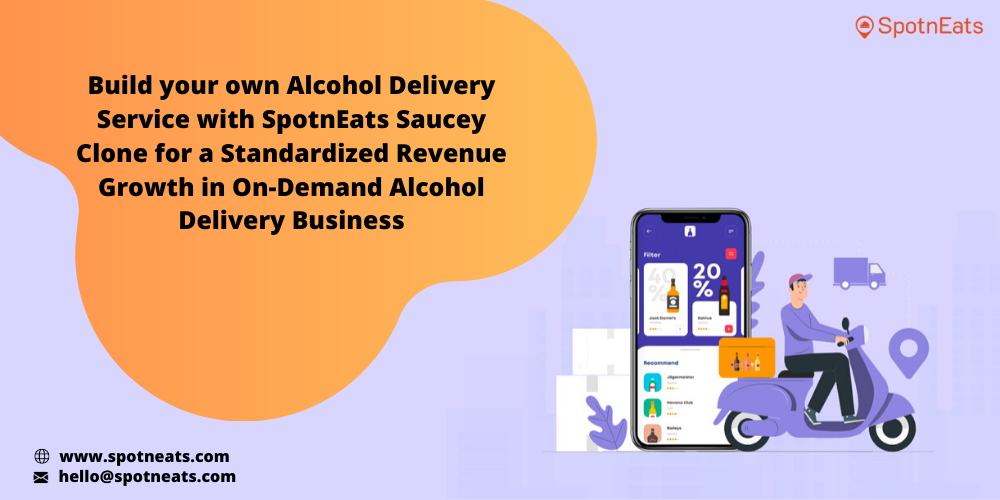 How Saucey Clone Script Helps To Elevate Your Alcohol Delivery Business To The Next Level?
Saucey is an alcohol delivery service that offers delivery to cities like Los Angeles, San Francisco, Sacramento, and Chicago with intentions to expand their service in New York City too. They used to deliver alcohol after 12 p.m. until as late as 1 a.m. Customers can choose a variety of alcoholic beverages, snacks, and cigars from the application.
Couriers are expected to deliver within a half hour. Saucey is like GrubHub, which allows you to sign up for continuing their service. They earn $10 per hour easily without any lack in delivery. This is one of the add-on perks in the Saucey alcohol delivery app service.
Get your Free Demo: Whatsapp | Skype
Saucey business model – The business model of the Saucey is pretty good, If any stores sell wants to start delivering service, then they can tie-up with the Saucey service. Saucey simply directs all the orders to the nearby local stores who are tied up with them. This allows the alcohol stores to get additional revenue by providing a doorstep service.
Saucey Revenue model – The delivery agents earn a rate of $5 per delivery, plus 50 cents per item, plus a tip too. Saucey also provides a subscription fee (Saucey premium) as an optional one. This offers unlimited delivery without an added delivery fee and a discount on pricing throughout the platform for a term-based subscription fee.
Since Saucey is a modern developed application-based service, it is a risk-less choice to select the Saucey clone script. Without any compensation in the quality and the business model, you will get the exact app like Saucey for your alcohol delivery business in SpotnEats. Keep reading to know the benefits of choosing SpotnEats service.
What are the main benefits of choosing the SpotnEats Saucey clone script?
Fast – It usually takes from minutes to execute an order, depending on the application process. Yet, by using SpotnEats software the order placement takes just a few taps, so the process is easy and convenient for both the customer and the provider.
Affordable – We provide you the whole package at an affordable price in the market with best before and after launch service. Plus, 80% of the people use on-demand clone apps to save money on later business promotion processes.
Convenient – Our software's unique user-friendly interfaces help your customers to quickly place the order with just a few taps. So that there won't be any revenue loss in your on-demand alcohol delivery business.
Transparent – As a business owner, you can monitor the feedback and address the issues as soon as they arise even if a user didn't file a complaint. This gradually brings transparency in your business and gains customer's loyalty.
SpotnEats Saucey helps to start on-demand alcohol delivery startup
SpotnEats is a software-based application solution that gives you full flexibility to the user so that it can be restructured according to your needs or the business requirements. Our experienced team is ready to give a unique user interface designed solution to your on-demand business model requirements.
Why entrepreneurs choose SpotnEats service other than a pre-developed app? Since we have years of hands-on experience in developing on-demand applications and we have successfully launched our service across the seas.
More than that we provide our clients 24*7 technical support so there is no need for worry, you can contact us anything. SpotnEats Saucey clone script is an exact fully pre-developed application that is readily available with us. Once you join your hands with us we will modify it according to your list of feature requirements and business model. 
We promise you that we will deliver it to you within a short period of time. These four interfaces in your used Saucey application as listed below.
User's app (iOS and Android),
Alcohol Store app (iOS and Android),
Delivery driver app (iOS and Android),
Admin web panel.
Here, let me share with you the 4 steps of your Saucey application workflow
Step-1 The customer who is in need of alcohol can register with your application to continue your service. Once they register they are allowed to check the nearby service provider and send them the request.
Step-2 Once the service provider accepts their request, it will automatically notify the nearby pickup agent to pick up the order from the store to the customer's location.
Step-3 The customer is able to schedule the delivery according to their preferred time. It can be done by just a tap, it will instantly notify the date and time of the booking to the delivery service.
Step-4 The customer has to pay the required fee according to the service and the time. The fees will automatically be credited to the service provider and the admin commission fees. The admin is allowed to track and monitor all the processes in a single dashboard.
These are the four interfaces that connect all your users in a single application. Now let us look into the features that make these interfaces more user-friendly.
How SpotnEats Saucey app clone key-features bring fame to your business
Advanced Quick Search – The advanced search option in your application showcases results based on customer's inputs or search. The keyword of the specific result will display the stores nearby from the customer's destination.
Showcasing a list of stores – The customer can choose from a wide range of stores available near their location that is linked with your application. As I mentioned before, you are able to add an N-number of stores in your application.
Pre-alcohol order option – The customer is able to place an order of their favorite alcohol and set the delivery time for later. In other words, the customer is able to schedule their orders according to their preferable time.
Alcohol Tracking and Monitoring – The customers are allowed to track their orders once they confirm their orders. This feature showcases all the processes like stores order confirmation, assigned driver information along with the estimated time and cost of the order.
Multi-languages and Multi-payment integration – By considering the global audience, the numerous languages and payment options have been included in your application. So that there won't be a language barrier to attract all the customers.
Alcohol service review and rating – The customer can also rate their order and service provider through this feature as necessary. This helps other users make better decisions before they place their orders.
Re-order list – By considering this feature, your application will give more convenience to your users. The customers can check their previous order placed by your application and also save their favorite dishes.
In-build pop-up notification – This feature helps you to stay ahead among competitors in your region and also allows you to create a connection with all your customers easily. This also helps you make the customer's satisfaction with worthy offers and discounts.
The above mentioned are a few of the features that are readily available in your application now. If you need any changes, it can also be done quickly with our experienced developers. There are a lot more advanced features that are also available with us. Once you join your hands with us we can discuss it.
Get your Free Demo: Whatsapp | Skype
Bottom line
Alcohol delivery is one of the leading revenue gain businesses in the on-demand service. Saucey is one of the current top alcohol delivery brands in the US. By shifting to the on-demand alcohol delivery service, now will be the right time for you to quickly gain profit from the first booking. Still, why are you waiting? Constant us today at [email protected] or by filling the below form we will reach you soon.