Singapore has always been a heaven for startups and it continues to be so. Flexible policies and single window clearances makes Singapore the best place to launch tech startups. This decade we saw some exciting startups emerge across the world and the same happened in Singapore also. Westerners mistake Singapore for its small size and grossly underestimate the contribution it makes to the startup market. In southeast asia, Singapore has a large number of incubated startups. Not only local grown companies, startups from other countries like India are also doing good in Singapore.
If you are a resident of Singapore or in the region surrounding it, I humbly ask you to launch a startup in Singapore and get the best possible result out of it. If you ask me what kind of startup is best at present? I would politely point out the on-demand food ordering and delivery. Very few small food app firms are running in Singapore but they have a different business model and satisfy a niche set of users.
Before going deep into the on-demand food app startups I want to reinforce my belief that Singapore is the best startup destination.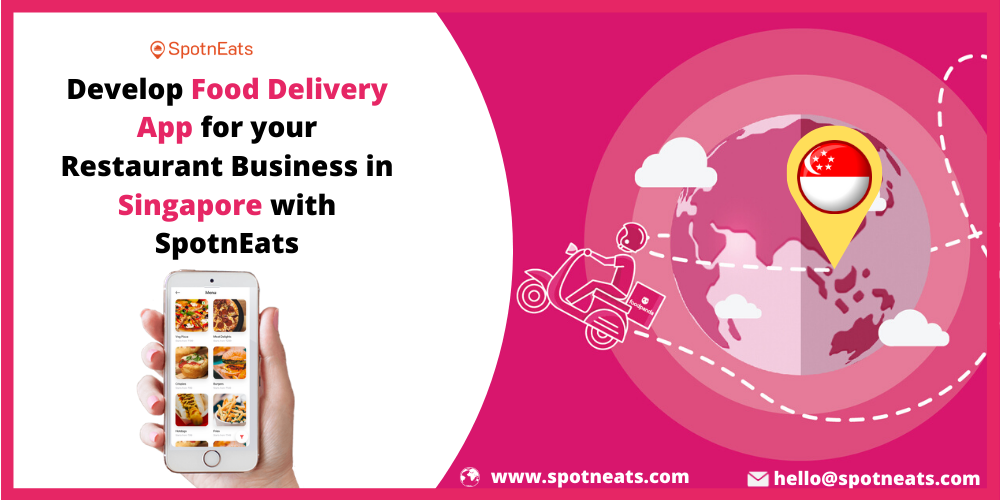 Why Singapore as your New On Demand Food Delivery Startup Destination?
Access to resources for operating the startup is something very good in Singapore. Apart from the government, many established businesses are ready to fund startups and also mentor them for a long term. The type of incubation for startups in Singapore is healthy. All large VCs and investors are present in this region.
Startups receive exciting tax breaks upto 0% for sometime and various incentives like nominal office space, subsidized electricity, network support are offered.
Innovation is constant for any tech startup and food ordering model also comes under it. Trends change, people's behavior change, requirement changes, and to cope up with it you need to innovate. Singapore has a mechanism to safeguard intellectual property. Hence, you can be unique no matter what.
Expanding startup service to other places is a part of a startup's strategy. The location advantage of Singapore aids well in expansion.
Different online food delivery startup services you need to take a look at
Full stack cloud kitchen
Grain is a food app startup which runs a cloud kitchen. Unlike other cloud kitchen models, they use idle, low-cost real estate and employ their own chefs, and delivery agents. This is why they are called full-stack cloud kitchens. Recently they got huge funds from VCs. they cater to a niche audience. They don't need a mechanism to check hygiene of foods since they need not have other restaurants with them.
Choose this model as your food app startup if you can manage this type and have adequate capital.
Online reservation and ordering
In addition to online food ordering you can diversity the service by adding online restaurant table reservation. Traffic is a menace in Singapore and a city with many people as working class, online table reservation would benefit them. The idea is simple, you offer an app so that diners connect with top restaurants.
Food ordering and social media
Why don't you deviate from the normal food delivery and focus on food review and photo sharing. Apart from online food ordering, allow the users to share pics of food, write detailed reviews and share on social media. This will be loved by food lovers. Since exposure is high, restaurants will be more careful and concentrate on food quality.
These are just some innovative ideas for your food app startup. Always devise a startup by having something that can attract a niche audience since it is necessary for survival.
SpotnEats food delivery app solution
Next thing to do after deciding on the type of business model is to get the app solution for it. It is the core of the startup and it must be perfect with no compromises. It is obvious that a readymade solution from an experienced vendor is the best idea. I recommend you SpotnEats for your business. We have served for some startups in Singapore and know some ground realities and it helps us while app customization.
SpotnEats is MVP and we have every reason to keep it like this. Our solution can be customised to fit exactly into the different food delivery app models I explained above. Be it full stack cloud kitchen or food ordering with social media, you will get a complete solution from us.
Niche features in SpotnEats
Update food order: Once an order is made it is impossible to add one more item in it. Our new feature in SpotnEats customer app allows users to add new items within a specific time after ordering. The restaurant will immediately notify the user about the new addition.
Custom single serve meals: Listed restaurants are allowed to add custom single serve meals/foods at a fixed price and delivery time. Users can order such a single serve meal in a fraction of time and get assured delivery.
Monthly subscription: For users who order frequently can now have the option to opt for monthly subscription for a specific fee. Under this there will be no delivery charges levied. The cost of subscription and time period can be finalised by the admin.
These are some addons in SpotnEats solution. For different business models we have different features to add.
The design of our solution is aesthetically appealing and pleasing to use. New trends in design are adopted using the latest design tools. To succeed in the Singapore market you need to be different and we being different in many ways can aid you using our solution.
Get your Free Demo: Whatsapp | Skype
Wrapping up!

Have a live demo of our SpotnEats food ordering solution by sending mail to [email protected]. Talk with our business executives to know our working style and other queries about SpotnEats. Let us make a strong impression in the Singapore startup market with SpotnEats!