The traditional restaurant business in the US alone is estimated to get $50 billion in revenue in 2019; this figure is expected to decrease in 2020 and the reason is obvious. Online food ordering and delivery are increasing its reach and for the first time in 2020, dine-in order is decreasing in terms of revenue. It is now or never to adopt the hyperlocal delivery system. Read this blog till the end to know the compelling reasons to go online and more details about hyperlocal delivery.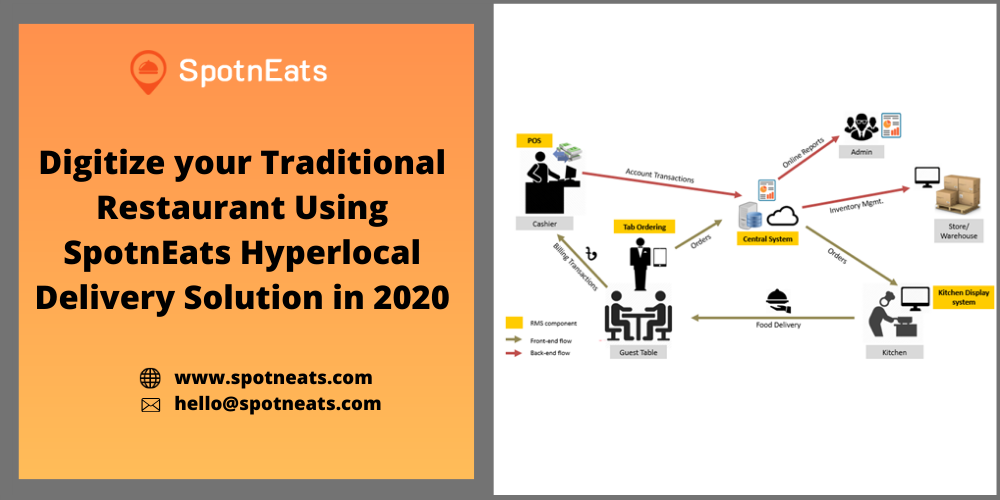 Why you Need a Hyperlocal On-Demand Food Delivery System?

Hyperlocal delivery is the combination of food delivery and GPS in the smartphone. But now this model has changed drastically and it has accommodated multiple technologies. For example, AI, machine learning, data analytics are some advances used to enhance the delivery process.

People like to order food from anywhere and anytime and all they need is a smartphone. This attitude had a major consumer behavior change which made the need for hyperlocal delivery more.

Also, in order to survive in the food industry, you have to embrace the hyperlocal delivery. To build an efficient system that lasts long, then the app solution used for delivery must be loaded with relevant features.

The supply chain logistics in the hyperlocal delivery consumes most of the cost and strengthening this part is vital.
Get your Free Demo: Whatsapp | Skype

Delivery system with IoT

When the ordered food is delivered under a specified time, then the food remains fresh and hot provided it remained at a specific temperature while picking up. Off late, foods are delivered not so fresh and hot; the delivery service has to face the ire for this issue.

With an IoT system, it is very much possible to deliver hot food. The restaurant kitchen will have a kitchen display system that specifies the minimum temperature for each food ordered; the delivery agent while picking the order is get checked by the IoT temperature sensor. The IoT system involves a lot of sensors and a sophisticated algorithm to rightly match the results with input quantity.

Present and future trends in the on-demand market

The present hyperlocal delivery is more focussed on the customer-centric approach than increasing sales. So, the time difference between the order and delivery is minimized in whatever way possible. Optimized route navigation and estimated time of arrival are incorporated to reduce the time of delivery.

Many food delivery app development firms including SpotnEats are working to make the food ordering process easy and foolproof.

SpotnEats has so far delivered the food ordering solution to 20+ countries worldwide and our experience helps us to revisit and revise the product.

The future of the on-demand delivery is promising and the IoT technique I explained above is a sample of how the future will be. Machine learning combined with data analytics helps to gather, filter, and find patterns in large chunks of data; this data is valuable to predict the customer's food preferences, peak timings, quick delivery, etc.

There is going to be a significant change in the KDC and restaurant management system to make the decision-making process shortened.

With so much data regarding customer food preferences, it is possible to devise a cloud kitchen where the curated menu is made only for online ordering. Already, this method is gaining a foothold in Europe.

Food delivery solution from SpotnEats

This new hyperlocal delivery concept needs a sturdy and robust app solution; also because it contains multiple interfaces. SpotnEats will be an apt product for your restaurant.

SpotnEats has features that help you to monetize in multiple ways.
The surge pricing algorithm is accurately built with multiple enhancements so that the surge concept is not counterproductive.
Third-party delivery persons can register in the delivery app to pick up and deliver an order, this eliminates the need to employ the logistics team.
The app is updated regularly and you will get quick updates after app deployment.
Equal emphasis is given to the customer app, delivery app, and restaurant panel.
We even build food ordering apps suitable for online restaurant listing like Ubereats and Foodpanda.
Wrapping up!

I hope you are convinced by the idea of the digitization of your traditional restaurant and the reason why it is inevitable. Also, much has been said about SpotnEats, food delivery app solution; it is you who has to assess the practicalities and combine with SpotnEats to make your digital transition smooth.

Even tech entrepreneurs can have SpotnEats as an online restaurant marketplace startup for people to order foods; you can earn good returns at a minimal cost. The total cost of SpotnEats is impressive along with a slew of incentives.
Get your Free Demo: Whatsapp | Skype

Connect with us to get more details on [email protected]. We are looking forward to working with you!