Tech entrepreneurs in order to lighten their workload in developing the on-demand app solution for their food ordering business will either resort to hiring freelance app developers or partner with an experienced app development firm. Both ways have their pros and cons. Having said that, hiring freelancers is preferred by many because it lowers the overall cost. But no one can deny that it takes a lot of time and the final product may not be similar to what you desired.

So, it is better to combine with an experienced on-demand app solution provider like us for your endeavour.

Get your Free Demo: Whatsapp | Skype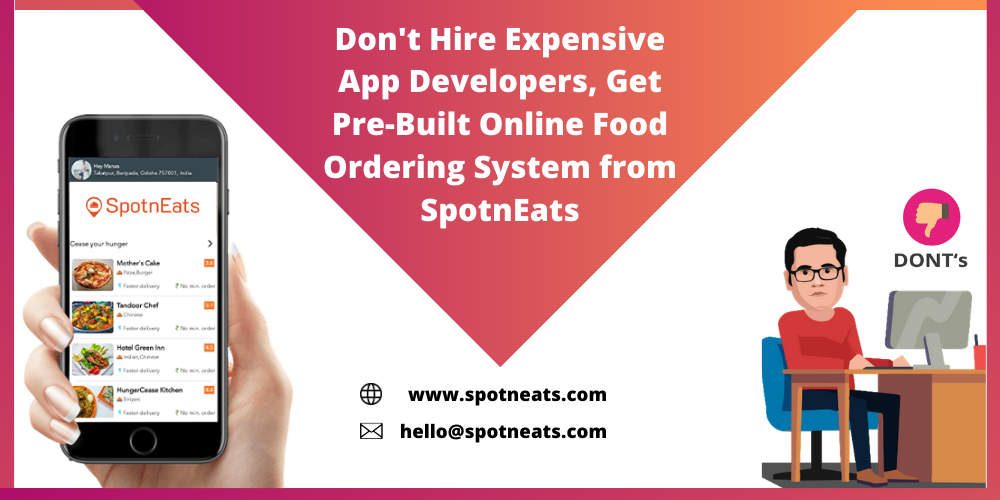 Before explaining our readymade food delivery solution like Ubereats, let me put down some solid points about why you should not hire expensive freelancers for app building.

Why Restaurateur Should Avoid Hiring App Developers for their Online Food Ordering App Development?

Unreliable and missing deadlines

Missing deadlines are normal when you have a freelancer. Remember that the on-demand food ordering solution like Ubereats comprises of four interfaces, each different from the rest. So already it takes time and missing deadlines further aggravates the situation.

Missing short term deadline is okay when the developer is an experienced firm since it can be balanced by involving more resources. This is not the case with freelancers. The interfaces of the food app will be made in iOS, Android and web app, so dedicated focus is required.

As an entrepreneur, you cannot focus on the core business if the above situation occurs. The situation is worse if the freelancer is working from different places.

Lack of data security and source code dependency

On-demand food ordering and delivery app involve a lot of data of the restaurant, delivery agent, and the customer. Payment details, name, address, mobile no., location, are saved in the app. So a freelancer can have access to these data after the app is made live without the consent of the admin. 

A certified development company like us give the complete source code of the solution without any encryption after completion. So you cannot expect us to sneak into the app without proper authorisation.

Credibility is important for users who use your food app solution. So make sure you give this to your uses.

Lack of good communication

Imagine how it will be like for you when the freelancer you hired is working in a different time zone. For example, you might have had a specific standard in your mind but that may not end up in the final product because of poor communication. Again, you need to revisit, revise and implement.

Also, for app development like on-demand food delivery, you need to have face to face communication with the developer for proper implementation of ideas.

Inability to control the development process

As I said before, the on-demand food app consists of multiple interfaces, so there is little hope that the freelancer will have a hold onto the development process. But, we as a top provider of on-demand food app has separate teams for each interfaces with each team having skilled developers and designers.

So the final solution will be not a notch lesser than the original Ubereats app. We send continuous assessment of all the proceedings after each phase and our project manager will communicate all the details and gets consent for any major change.

How Prebuilt Online Food Ordering App Solution by SpotnEats will be Beneficial for Your Restaurant Business?

The pre-built app from SpotnEats is made keeping in mind other top food apps in the market like Ubereats and Deliveroo. Our team of developers took time to pick the most attractive and highly relevant features and incorporated into the app.

Some of the features and functionalities present in SpotnEats food ordering solutions are:

Instant search: After entering the customer app, the user can search anything from the menu, food name, or restaurant name by simply typing in the search box. Most accurate results will be shown. We use machine learning techniques to give curated search results, for example, food items based on past ordering history.

Order: In the orders page of restaurant dashboard, all past and active orders can be viewed. For new orders, the delivery agent will be visible as soon as it is assigned.

Notifications: Push notification management is present in both the admin panel and restaurant web app. Geo-fencing feature which is additionally provided enables to send targeted notifications to users.

Order updating & tracking: Once an order is placed, it immediately shows in the restaurant panel. Also, once the order is dispatched from the restaurant, the customer tracks it from the mobile app until it is delivered.

The delivery agent can track both the restaurant and the delivery addresses from his app which is separately shown.

Customized menu listing: The restaurant panel will be given the provision to list customized menu like meal per head, combos, etc. This gives more reach for restaurants. The restaurants can also finalise the price of customised menu.

Winding up!

Above said features are only possible by an experienced on-demand app development firm like SpotnEats. We are well versed in on-demand based mobile app building, especially from scratch.   

Get your Free Demo: Whatsapp | Skype
Contact us at [email protected] to find interesting info about our solution. Do ask for a live demo. The food app startups market is booming at present, so it is now or never to launch a startup. Many of our existing clients are happy with SpotnEats because of the quality of design and performance of the app, which is not present when the app is built outside.