Dreaming of a new on-demand food ordering and delivery startups? Then you have made the best decision to enter this field. By 2020, online food ordering and the delivery market will reach a value of $5 billion. No one would have estimated this some years back. Thanks to the technology used in food delivery that made the food app market reach heights.

The scope for entrepreneurs also is high in this business apart from its benefit for the users. This great market still sees a lot of startup failures. There are some complex issues that push the startups to the end. Here I have explained some factors that you must keep in mind before you launch your food delivery app startup.

They are simple to follow and not many do this because they are carried away by the popularity of this industry. I hope this blog helps you the right way and let us now see the factors that affect the food app startup's success.
Get your Free Demo: Whatsapp | Skype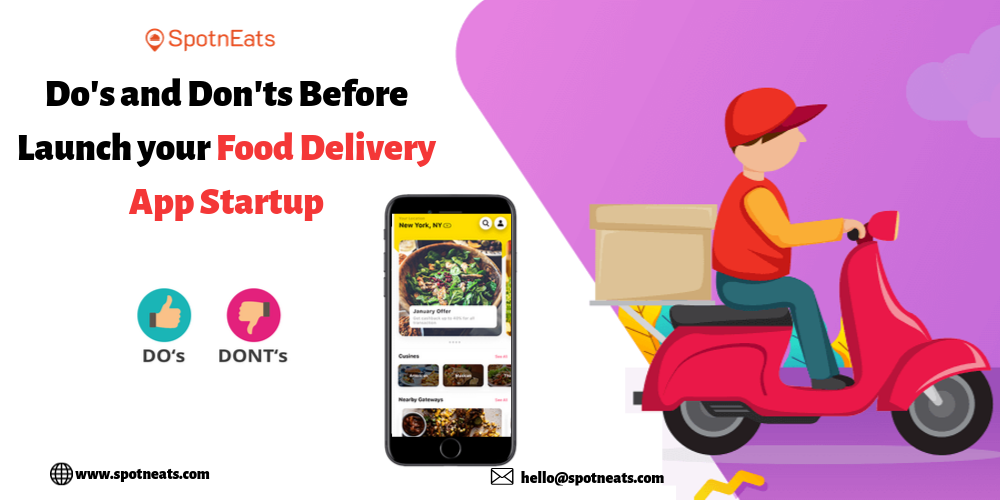 What are the Things you Should Consider Before Food Delivery App Startup?
Planning and Timing

Just because if you got a good app solution and every other thing in place, you should not start the startup straightaway. There is some planning to do market research, niche users, target audience, and present market scenario.

If you didn't do the planning, then you are half failed before the start. Second is the timing. There are cases where the food app is popular except in some regions. Find the likes and dislikes of your market users and see how they view food apps. It all requires a small survey to do all this.

Planning and timing should not be missed and they are key to the startup. And this you have to do even before the app development.

Marketing

A lot has been spoken about this point by me before but still, it is worth to say some more. You may have everything best, but no idea about getting it to potential customers will make your pursuit go away.

Spend a good amount and time in marketing. Use social media, paid campaigns, loyalty programs, subscriptions plans, etc. Use innovative and creative techniques like customer segmentation to gather a specific user base.

After some point, the focus should be on retaining the customer base. Nothing can replace word of mouth. So make pitches to a loyal customer base to refer the app to their close ones. Engage them with pleasant customer engagement.

Food Outlet Acquisition and Quality Check

It is somewhat easy to convince the nearby food outlets and restaurants to come on-board your food app startup. Everyone else does this indiscriminately not keeping in mind the quality of the food preparation and food. Bad food delivered will affect your reputation. So have a well-structured mechanism to pick the restaurants you are going to partner with. 

Most users value quality more than anything else. In simple words, have food quality as your top priority.

Wise Unit Economics

The long term sustainability of the food startup relies on its unit economics. You want to enter the on-demand industry to launch a food startup to make money. Competitive pricing strategy will help during customer acquisition but it cannot be relied for long.

Take for example food delivery app, even with venture capitalist backing and a wide user base it continued to make losses. The reason is flawed unit economics. Food delivery app gave way too many deals and offers which narrowed their margin. There are also cases of restaurants opting out of food app startups owing to the shallow profit share.

Predatory pricing for a very short time works. It is better to analyse the competitors on their pricing to fix yours.

Better Tracking of the Food Ordering Platform

Make sure that your food app solution's admin panel has data analytics tools. This can be used to process large chunks of data and derive valuable and necessary information. A large amount of data can be food ordering pattern, age-based ordering, most ordered food, preferred payment mode, most ordered time, and many more.

Have a continuous talk with the partner restaurants and delivery agents to get constructive feedback and changes. More important of all is to keep in touch with the customers using word processing AI bots.

Choosing the Right Food Ordering Solution Maker

Invariably, choosing to get a readymade food app solution is the best decision considering the fact that you launch the startup with minimum funds. Numerous food app makers very much like food delivery app and Foodpanda is available.

SpotnEats is one such food solution of ours and it dominates others in the on-demand app development market. This is because we use innovative and cost-effective methods to calibrate the apps performance and scalability. Unlimited orders can be handled by our SpotnEats app without any hiccups.

Get your Free Demo: Whatsapp | Skype
Are you a newbie? Then join with us. We will support you from start to finish. You need not worry about customization and any other modifications. Quickly chat with us to get an immersive demo of SpotnEats. Connect with us on [email protected].