On-demand delivery business model has touched nearly every sector including the food industry. Even under the food industry there are many areas and among them, seafood and meat sector is yet to come under the on-demand model.
Gone are the days where only people in coastal areas used to enjoy seafood, we now see people even urban and rural areas that are miles away from coastal areas seek seafoods.
Logistics is a problem here and it is estimated that more than 50% of seafood are getting spoil before it reaches the users in interior towns in the US. The on-demand ordering and delivery model seems to solve this problem. This model can give better connection with suppliers and buyers so that sea foods are quickly reaches the consumers.
Get your Free Demo: Whatsapp | Skype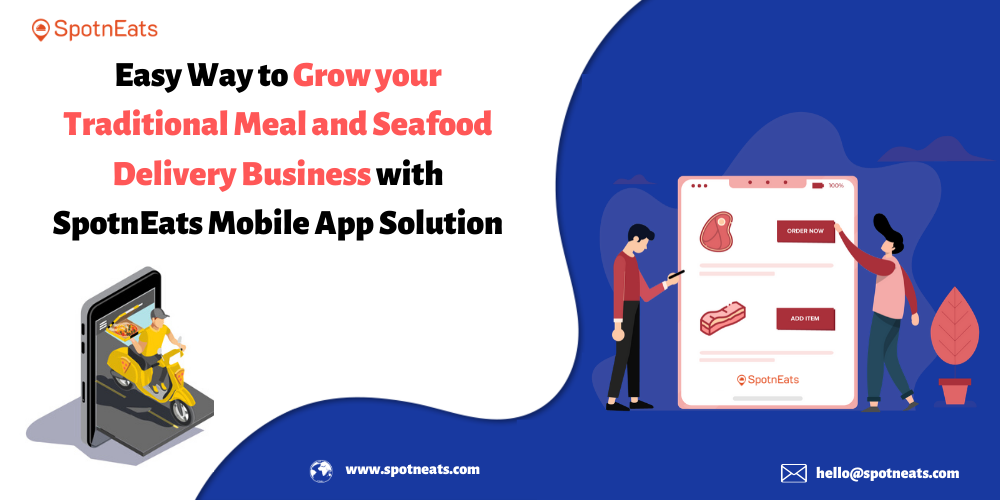 On-Demand Seafood & Meat Ordering and Delivery Startup Business Plan
Do you operate a seafood or meat market and want to take the business to the next level? Then, I hope there is no better option that launching an on-demand seafood delivery startup.
Entrepreneurs who are interested to enter the food and transportation industry can enter via on-demand meat delivery startup by establishing an online marketplace. You just create a marketplace for sellers to place their goods and connect them with consumers. For every order you get some commission.
SpotnEats Seafood and Meat Delivery App Solution
If you have the perfect and apt app solution for this meat & seafood business, then you are halfway into success. We at SpotnEats presents you an intuitive ready-made app solution that you can use it right away after some tweaks which our team do with ease.
The Seafood and Meat Deliveryapp consists of the following interfaces:
Consumer App
Store App
Driver App
Admin Web Panel
The app interface is available on both Android and iOS with SpotnEats. The admin web panel is designed to operate on multiple OS. For those who transform their store to the on-demand model, we can integrate both the store app and the admin web panel.
If you have no idea about the working of the app, find it below
The customer downloads the app and completes the registration part by giving details like address, payment, map location, etc.
The user then browse the products in the selected store which is made easier using filter options based on price, quantity, availability, delivery time, expiry time, etc.
He then choose the products and add it to the cart. Packing conditions can also be mentioned.
Payment type is selected and the final payment is done which also includes the delivery fee.
The store manager gets notification regarding order and immediately assigns a delivery agent.
The user can track the order from the store till it reaches the doorsteps.
After the order is received, the customer rates and reviews the order delivery based on speed and order condition.
Features in the SpotnEats Meat & Seafood Delivery App
Customer App
Easy Register:
The customer can register all the details and create an account within minutes if not in seconds. Social media login is also available.
Smart Filters:
Smart browsing filters show curated products to the user based on past orders and ratings.
Re-order:
Previous order is shown near the lists in the app for quick ordering.
Help & Support:
Customer can give any feedback or register grievances to the store from the app itself.
Store App
Manage Functioning Hours:
Operating hours can be modified from the store app and it reflects in the customer app in seconds.
Promotions and Coupons:
Deals, offers, and discounts can be given by the store from the app.
Push Notifications:
Store can send notifications and messages to its users.
Admin Web Panel
CMS:
Customer management system is a tool in the admin panel to do segmented marketing, promotion, targeted marketing, etc.
Manage Commissions:
Commission to the store and delivery agent and messages to them can be done from the admin panel dashboard.
Analytics & Reports:
Valued data and numbers are derived from the analytics tool to improve the operation.
Delivery Agent
Order Information:
As soon as the delivery request is accepted, the agent gets the location details of the user and store.
Delivery History:
The delivery history can be accessed in the app to find the targets achieved, commission gained, etc.
The above list of features in the SpotnEats seafood delivery app solution is not exhaustive.
Third Party Integration in Meat and Seafood Delivery Service App
Multiple third party APIs can be integrated into the app for more reach and ease of usage.
Google Map API is default in the app
Twilio SMS API
Facebook and Gmail API
Multiple payment gateway for more payment options
Excited about our SpotnEats Seafood App? Then Look Nowhere, Come and Join Us !
I hope we have piqued the interest of yours by showcasing our meat and seafood delivery app solution. Not to mention that we have years of experience in developing on-demand apps.
You need not worry about scaling and performance of the app, we use database that can handle unlimited orders and also use latest languages to give optimum performance. Our team of UI/UX designers work in tandem with the developers to give an immersive experience to the user.
SpotnEats solution is white label with 100% customization. Complete source code will be provided after purchase.
Get your Free Demo: Whatsapp | Skype
So quickly REACH US at [email protected] and get a live demo to experience the app.
Launch your Own Meat and Seafood Delivery App Now with SpotnEats:
FAQs for Meat and Seafood Delivery App:

What will be the type of app development we undertake?
We are equipped to build apps in both Hybrid and Native method.

What is the total cost of development?
The basic app script comes at a fixed cost. Feature addition and customization costs extra.

Who can get this app?
If you run a traditional seafood or meat store and want to go online, then you use the app. And individual entrepreneurs can use this app as a marketplace platform by getting onboard retailers.

Can we customise the app?
Yes, since the complete source code is given to you after purchase you can modify the solution independent of others.

Do we get any support from you after deployment?
We have an awesome technical assistance package for all clients. The cost of it is free for some time and after that we charge a nominal fee.