By the title of this blog, you might get to know about what I'm going to convey to you in this blog. Yes, this blog is about an on-demand diet meal delivery system. If you're an entrepreneur looking for a unique delivery service system in your region, then it is for you.
So, before going into the on-demand service and its features. Here, let me tell you why a diet food delivery app is worthy? Keep reading to know more about the on-demand diet food delivery app solution.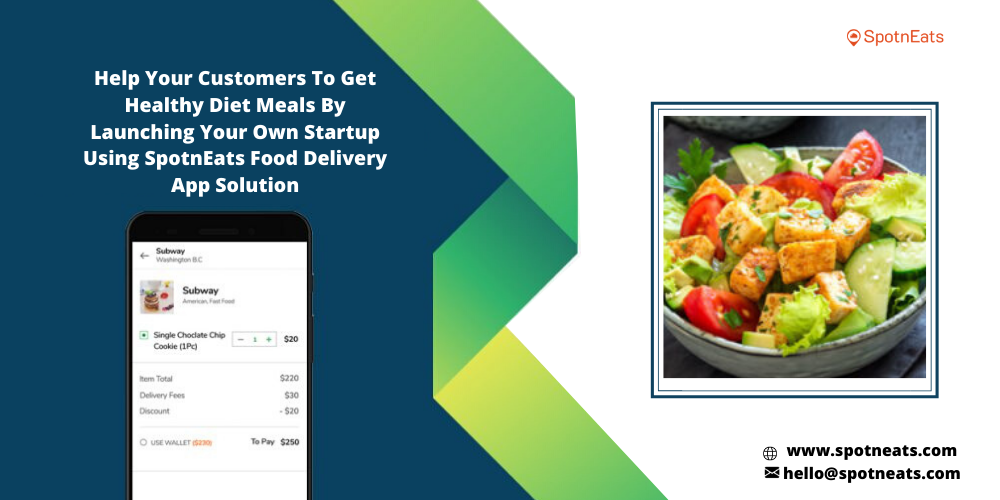 What Makes the App Based Diet Meal Delivery Service Startup Worthy?
Diet meals or food is nothing but a recipe that gradually reduces your extra fat, carbohydrates, and sugar to make your body fit and healthy. When you start to follow a correct diet on a regular day to day of your life, It will change your lifestyle and body type quickly in a healthy way.
Though the diet foods are zero calories, it easily reduces your weight with the low-fat dietary meals. The benefits of healthy diet foods are listed as below
Losing weight can reduce the risk of chronic conditions, it controls your weight and reduces the high-risk conditions.
An unhealthy diet can lead to obesity and that may also lead that person to an unhealthy lifestyle. However, with a good diet, you can protect yourself.
It also helps you to manage your blood glucose levels and keep the blood pressure within the targeted range.
This also makes the children learn the most healthy diet routine behavior from the adults around them.
Is it worthy? Of course, it is because people nowadays are running on a busy schedule of their life. Most of the working persons are minimal; they always use to order nearby shops to make their lunch.
It might fill their hunger but it is not healthy at all though there is N number of food delivery systems. People used to adapt to it by ordering the foods online for quick delivery and to fulfill their taste buds.
This totally made them lazy but not by the food delivery app, they became lazy without energy due to an unhealthy food diet. They don't have time to get themself healthy. With the help of this application, they can easily get their diet foods directly to their doorsteps at the right time without any delay.
The users can check their diet plans or they are allowed to modify their diet plans according to their health issues.
Get your Free Demo: Whatsapp | Skype
How does it work?
Variety of meal plans – Once you have logged in the diet food application you're allowed to choose the meal plan that fits your lifestyle. From the variety of menu, you can plan your meals and create a schedule for your diet plan easily by pre-booking options.
Enter delivery details – After creating or choosing your meal you can place your order easily with a multi-payment option that allows you to pay your diet food through cash or cashless. This feature helps the customers to place the order and pay according to their convenience.
Delivery at your doorstep – Once you placed your order and payment method. It will directly notify the respective restaurant and they will start to prepare your meal with fresh ingredients. And it will send an instant notification to the nearby delivery agent to take off your order. You will be updated on all the detailed processes in real-time.
Enjoy your delicious diet – After you receive your food you're allowed to rate and review the restaurant and the delivery agent by stars or you can place comments on their service. This can be done only after you have received your diet meal.
SpotnEats Diet food delivery system
SpotnEats is a modern software solution for all the on-demand industries. Our software application is a pre-developed one. Buying a pre-developed app will cost less than building an application from scratch.
Because you are not going to develop it by appointing a developer or a team to plan the blueprints and then the workflow. Since we have already pre-build your application we have a blueprint and the workflow of your diet food delivery app.
It doesn't mean that it will have low-level performance. We developed your app with the latest trends with the best UI/UX to attract your users and to make them more user-friendly with bugs free.
We will be guiding you 24*7 in 360-degree so there is no need to worry and keep updating the status of your application on a regular basis. Here, let me tell you the business model of our SpotnEats diet food delivery app.
As I mentioned our software is flexible there are two types of business models in our diet meal delivery system.
Diet food delivery business model
Type 1 – An entrepreneur can launch this application by listing healthy food menus and tieing up with the best restaurants in his region for tasty and healthy food to be delivered to his customers. This satisfies their needs and to maintain their diet regularly without any lags. You are allowed to earn a commission on each order.
Type 2 – A dietary nutrient can launch his application with his own diet plans in his region. He can tie-up with the restaurants who are providing healthy and zero calories food to his users. With the help of this application, he can easily meet his customers and earn a commission on each order.
The key features that make your diet food app more demand
An Attractive and User-friendly Dashboard – As the survey says, customers prefer the most simplified process of ordering their foods. Hence, our on-demand diet food delivery business has a straightforward and user-friendly dashboard that has been implemented. 
In order to make an attractive dashboard, we are using the latest UI designs(Mockplus, Sketch, iDoc, and Zeplin).
Frequent code referral system – While taking the application-oriented business model the customer's engagement is most needed. So that we SpotnEats are giving them enough opportunity to engage with it. One such facility is coupon code and promo codes.
This allows the customers to get more involved with our diet meal delivery app. It is one of the best ways we use to market our app which is also beneficial for both end-parties.
Push notifications and social media integrations – Push notification is the only way to create visibility among your customers. So in this way, we grab our potential customers and keep them engaged with our app.
We are using some powerful tools for the best push notification to pop-up the daily offers and discounts.
Customizable schedule booking – Your customers can customize their diet menu schedule at any time to place their pre-ordering diet foods easily. This helps them to personalize their diet according to their needs.
Order history – With the help of this feature in your diet meal delivery application. Your customers can easily track the diet foods that they have previously ordered. This allows them to place their order quickly.
Diet meal tracking – Once the customers place their orders they can easily track and monitor their ordered foods easily in real-time. This aids them to know the exact delivery time and distance of the delivery agent.
Our team's high priority is to ever-increase the targeted market and accessibility of your application among your region. By enabling a cross-platform compatibility feature in our diet food delivery app.
That allows you to increase the reach across different platforms and this allows to gain all sorts of customers easily. No wonder, with more reach on your application, there will be more downloads within a short period of time.
Get your Free Demo: Whatsapp | Skype
Final Say
By now you might have a clear view of our successful features that generate more revenue in your diet food delivery business. Having a presence online is just one step ahead you can make sure the growth of your business.
No worries we SpotnEats are here to develop the food delivery app according to your needs. Still, why are you waiting? Please fill the below form and we will be back to you shortly. Drop a message to us on [email protected].