The restaurant business is the most certain of all because the need for good food is always there whatever may be the situation. Both developing and developed countries have a restaurant market that contributes a sizable share to the economy. Tourists, local citizens, and office goers are the main patrons of restaurants. But now, there is intense competition for growth and survival among the restaurants. If you are owning a restaurant then you will certainly be experiencing the existential crisis. So, the sooner you adopt something revolutionary, the longer you will be in the race.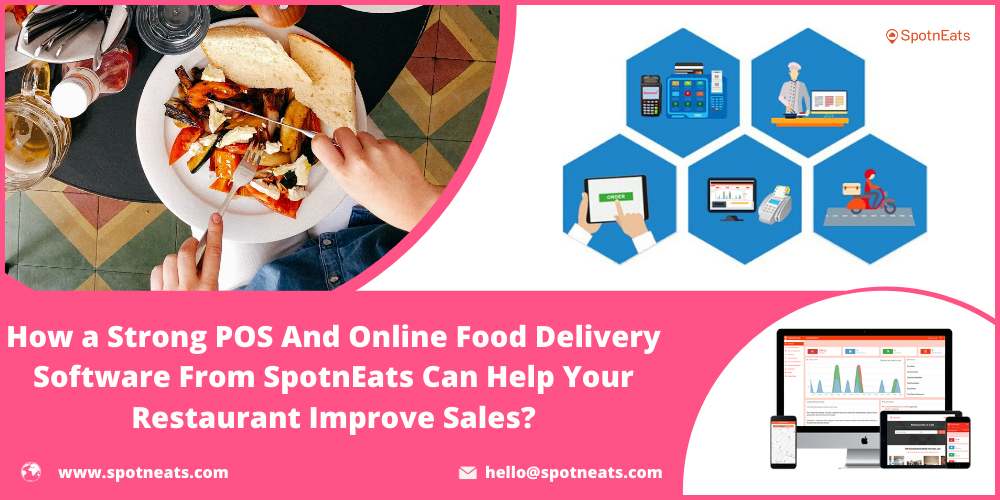 How Perfect Food Delivery Software Improves Your Restaurant Sales?
Region-wise scope of digitized restaurant
You would have got some hints when I said about adopting something. Didn't get it? Okay, it is the digitalization of restaurants; it can be carried out on many levels. Here I will speak about two important aspects of going digital. Before that let me explain how digital restaurants work in various countries.
There are over a million restaurants in the US alone; 57% of the guests view the restaurant online before visiting; 60% of restaurant operators say that delivery has increased their sales; 63% of the restaurant-goers feel that they prefer delivery over dine-in; One-third of users say they never eat at a restaurant with less than 4 stars in review. These stats are taken from multiple restaurants worldwide. These stats indicate one thing, the traditional way of doing business no longer helps.
Restaurant is one of the major industries in Europe and creates lakhs of jobs with a yearly revenue of $ 508 billion; In Asia, the average food sales per year stands at $ 1 trillion; and China's restaurant market is growing at a pace of 10% year on year. So, there is a healthy trend in the restaurant market worldwide and you just need to focus on digitization.
Get your Free Demo: Whatsapp | Skype
Why do you need a POS?
Point of Sale(POS) systems are mostly used in retail and restaurant chains to track cash flow, online orders, dine-in, inventory of materials, payroll, and many more functions in a single screen.
The major purpose of having POS is that it simplifies all the above said processes. Whether a user is paying online or through cash, the system makes clear records of it.
Another most important aspect of the POS system is that it collects a lot of data which is a useful commodity nowadays. A restaurant POS system combined with data analytics can take the business to the next level.
A lot of money is saved and you will be able to find leaks in the business and take steps instantly.
Food delivery software with POS
Now is the era for online food delivery where 2-3 years down the line, the sales from online delivery is expected to surpass dine-in. Leaving the POS system, the main digitization starts in adopting the online ordering system.
Going online seems to improve the visibility of the business and can even get more orders from people who are unaware of you before. Food delivery systems can be incorporated with very little investment; you just need a comprehensive delivery solution which comprises of apps for the buyer, delivery person, and admin.
Delivery executives can be employed based on the third-party agreement just like the on-demand food delivery model.
Perks of having a delivery system with POS
Mobility: Improved order accuracy and accelerated staff service is expected. Staff can take orders on electronic devices that are directly connected with POS and hence no room for error and miscommunication.
Online order and dine-in management: Both online and offline orders are synced to the inventory available. Inventory is accurately tracked with no mismatch and confusion. The system offered to you is centralized and all orders and inventories are kept in track under one roof.
Guest experience: If the online delivery is perfected and menus are updated quickly, users will find it easy and happy to order food. The same applies to dine-in. An exceptional customer experience is possible. More features are constantly created and added to the online ordering app.
Promotions and ads: Releasing mass notifications and mails to users is centralized and several segmentation tools can be used to do optimized promotion. Video ads and posters are placed in the app anytime from the POS system.
SpotnEats solution for you!
You are convinced about digitizing your restaurant using POS and delivery system? Then what are you waiting for? Make a quick decision and transform your restaurant. So if you are confused about how to get a complete software package, then I strongly recommend you try SpotnEats.
SpotnEats food delivery software follows a systematic process to make a customized POS and online delivery system. A phase-wise methodology is followed for each set of processes like coding, design, testing, live testing, and deployment. So, you will get the software with no flaws and any glitches.
The project planning stage itself takes more time and it is done with all the professions in our team along with clients. In this process, everything from milestone, price, resources, turnaround time, deployment, after-sale assistance, etc is finalized.
Get your Free Demo: Whatsapp | Skype
Wrapping up!
The USP of our firm is that we complete everything and deliver you the solution in one go! For more details about our product, kindly send a message to [email protected]. We are looking to partner with you.