SpotnEats is a leading maker of on-demand food app solution. Our benchmark is Ubereats, so the quality of our app is no less than the top apps. So far we have delivered the SpotnEats food delivery app solution to more than 15+ countries for many tech entrepreneurs and restaurants worldwide. Having said that, there is a marked difference in our approach to startups and existing restaurants.

Even, there is a major change in the no. of interfaces in the app solution. Restaurants who work by the conventional method come to us to get a standalone food ordering app along with a restaurant management system. Though the restaurant management system does not default, we recommend it to them to get the maximum benefit out of their business.

Coming to tech startups, almost all of them are online restaurant aggregators. Here there is one more interface compared to the standalone food delivery.

Now let me explain in detail the workflow for different clients.
Get your Free Demo: Whatsapp | Skype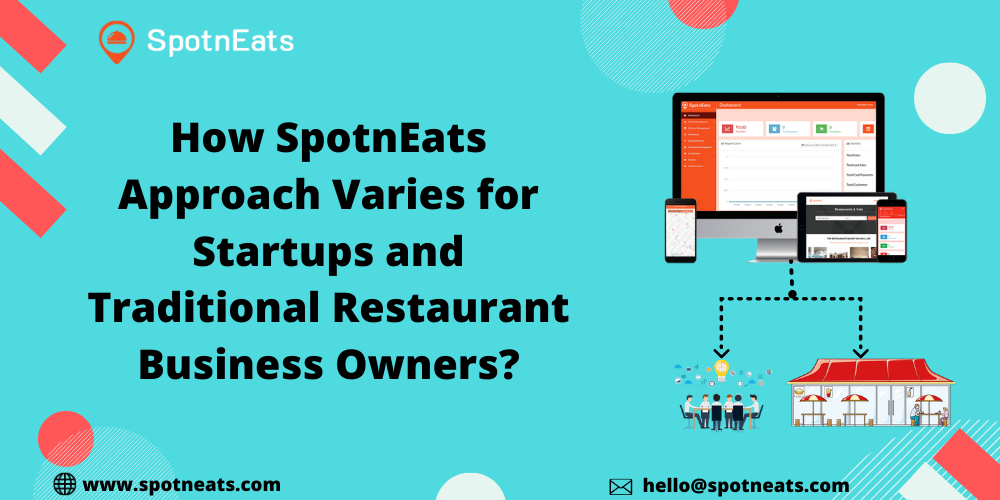 How SpotnEats Food Delivery App Solution differs for Startups and Restaurant Business Owners?
Conventional restaurants

Conventional restaurants when they embrace the digitally powered online booking format, apart from receiving more sales, they get additional revenue from ads and delivery charge. Revenue from ads is unique to them.

Interfaces for standalone food apps

Customer booking app
Restaurant app
Delivery agent app
The restaurant app apart from receiving orders can be made to manage dine-in orders to ease overall restaurant sales. The complexity of the restaurant app, in this case, is slightly greater compared to aggregator startups.

Often as I said before, the restaurant web panel is incorporated with the restaurant management system. Some of the important functions present in it are:

Marketing and CRM: This tool is for customer engagement and social media marketing.

Centralized function: You may have multiple outlets and all online orders are managed centrally in one panel

Stock management: Food items and ingredients are managed based on demand from online and dine-in orders.

All these come only for standalone restaurant food delivery solutions.

Brainstorming with restaurant owners

SpotnEats team of developers along with the project manager brainstorm with restaurant owners to find out features that must be added based on factors like region, no. of restaurant outlets, revenue, sales, future prospects, and many others.

Integrating the team

Based on the final draft of all the requirements, we allocate resources from different teams. For example, if the restaurant panel is loaded with functionalities, we get to work with web developers from different domains like Laravel and PHP. Having said that, the delivery agent mobile app is mostly built for in-house delivery agents. So there is no additional effort for third-party registration.

Scalability

Depending on the no of outlets and magnitude of orders received every day, we finalize the scalability. This we do to fine-tune the performance and undertake testing procedure. Multiple testing in various devices and systems are done to make the solution foolproof to use.

Cost of overall development

Since the restaurant web panel for online delivery comes with so many additional functionalities, it is obvious that its cost is a notch higher than the aggregator app. Nevertheless, the benefits our clients get after associating with us is more than the cost they pay.

We give comprehensive assistance until our clients are well versed in operating the solution.

Online restaurant marketplace

The online restaurant marketplace comes with four interfaces. Here the restaurant web app handles only the online orders. For a change, here the delivery agent app has the option for third-party registration.

This model involves less capital since it is an online marketplace and the delivery agents are third party associates.

Interfaces in online restaurant marketplace:

Customer mobile app
Restaurant web app
Delivery person mobile app
Admin web panel
Like how the restaurant panel in the standalone food delivery app is given importance, here the admin panel is loaded with advanced tools. Analytics tools in the admin panel give the best insight into the orders placed, restaurants registered, and delivery agents active. Critical decisions regarding the startup are taken using these data.

All the data that appear in the admin panel dashboard is in real-time.

Pre-built app for online marketplace

For online marketplace app similar to Ubereats, we have the pre-built SpotnEats solution. It is well made and curated to suit all kinds of an online marketplace.

Among all the app interface, the admin app evolves a lot and our teamwork consistently to keep up with the changing landscape. This is why still many tech entrepreneurs are approaching us.

Data driven restaurant online marketplace

In order to be competitive, it is necessary to take forward the restaurant food delivery startup using data driven approach. We discuss with the founders who partner with us about the region of operation, demographics, competitors, and purchasing power of people to ascertain the level of sophistication to be incorporated into the app solution.

Final say!

Leaving alone the restaurant app and admin app, the remaining two interfaces involve minimum change for the two types of business model. Technologies used are similar and our distinction to work differently for these two models is because of our experience in the on-demand app development.

Get your Free Demo: Whatsapp | Skype
Interested to associate with us? Then tap a message to [email protected] for more details. Get a free live demo of the app immediately.