Whether you're living or working or might be moving to a new city, there will not be any dynamic place to fulfill your thrust of knowledge than your favorite magazine or newspaper. Though the world is moving towards new trends and technology, it is apart from modernization. It might be any version or any brand of magazines or newspaper, it will keep you updated with the current trends than push notification. Many people schedule their own time for reading to keep themselves more productive, and you can gain more knowledge.
This blog is for entrepreneurs who are interested in kicking to start a new application based delivery system. Here at the end of this blog, you will get to know the scope and demand of newspapers and magazines.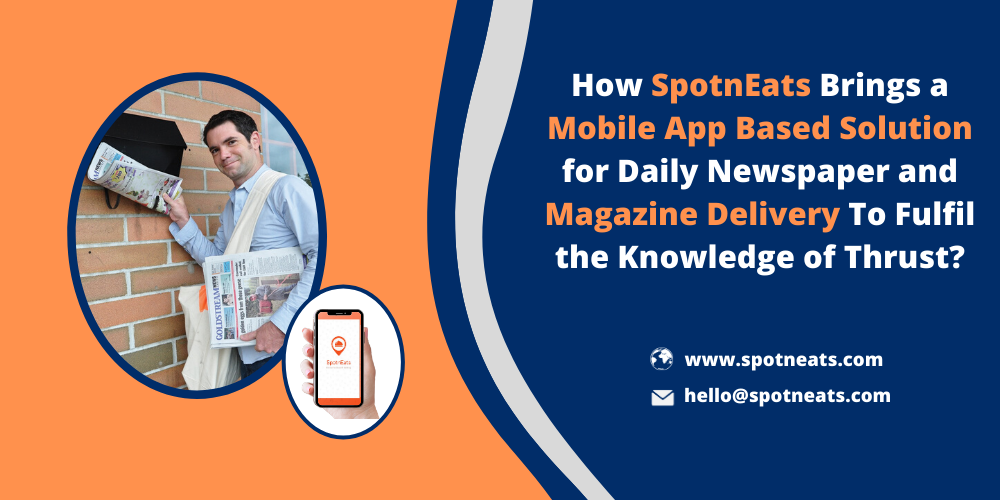 What is the Need for a Startup to Tie-Up with Newspaper and Magazine Delivery App Solution?
Nowadays no one can run their business successfully until without having an application for their own shop/business in the market. The mobile app makes every work more simple and they allow us to get anything at any time by just a tap tap. Alike still people of Gen X exist; they love to read it in hardcopy rather than a softcopy. And there are many companies that are the regular subscription for the magazines to their employees. Not an IT company alone, many beauty salons or grooming places also use to subscribe to beauty magazines regularly for their customers.
This shows that there is still demand for newspapers and magazines among the people. So you can spend your money on an application to take your business to the next level. 
Get your Free Demo: Whatsapp | Skype
The reasons why you should invest your money on developing an application for your business
Sales growth – With promotion codes, offers and bonus-points push notifications, you can motivate customers to purchase from you. You cannot directly contact all the users but through an app, you can be in touch with your customers.
Audience relationship – By giving them offers and being in touch will make them feel they are more important for you.
Marketing – Easy way to brand your business and quickly you can reach your own place in the market.
Business process optimization – It will aid to track your business and easily optimize according to the current status of your business.
Your customer's loyalty – By an app, your customers can able to get instant interactions with you at 24*7. This builds customer loyalty and in return, good loyalty will produce good sales.
Revenue gain – By adapting your business with modern solutions will 100% increase your revenue than traditional, because people always need something new.
Every business should strive for the development and must stay tuned to the newest trends, and respond to innovations that can make it more efficient and smooth the workflow. Developing a mobile app can completely aid you in achieving your business goals.
Let me tell you who will be perfectly fit for this delivery application.
A person who has his own newspaper and magazine can take his business to the next level by an application. By arranging his own delivery team or third-party.
Or the person who just wants to earn money just from the place where he is without any work, he can also invest his amount on this newspaper and magazine delivery app and connect all the shops in that region to start his business.
Will it succeed or will it gain revenue?
Of course, you can gain your revenue even more than you expected or drafted only when you gave a good service. But before everything you have to take a detailed survey in your region. Before taking the survey make that your survey has these question as listed below
How many percentages of baby boomers?
Is there any company looking for different magazines?
What magazines have high reach among people?
Are we going to get monthly payments or daily payments?
Are there any schools looking for newspapers?
Once you took your survey the next step is to develop an application for your on-demand business, right? But, here only all the young entrepreneurs are doing their mistakes. Alike your survey you should also take some surveys on google about the best application.
Nowadays developing companies are like an ocean in that you have to find the best one, really it is a tough job. Here let me tell you what a developing company should offer for developing your application.
Are they giving you 360-degree support?
One time payment or a regular basis?
Is there a regular video conference?
How many members are there in their company?
Is there after launching a support and maintenance service?
These are the few questions you should check whether they are providing it or not. But it takes more time, don't worry I'm here to suggest you. Even if you got a good company or the one who fulfills all these services, check whether their app is scalable because if your app is customizable then only it will be easily able to adapt according to new trends or people's feedback. Choose us SpotnEats. Keep reading to know about us and your application.
How SpotnEats fulfill the knowledge of thrust?
SpotnEats is a software solution that is more scalable and easy to add or remove the features according to your wish. We SpotnEats are grouped as a variety of experienced team members to bring your application an outstanding one in the market. Our team has already developed your application so that it won't take that much time to re-modify it. Just a short period of time is alone required.
We also provide you before and after launching service for certain periods of time. While we are in the developing process of your application, we will be updating you with our regular progress. Okay without any further delay let me tell you about your application.
Four interfaces in your On-Demand application
User's app (iOS and Android)
Delivery person's app (iOS and Android)
Shop app (iOS and Android)
Admin panel
Let me tell you these four interfaces are connected and the working process of your application.
The user who needs the magazine or newspaper has to download your application from the respective app stores.
Register with the required details to start with your service. Once they register they are able to check the nearby shops.
Or they can simply type the magazine or the newspaper name in the search box for quick results.
After referring, the user will place according to their needs. By entering their location or quick access of the GPS for the accurate current location.
Once the order is placed it will notify the respective shop and the delivery person nearby that shop.
The delivery person can go and pick it up, he is easily able to track your location quickly and reach your destination.
Each order will be noted in the Admin panel, as an admin you are able to get a commission for each of the orders.
Features that made your app more user-friendly
Categorized – The users can use to order different magazines or newspapers according to their interests. It will also show similar magazines of your choice.
Personalized service – They are also allowed to place their orders from different categories at the same time for regular subscriptions. Or they can also modify their orders at any time.
Scheduled orders – The user can also schedule or the monthly magazine by subscription pack for a year or for a few months according to their preference.
Tracking – They are also able to track their order in real-time with the exact calculated time of reach.
Review – users are able to review the magazine and its conditions once they reach it. The users are also able to review and rate the delivery person's profile. 
Multi-payment – The user can pay their payment online or COD.
Route optimization – The main feature in your driver's app that they are allowed to choose the shortcuts for quick delivery.
Get your Free Demo: Whatsapp | Skype
Final say
Though there are many new startups that are branding their own place in the market. So it is the right time for you as an entrepreneur to launch a unique newspaper and magazine delivery application to bring a solution for all the Gen X people, they will love your service.
Without any further delay contact us today by filling the below form and we will catch you soon. Make it happen now!