SpotnEats is basically a pre-built food app solution for online food ordering and delivery. Many restaurants and big food chains associated with us to get SpotnEats. Apart from building online delivery system for restaurants, we also develop Ubereats like apps for online restaurant marketplace startups.
The basic solution for both online marketplace and online food ordering is the same and we do extensive customization to fit the solution to their desire and business model. That said, let me give you some facts regarding the prospects of online delivery across the world. These facts may help you to choose between a food ordering startup or any other business. If you choose the online food ordering idea, then consider using SpotnEats for it.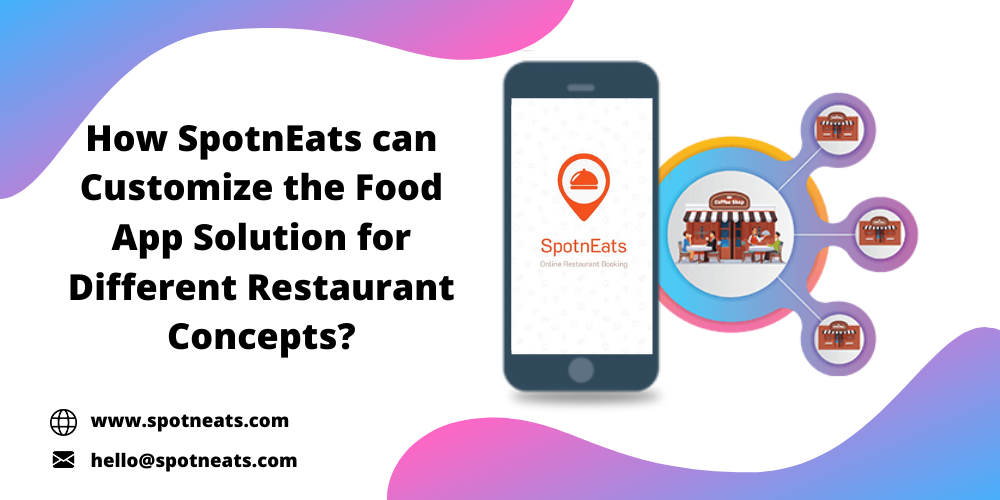 What is the Reason to Go with Online Food Ordering Startup?
By 2021 it is expected that online ordering will surpass offline orders for the first time. In 2022, the total revenue from online food ordering is estimated to be $235 billion. Restaurants that refused to adopt online food ordering are now experiencing 50% decrease in their day-to-day sales. These promising facts are just the tip of the iceberg; if you take the US and Europe market, the facts about food ordering are unprecedented. I think you have every reason to go with this idea.
Now we will explain SpotnEats app customization.
Varied app customization
Off late, we at SpotnEats are flooded with requests for our solution with different types of customization. This is something we are experiencing in recent times mainly because more restaurants with different working concepts adopting online food ordering. And, not to mention that SpotnEats has been the favorite product destination for many.
The type of customization ranges from tailor-made features, designs, nature of booking, size of app, user interface, and many intricate details.
Restaurant concepts and how we work for it
There are more than 30 different restaurant concepts we have worked so far and some of them are present only in some countries. Among them we will explain some common types used in many regions.
Fast food restaurantsFast food restaurants
Fast-food chains are the first in the restaurant sector to bring doorstep food delivery concept. SpotnEats has clients in this domain.
Since it is a fast-food delivery, we need to make the estimated time of delivery feature more precise with little to no lag. The real-time data is displayed fast by decreasing the latency rate. In order to reduce the latency rate, which transmits data packs faster, we give an option to disable firewalls when the customer app is opened. It is an obvious fact that latency reduces when firewalls are disabled.

Often fast-food chains have a specific time limit for delivery and to make it possible we suggest Machine Learning(ML) powered Google map navigation. ML extracts the bulk of information to process so as to increase the frequency of Map update.
Custom prepared food outlets
These types of restaurants are common in very few regions across the world. They cater to a niche user base who are most likely food aficionados and passionate cooks.
As the name suggests they don't have a standard menu for online orders, instead they get suggestions from customers to make custom food. Even if standard menus are offered, the users give extensive suggestions.
For this type of restaurants we add a function for customers to enter a note/description after a menu is selected. Since it is the USP of these restaurants, we take extra care to make the browsing and user interface flawlessly.
Food truck restaurants
The price of the menu in food truck restaurants is generally low and this makes them popular. Over time the quality of food preparation and hygiene improved since online listing mandates the restaurants to maintain some standards. SpotnEats get a lot of requests from food trucks.
For these types of restaurants, the customization we are asked to do is as follows.
The location of food trucks is not constant and changes depending upon dine-in demand. Hence we make sure that the new location is quickly reflected the customers surrounding the food truck. The same is updated to the delivery agent. This we do to ensure the online ordering is unaffected.

Ads and notifications sent are location specific. Hence, the food truck restaurant admin shall send such ads and notification effortlessly even if the truck location changes.
Cloud restaurants
Cloud restaurant is a relatively new concept that functions effectively by tapping the large chunks of food eating/ordering data of people. The main idea behind this concept is to prepare food only to cater to online orders.
Food delivery apps collect a large amount of data regarding consumer behavior and food eating pattern region-wise, this data shall be used to prepare food with minimum wastage and at right taste. This concept will be a common sight in a few year's time.
We at SpotnEats designed the web admin app to seamlessly share data to the cloud restaurant admin panel. Restaurant admin web app too has data analytics function to record and identify patterns using past orders.

Sophisticated, yet foolproof data analytics tools are incorporated in the restaurant/web admin panel to make data extraction and finding pattern easy.
SpotnEats are in the process of applying more creative functions to these types of models.
Get your Free Demo: Whatsapp | Skype
Final words!
I hope you are convinced of the customizations by SpotnEats. What I explained above is for individual restaurant types. At SpotnEats we carry out such customizations for stand-alone food delivery systems and online restaurant marketplace like Ubereats.
Innovative ideas from your side is humbly accepted. We have a skilled team to do it.
For more details about us, ping a mail to [email protected]. Our team is available 24/7 to answer you.