Nowadays, there are many on-demand based services everywhere, from on-demand taxi apps to food ordering apps are available in every region. In fact, all mobile application development companies are also switching to the development of on-demand based services. On-demand apps exist for providing different types of services like taxi, food delivery, and dry cleaning service as well.
According to the recent survey, the largest revenue share of 39.5% by dry cleaning service. In the USA, there are nearly 33,000 dry cleaning service markets and about 22,000 of them offer retail solutions too.
It is expected to show an annual growth rate of around 34% between 2017 and 2024 and so the value might reach approximately $96,155 million by 2024.
This blog is all about an on-demand dry cleaning pickup app. Here, you will be able to gain knowledge about how the on-demand dry application works and how our service made the work process simple with niche key-features. If you're an entrepreneur looking to kick start your own business, then it is best to start a dry cleaning business with an on-demand application.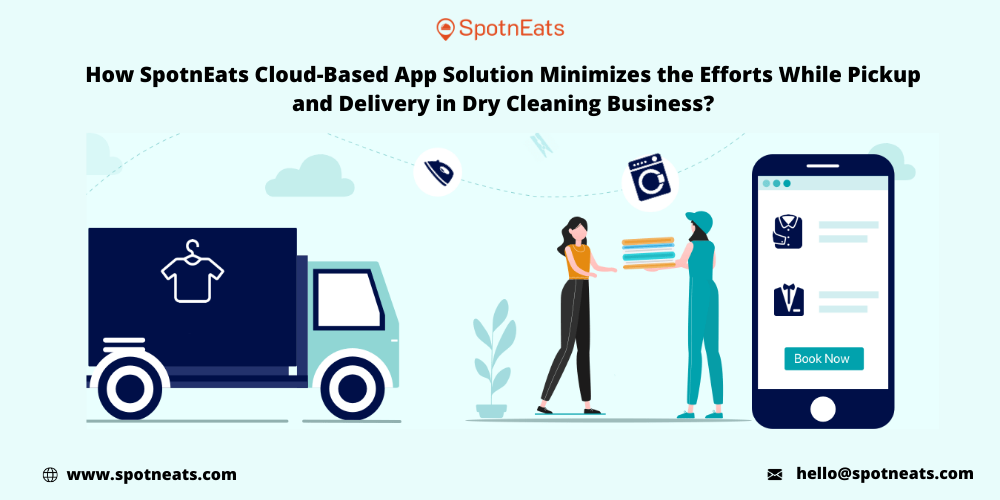 How On Demand Dry Cleaning Delivery App Solution Makes Your Business Process Easier Than Before?
In simple words, it covers everything expected in dry cleaning. A well-developed application also gives peripheral support, payments, loyalty points, notifications and reminders, laundry tracking, inventory, and 24/7 technical support. This helps you to manage your multiple stores easier.
You can link your stores with an application so you can manage your dry cleaning orders workflow and see all your merits in one place. The most interesting thing about using an on-demand application for your dry cleaning is that it will give exactly the estimated cost of your service before pickup itself.
There are many more features there to get adopted to your dry cleaning service but mostly there are some issues that have been dragging the entire service down. This happens only when your application builds very poorly or you would have not adopted your service with an on-demand application. Keep reading to know about the major issues.
3 major problems of dry cleaning pickup application and how to overcome it
Immense competition – People should be aware that you exist and provide the services they are in need of. Obviously, the on-demand dry cleaning pickup app won't reduce competition but you can try to make your service different from theirs.
A well-developed app will bring visibility to your brand and let people know about your services. Using the app, you can promote your brand by giving worthy offers and discounts to the users. With our software application, you can gain visibility.
Mismanagement in orders – Owning a laundromat is not an easy thing. You should keep track of all the clothes coming in, going out for dry cleaning or delivery. Other than that, folding after the wash is also a tough task. This shows that there are so many tasks at hand, there is a good chance for mismanagement.
The app can't able to help you with folding or washing but instead of those tasks, it will help you to maintain records digitally. That will take your business to the next level. The data will be stored in the app automatically, reducing the chances of manual errors. Delivering the clothes to the right person also made simple with our app service.
Unhappy customers – An unhappy or unsatisfied customer is the biggest issue in the business. Your customer is your highness and you need to treat him well. Their problem should be like your problem.
You can make your customers happy with a well-developed application that allows them to book their service at a convenient time without any lack of the process. Our application should give a smooth workflow then only you are able to gain the customer's loyalty. One such service is available in SpotnEats.
How SpotnEats allows you to manage your dry cleaning delivery business like Pro
SpotnEats is a solution that has been developed with the latest technology to overcome on-demand based industrial challenges. Here in SpotnEats, you will be benefited from a pre-developed dry cleaning delivery app. Why do you have to choose a pre-developed application rather than choosing the traditional way of developing an application?
Yea, I know that this question might have appeared among everyone, but young entrepreneurs are always ready to choose the pre-developed application. Because it doesn't cost you high and you're allowed to quickly start your on-demand business in your region. Why do you have to choose SpotnEats for your dry cleaning delivery business?
We offer you the whole application package at an affordable price with four interfaces on both the platforms (iOS and Android). We also provide you with the before and after launch service for a certain period of time that lets you get trained with your application. Our developer's main aim is to provide you the application with 0% of bugs or lacks.
These four interfaces in your used clothes donation application as listed below.
User's app (iOS and Android),
Laundry app (iOS and Android),
Delivery driver app (iOS and Android),
Admin web panel.
Here, let me share with you the 4 steps of your dry cleaning application workflow 
Step-1 The customer who is in need of dry cleaning can register with your application to continue your service. Once they register they are allowed to check the nearby pickup agents and send them the request.
Step-2 Once the laundry service accepts their request, it will automatically notify the nearby pickup agent to pick up the laundry from the customer's location to the laundry store.
Step-3 The customer is able to schedule the pickup according to their preferred time. It can be done by just a tap, it will instantly notify the date and time of the booking to the pickup service.
Step-4 The customer has to pay the required fee according to the service and the time. The fees will automatically be credited to the service provider and the admin commission fees. The admin is allowed to track and monitor all the processes in a single dashboard.
Step-5 Once all process is over the pickup laundry will be dropped to the laundry service for the dry cleaning. After the dry cleaning process, the service provider will send the request to the nearby pickup agents to drop the laundry to the customer's doorstep.
These are the four interfaces that connect all your users in a single application. Now let us look into the features that make these interfaces more user-friendly.
Pickup and delivery service made simple with SpotnEats dry cleaning mobile app features
Social media registration – This feature in your app helps the user to register their account easily using social media integration, it won't take too long. Within a sec the user is able to signup and continue with your dry cleaning service. This allows the customers to share their experience with your services to their features, it is an easy way to attract new customers.
Real-time monitoring – Once the customer places their pickup option they are allowed to track their pick-up service driver and with the accurate estimation time without any lack will be displayed. The pick-up agent can also track the customer's location with multiple route optimization choices. This lets them provide quick service to gain customer's loyalty.
In-build pop-up notification – This feature helps you to stay ahead among competitors in your region and also allows you to create a connection with all your customers easily. The pop-up messages help to convey all kinds of offers and discounts to your customers. This also helps you make the customer's satisfaction with worthy offers and discounts.
Service feedback system – This is one of the best features that allow customers to rate and review your pickup and delivery service. This feature helps to promote your service as well as brings visibility. By seeing those reviews and ratings the upcoming new customers will prefer to choose the best service.
Schedule Pickup – Your customers can customize their dry cleaning service schedule at any time. This helps them to personalize their pickup and delivery time according to their needs. This gives customers a full flexibility option.
Once you join your hands with us, our team will kick start your application re-design work along according to your business requirements. You are allowed to contact us anytime for the doubt clarification. We are here to aid you with before and after the support of the application launch for a certain period of time.
Bottom line
If you have an idea for an on-demand dry cleaning app, you do not need to get your time waste with unknown service. Here, in SpotnEats we provide you a full flexibility service with 360-degree support so that you no need to worry about anything. We also promise you that we will deliver your application at the right time. Still, why are you waiting? Contact us today at [email protected] or by filling the below form and we will reach you soon.