Nowadays, the delivery service has a higher demand than other services in the on-demand industries. Alike furniture pick up and delivery app solutions also gain the attraction of shoppers in recent years. By adapting your retail with delivery service, it will let you grow your business and allow you to reach your customer's expectations easily.
The survey shows that nearly 118 billion of sales has been gained by the furniture retail stores in the US in 2018.
It is also expected to grow even more than 5% of CAGR at the end of 2026.
The above-listed survey shows the demand for furniture in the upcoming years. If you're a young entrepreneur who is looking to kick start your own on-demand delivery business, then this furniture delivery will suit your needs and business goals. This blog is all about furniture delivery and management systems. Before getting into it, let me share with you the impact of an application.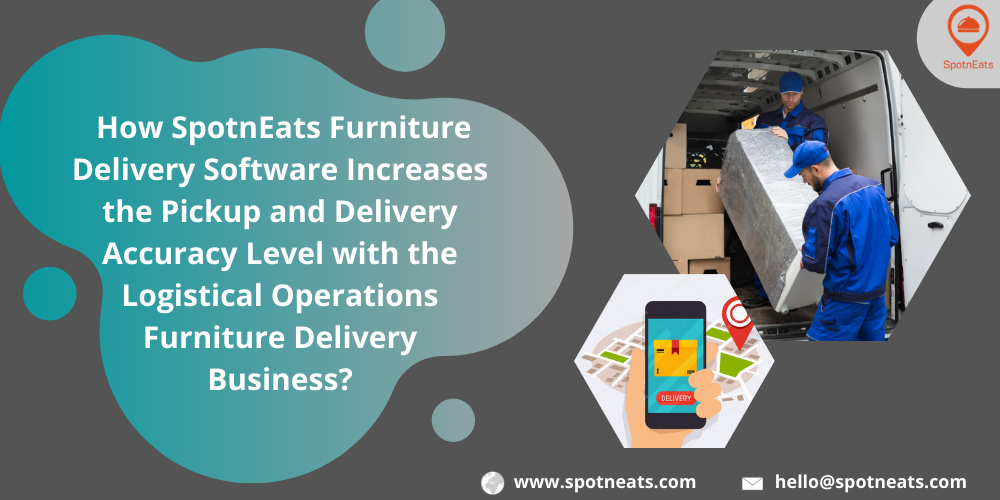 Impact Of Furniture Pick Up And Delivery App Solution
Always customers or shoppers want an immediate solution for their needs. An on-demand service gradually increases it by giving 100% flexibility to its users. They give full convenience to their customers by letting them order their needs at their needed time at an affordable price.
This system of service fits everybody's needs in the modern world because people are kept on running in our busy schedule. On our working day, we can't go shopping, and spending time in each shop will literally take a lot of time than we think. This application-based service reduces it and gives more efficiency to the buyers.
The attraction of the on-demand based service is pulling the high rate of customers expectations and fulfilling them in a short period of time. As on-demand service gains popularity, all the retailers are ready to tie-up with them to maximize their revenue. Here, let me explain to you the challenges retailers are facing nowadays and how an app covers it.
Get your Free Demo: Whatsapp | Skype
How a software service helps you to overcome business challenges?
Lack of visibility – There are more competitions in the current era. Without an application, you aren't able to bring visibility among your region. An application can quickly gain the attraction of the customers and brings visibility among your region.
Non-mobility – Customer interaction is one of the strategies to gain your sales profit. If you're not able to interact with your customers at the right time, then you're not able to taste the success of your business goals.
Inefficient management – Managing all your sales, in and out stocks in an excel or document or even paper will not be adaptable in the modern days. An application does it all automatically so that there won't be any errors.
Disconnected shoppers – You aren't able to reach all your customers with your worthy offers. Making the offers reachable will increase your sales more than before in the seasonal time. An application allows you to reach your customers easily in a short time.
But to overcome this, you're in need of an application solution to reduce the issues. Here, in SpotnEats furniture delivery app solution is readily available for you at an affordable price. Keep reading to know more about us and our service.
How SpotnEats Furniture Management Software improve your inventory accuracy
SpotnEats furniture pickup and delivery software help the retail stores to manage and maintain their store activities easily with just a tap. So we have designed and developed our application in such a way to make the retailer's work quicker and to reduce the mandatory errors. Once the mandatory errors are reduced there will be a clear view in your workflow.
That allows you to take the required action in your business for growth. By adapting to your software-based application, you can easily track your business process from start to the end. In other words, you can manage your inventory digitally and the bills will be automatically updated with full details of the customers. So that there won't be any chances for malpractice in your supply chain retail stores.
You will be benefited from a centralized dashboard so that you easily monitor all the activity of your stores and bookings that are placed in your application. It will also remind you on every occasion of the customer's pre-orders.
Our application is a pre-developed one with the advanced key-features so that will give you a smooth workflow and instant updates on every process. In SpotnEats, you will get the full package of four interfaces along with the post-launch technical support service. This lets you as an admin get well familiar with your application.
Shopper's application (iOS and Android),
Furniture deliver driver's application (iOS and Android),
Retailer's application (iOS and Android),
Centralized admin panel.
Furniture management software business model
Multi-chain Retailer – If you're an owner for the multichain furniture retailer, then his model is for you. In the business model, you can directly meet your customer's expectations and fulfill their needs easily with your application-based delivery service. In this model, there is no third party involvement so no need for commission.
Commission model – If you're interested in starting your own on-demand business, then this model exactly suits your needs and requirements. In this business model, you're allowed to connect the nearby retailers and this app brings their store to the visibility of your region's people. You will be benefited by the commission charge for each booking.
I hope by now you might have acquired the knowledge about how our application will optimize your store's functions. Here, let me describe to you how you're shoppers can place their orders and track their ordered furniture smoothly without any lack.
Shopper's Register and Request – The shopper who is in need of a same-day furniture delivery service must register with your application to place their same-day delivery order. Once the shopper is registered with the social media, they are authorized to check the nearby service providers who are ready to accept the shopper's request.
Store's Accept and Pickup – Once the shopper places the order, it will automatically intimate the furniture stores. The service provider can accept the shopper's request or reject it accordingly. If the retailer accepts the shopper's request it will instantly notify the nearby delivery agent to pick up the requested order from the store to the shopper's destination.
Scheduled Pickup and Drop – The shopper is also able to schedule the drop according to their needed time either it may be the same day at a different timing or another day. The scheduling process can be done by just a tap on the drop later button on the same interface. Once you choose a schedule, later it will ask the date and time of the furniture drop.
Delivery Service fare – The shopper has to pay the required delivery fare for the service and the time they scheduled to drop at their destination. The service charge will immediately notify the admin's dashboard commission fees and service provider too. The admin can track and monitor all the delivery and order processes in the centralized dashboard.
Service provider rating – Once all operations are over in the furniture pickup and delivery business. The shopper is granted to rate the delivery agent and service provider accordingly. This process brings clarity to your same day furniture delivery app solution.
How SpotnEats Logistical Operations made simple with specially integrated distribution tools that sustain your revenue growth
Furniture Delivery Management – As I mentioned before, our application has been developed and designed in such a way to meet all the end-players. This feature allows you as a service provider to manage your store stocks easily with just a tap on your store dashboard. This feature helps you to know the stocks in and out quickly.
Furniture scheduling – This feature allows the shopper to schedule their pickup and drop of their ordered furniture from the respective service provider. This feature permits the shopper to fill the time and date according to their preferred time of the service drop. So this feature gives 100% flexibility to your shoppers.
Ordered Furniture management – Once the customer places the order under secluded drop then it will be difficult for the retailers to manage it. So by considering that in our mind we have developed this feature. This feature allows the retailers to manage their all schedules and orders easily digitally and automatically so that there won't be any mandatory errors.
Multiple route integration – When it comes to the on-demand service then the delivery agents also play the main role in it. Once they provide your service quickly, then only you're allowed to gain the customer's relationship. So our developers have integrated multiple route optimization options that allow the driver to drop the service quicker than before.
Storage capacity tracking – To make the retailers work trouble-free, this feature has been developed. This allows them to check their storage or inventory digitally and it will intimate the service provider about the in-stock and out-stock. It will also send a reminder to the service provider about the un-available stocks.
Get your Free Demo: Whatsapp | Skype
Bottom line
Managing a supply chain or a retail store without an application has become tougher in this modern era. This shows the need for the application, that shoppers can shop their needs from anywhere at any time. When you choose SpotnEats, you will be benefited from a software application that gradually reduces the work effort and increases the revenue in a short period of time. To reach us, all you need to do is fill the below form or contact us at [email protected] and we will catch you soon.