Much has been said about the popular on-demand food ordering and delivering startups. It was started as a pilot project in the US by Uber as UberEats and soon it spread to all parts of the world. There is empirical evidence that when a restaurant lists its service in a third-party food app like UberEats, Doordash, Foodpanda, etc.

But still, it doesn't match what a standalone food ordering system for your restaurant can give. Below are the reasons for your restaurant to have a dedicated food ordering app.
Get your Free Demo: Whatsapp | Skype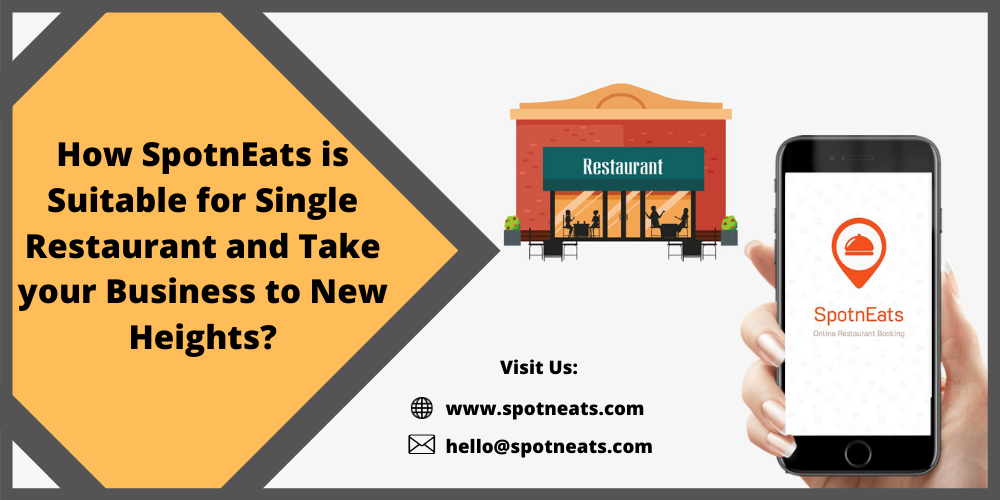 What are the Reasons to Have a Dedicated Food Ordering App for Restaurants?

In a survey conducted in the US, 95% of the restaurant owners say that their business improved food ordering apps improves business efficiency.
In 2019, over 80% regular diners outside preferred online food ordering.
When you have an app for your eatery, it itself creates more visibility than any other advertising forms. As a result, more revenue is generated. In some cases, restaurants have turned solely as a cloud kitchen catering only to online orders.
Many restaurants feel that app based interaction reduces their connection with the customers. Actually, this is a misconception. In fact, the AI based customer care bot improves customer engagement with its advanced language processing techniques.
SpotnEats Online Food Ordering Solution

So I hope by now you have sensed the importance of having an online food ordering app for your restaurant. Next step you need to do is to build the app solution. You need not worry, we already have a well build readymade app solution like UberEats and Foodpanda. What you need is to just buy, modify, and deploy the solution for use. Simple isn't it?

Our SpotnEats food ordering and delivery app consists of four interfaces.

The Customer Food Ordering App
Restaurant App
Admin Web App
Delivery Person App
SpotnEats is available in both iOS and Android.

Some Basic Niche Features in Our SpotnEats app

Real-time Order Update and Tracking – In order to enhance the customer experience, SpotnEats offers,

Real-time Order Updating and Tracking
Real-time Updates like Order Confirmed
Food is being Prepared
Delivery Person Assigned
Tracking the Delivery Person till Doorstep can be Carried Out.
Scheduled Delivery and Recurring Orders – A customer no longer need to order food right before he wanted. The scheduled delivery option is the app helps him to schedule order for any future date and avoid last minute hassle. Repeat orders can also be made for a long period.

Advanced Analytics and Reports – To improve the overall sales you need to have precise reports of day to day functions from where you can find the place of improvement. Our admin dashboard comes with advanced analytics which gives detailed reports.

Dedicated Features for Single Restaurants Using our SpotnEats App

Online Reservations – Apart from online food ordering and delivery, your users can also reserve a table from the app itself by providing time and date. At the same time, the user can order the list of food items to be provided. This enables the restaurants to better plan the daily operations and manage inventory.

Loyalty Points – Repeated visitors is imperative for any business and many are putting a lot of effort for this. You can do this seamlessly by providing loyalty points for every visit. The admin web panel has the provision for it. 90% of food app users mainly search for loyalty points. The data analytics in the dashboard can give reports on users based on loyalty points.

Digital Menu Card for Diners – Digital menu card is the next step in user experience. This is not like any other food ordering menu in food apps. In our app's digital menu card the user gets an immersive experience by viewing clear image of food items with ingredients. Dine-in users are the target who orders the food beforehand.

Wrapping Up!

Many of our clients who have single restaurants use our SpotnEats app and received overwhelming response in terms of sales and customer satisfaction. Do you want to experience the same? Then look nowhere, come straight to us to have a discussion on the app, its features, design, user experience, other managing features like inventory, payroll, customer engagement, and many more.

We are a team of interesting and passionate developers working on adding exciting things to our SpotnEats food app. You can talk to our clients and successful users to get a glimpse of what we are.
Get your Free Demo: Whatsapp | Skype

Recently we modified the app for dedicated cloud kitchens. Even many food startups like UberEats and Zomato are now partnering with cloud kitchens. So think about it and make a well informed decision. We are looking forward to you.

Connect us at [email protected] for more details.