Nowadays there are many strategies to increase your revenue easily within a short period of time. In that, taking your business online with the delivery system is the main strategy that everyone is taking part in.
How can SMEs? Yes, this question always arises among many persons but our answer is yes. SMEs can easily take their business to the next level with an application that helps them to gain more profit and reach among their region.
One such delivery application service is a laboratory report delivery service. This lab report delivery business will come under one of the on-demand delivery services. This allows the customers to get the report at their doorstep easily with scheduled time.
I know that you might be confused about the workflow and business model of this. Here, in this blog, you will get to know about the lab report delivery service. Keep reading to know more.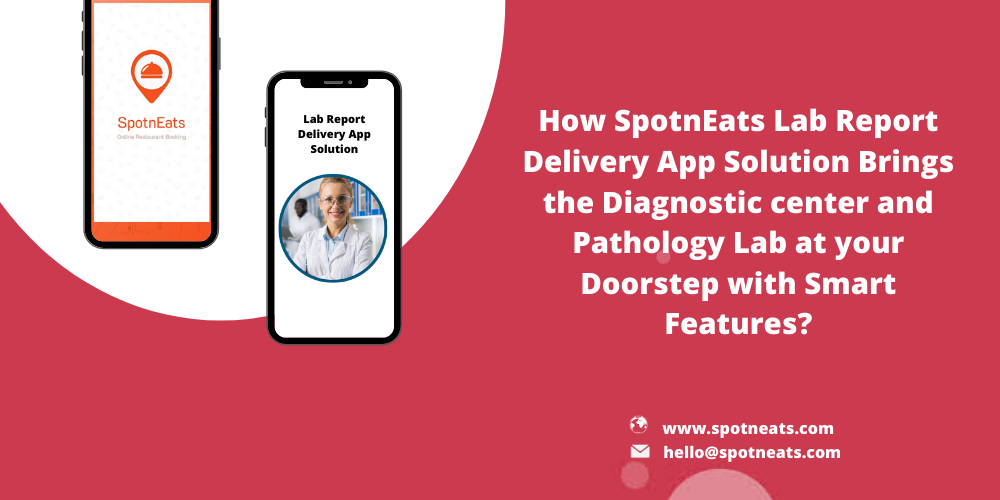 Is the SpotnEats Lab Report Delivery App Solution Worthy For Your Delivery Business?
The world has an equal population of baby boomers compared to Gen Z, the 2020 survey shows that nearly 73 million people are baby boomers in the world. People above the age of 65 are known as baby boomers. They are the major players in this business model.
Since they aren't able to travel to the lab and hospital simultaneously for their regular check-up. This service makes them a more convenient and easy way to check their body condition at their doorstep regularly.
In simple words, the lab is at your doorstep and you can easily take your blood test or other lab tests from your home itself. The report will also be delivered to your destination or to doctor consultation within a short period. Is this useful only for baby boomers?
No, here is the important thing you should consider in your lab report delivery business. Gen Z people also take a major part in this business. Since they are running in the busy schedule of their lifestyle they don't get time for certain things to take care of themselves.
Who will hesitate when the lab is at their doorstep? This shows the worthiness of the lab report test delivery system. Here, let me tell you how we SpotnEats take this lab report delivery app solution to the next level and increase the revenue.
Get your Free Demo: Whatsapp | Skype
SpotnEats lab report delivery app solution
SpotnEats is a modern software solution that easily allows you to overcome all the challenges that you're facing in your business. We are grouped as a team of experienced persons from a variety of framework knowledge.
We have successfully launched our service all over the world with happy clients. As I mentioned before, we have already had a pre-developed lab report delivery system application. Since it is a pre-developed application it won't cost you more.
You will be benefited by a uniquely designed application with advanced niche key-features that reduces your workflow and allows you to generate more revenue easily from the first booking. Here, let me tell you about the advantages of choosing our software.
Advantages of lab report delivery system
Easy booking – The customers are able to book their services with just a step. They can also book their services at any time and from anywhere. All they want to do is to create their profile, insert with the required details, and then they can track their report easily.
Just a few steps and the report is delivered successfully at their doorstep. They can also give a different location to deliver their report (hospital).
Instant notification and real-time visibility – With our software, you can provide them proper updates and real-time data to your customers. This allows you to keep them happy and allows you to gain their relationship quickly.
By having access to the real-time notification, they can find it easier to track their report along with the full details.
Accurate delivery cost estimation – This is one of the main advantages in every on-demand business application. Here, our software perfect algorithm allows your customers to know their estimation cost before placing the booking.
With our flexible software service, you can easily fix the timing that allows your customers to know your available time.
By now, you might get to know about the advantages of choosing our software that allows you to take your business to the next level of report delivery service. Here, let me tell you the business model of the lab report delivery service.
lab report delivery business model
Though our software application is more flexible it has two different business model as listed below
Type 1 – This application can be activated by a medical laboratory to take their business to the online presence with our application. By this, they can easily get more customers to their laboratory quickly and bring more visibility in their region.
Type 2 – If you're a Doctor, you can also get and launch this application in your region. So that your patients can use your application and get their lab reports easily and then they will be consulting your service quickly. This is a fast process made simple by an app.
Type 3 – If you're not a doctor or don't have a lab, not at all a problem. Here, in this type, you can launch your application in your region and connect all the laboratories in your regions. By this type, you can gain revenue by a commission of each booking.
The above three models allow the admin to gain equal revenue in a short period of time. I hope that you would have got a clear view of the business model and have chosen your business model type. Here, let me tell you the workflow of your application.
The seamless workflow of your application
At first, the person/patient who needs the lab report has to download your app from the respective store and fill the required details to continue with your application service.
Once they complete the downloading and filling the required detailed processes a pop-up notification that allows them to choose the lab that they want to get their report.
And the user has to choose the type of service they want from the available service of that lab. The user can also schedule their booking as per their convenience.
The lab technician will reach your place once the booking is done and will do the required test that you have entered and will deliver the report to the doctor or the destination you have mentioned while placing the booking.
The above all process can be monitored by the admin from the web panel dashboard with instant notification updates. The admin can also monitor is business growth easily and all the details of the users.
The smart key features that reduce the stress
Customized dashboard for labs – The lab authority can customize their lab service in a regular period of time easily with just a few taps. There is no need for coding knowledge to customize your lab service, just a tap is enough to change the service.
Multi-language and Multi-currency – This is one of the advantages in your application that allows your users to choose their preferred language and the currency because we can't be sure that all your customers are local.
Multi-routing optimization – This allows you to reach your patients easily within a short time. Once the patient books your service. The application will show you the multi-options of routes to reach your user.
The above mentioned are a few of the key features that help to gain a good relationship among your users. There are a lot more features available with us once you join your hands with us we will discuss about it.
Get your Free Demo: Whatsapp | Skype
Final say
By now you might have a clear view of our successful application features. As I mentioned above your app will bring you the profit only if it is developed in such a way that allows reaching your customers quickly. No worries we SpotnEats are here to develop your lab report delivery service app according to your needs. Still, why are you waiting? Please fill the below form or contact us at [email protected] and we will be back to you shortly.