The fully loaded on-demand food delivery app solution from SpotnEats which includes an all-around long-term customer assistance has earned us a good name among our existing clients. This long term assistance of ours is what differs us from other top on-demand food app software makers.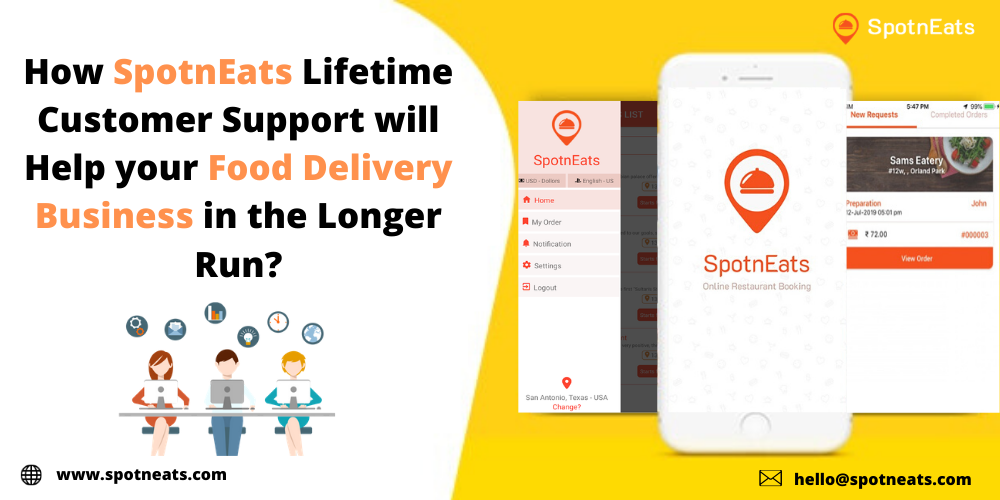 Equal effort is invested in the after-sales assistance for our SpotnEats food app patrons. Since our firm has a good network of well established food app startups across the world, we are able to get valuable inputs in terms of,

Food App Technology
Database
Features, etc and implement in the app before anyone.
So anyone who partners with us need not worry about technology update and latest trends in the on-demand food delivery business even after the app is made live. Our SpotnEats food app is built in a flexible way to accommodate changes without any change in its core performance.

So from here you can understand that we give a business solution unlike others who provide only a software script for a price. Also, most of the on-demand food delivery app startups are founded by entrepreneurs with little to no technical knowledge, so an app developer with exemplary assistance like us can give you much needed edge over others.

Now we will see how our services help you in different ways.
Get your Free Demo: Whatsapp | Skype

100% Source Code with Zero Encryption

We give you long term assistance for the food app and this doesn't mean that we have a control over the app solution you purchased from us. On purchase we give the app solution with all the interfaces with 100% source code and zero encryption.

You can even modify the apps without any interference from us. Any modification from our side is done only under your view.
What We Offer After the App is Made Live?

Dedicated Support Panel with a Project Manager
24/7 Email, Skype Support & Calls
Third-party API Integration
Server Management
Logo Design
UI/UX Design Change, etc are carried out by us.
Android Play store and Apple store deployment are also carried out instantly.

These are some mandatory basic services we provide for free for sometime. Our SpotnEats food app script is whilte labeled, so logos can be modified and revised anytime.

Apart from these, we do:

Regular App Update
Issue Fixing
Latest Technology Integration and
Feature Addition
Steadfast Technical Assistance

It is inevitable to have app crash and bugs in the app solution after it is made live even though we tested the solution in multiple situations.

Anyway, our app development team from both the Android and iOS side gives you quick fixes for app crashes and bugs. This work will be assisted and completed on-time by the project manager assigned to you.

Feature Addition and New Craze in the On-demand Food App Market

Change is constant for the on-demand food app industry. Frequent changes in the food app based on new trends, consumer behavior, expectations and competition are common. We take this earnestly and quickly incorporate new feature addition and design change in the app before it is ripe in the market.

Other existing features and third-party APIs like Google Maps are revised and updated. The look and feel of any app is subject to change frequently and we constantly monitor the design trends to implement it.

Estimated Time of Arrival of Order
Accurate Navigation on the Map
Inventory Management in the Restaurant Web Panel
Offline Orders
Scheduled Orders, etc.are some features we added to the existing clients.
The technical team of SpotnEats are well aware and have the knack to apply any relevant advances in Android and iOS.

Porting and App Store Management

Porting process is done to increase the reach of the food apps thereby increasing the downloads. Under the view of the project manager the on-demand food app solution is converted to suit multiple platforms to be used in different app stores.

The project manager generates reports on the:

Area of the App Operation
Most Used Platforms
Most Used App Store
Data on Downloads
Reviews, etc. to undertake planned porting.
Wrapping Up!

We provide all these lifetime support to honour our commitment for a complete business solution. Benefits you derive from this includes:

Competitiveness
Inexplicable App Performance
Increased App Downloads
Ease of App Usage for your Users
Much Needed Cost Cutting and many more.
First, connect with us to get a feature loaded SpotnEats food app for your online food delivery business. We follow a four stage process namely, 

App Blueprint Building
App Customisation
App Testing and deployment
App maintenance
See that we have app maintenance as one of our process, so remember the quality of service you can expect from us.
Get your Free Demo: Whatsapp | Skype

Want to launch a blockbuster food app and have an edge over others? Then send a mail to [email protected]. Our customer executive will reach out to you soon. Let us together take down other giants seamlessly!