Imagine if you're allowed to get your coffee from your favorite restaurant at any time just by a tap on your mobile phone. A cup of good coffee can easily change your mood to get you back on track. One such solution is the on-demand coffee delivery system.
The users can place their orders from various listed cafe shops with a lot more offers and discounts on each item. Isn't it worthy? Yea people love to have their coffee at the same time when they get a worthy offer and discounts.
I'm 100% sure that it will be a boon for all the cafe shops. Since people are running in the busy schedule of their day to day tasks. These on-demand applications are more useful for those Gen Z people. They can place their orders from their convenient place at any time.
Get your Free Demo: Whatsapp | Skype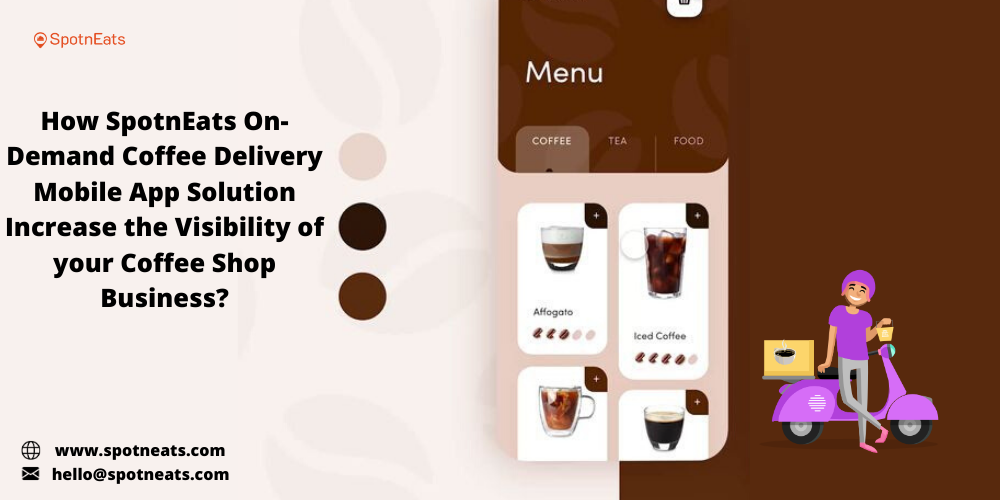 Why is the Coffee Delivery Service the Future of On-demand Ordering?
A mobile app can improve your business
You might be doubting whether an application can boost your cafe shop business? or Are there good revenue schemes for coffee delivery service? My answer is yes. As I mentioned above we people are running on a busy schedule of our life.
So that people are not having enough time to reach your place to take their favorite coffee. More than that you cannot reach your potential customers always with your shop special offers and discounts constantly.
With the help of an application, you can easily reach your customers with your daily special offers in your shop. This brings no more revenue loss in your business and it also makes your customers get their orders at any time to their doorstep.
Improves the customer's ordering experience
Nowadays most of the industries are taking their business to the next level with an application to get more bookings. This makes the customer's task easier by pre-booking or booking their orders and paying their order by just a simple quick online translation.
A multiple-choice of items listed in the menu,
Coupon codes and promotion codes on the first order,
Enough time to place their orders,
Tracking their orders in real-time,
Though it gives more pros for the customers by a coffee delivery application. There are some major challenges that have been faced by many coffee delivery services. Keep reading to know about it and how our software features overcome it easily.
Three major challenges in a coffee delivery service
Even the best idea and the on-demand services are suffering in their business revenue growth due to the challenges. Coffee delivery is also one of them. Here, I have listed the major challenges in a coffee delivery service.
Long time on waiting – Once the customer places their order they will be eagerly waiting for their order, that too when it comes to the coffee delivery service they need it to be delivered in a few mins after they placed their order. Unfortunately, many services fail in this issue. This brings a bad impression on your service.
Peak time – If you can wait a little bit later in the morning or afternoon you could save yourself time to get a quality coffee. There are peak times in a coffee delivery service when everybody wants your service. Avoiding peak hours is tough because people will be surrounding you and maintaining the online orders mismatch the whole process completely.
Order quality – The best thing coffee is its aroma. When people smell the aroma of coffee will make their mind relax more than before. People will not get compromised in coffee taste. It's important for the customer to go with a service that they trust in getting a high quality of the coffee. Mostly many services try to fulfill this in their coffee delivery service.
The above challenges can be overcome by well-developed software, do you wonder how? Here is your answer, keep reading to know it is overcome.
SpotnEats coffee delivery app solution
SpotnEats is a modern software solution for all the on-demand industries. Our software application is a pre-developed one. Buying a pre-developed app will cost less than you think because you are not going to develop it well by appointing a developer or a team. 
It doesn't mean that it will have low-level performance some might have. But our service is not so. We developed your app with the latest trends with the best UI/UX to attract your users and to make them more user-friendly with bugs free.
There is no need to worry, even if you don't have any knowledge about an app and its performance, our team will guide you and we also provide you before and after service. This will make your application earn more revenue along with our guidance.
How does our software give you more visibility in your mobile ordering app for coffee shops?
Then a website customers use to place their orders through a mobile application. So it has become a must to have mobile applications to get more orders from customers all over the region. You can also accept the orders or reject them just by a tap.
By launching your application with our software, you can easily grab the potential customers of your business more quickly than before. And the other cafe shops that are pairing with your application will also gain their targeted customers easily.
The key features that overcome the core challenges of the online coffee ordering system
Multi-Route optimization – We can't keep our customers waiting for a cup of coffee. Here, with the help of this feature, your delivery agents can easily optimize their route. It will suggest the delivery agents an optimal route for quick delivery.
Rate and review – An application can't change or give a high quality of coffee to your customers. But the feature rate and review allowed them to make a good decision about choosing the right cafe shop to place their orders. A customer is allowed to rate the service and cafe shop once they receive their order.
Scheduled order – Your customers can also pre-place their orders with this scheduled order feature. With the help of this feature, they can get their orders quickly even in the peak time of the cafe day. The shop owners are allowed to manage the orders easily by just a tap.
The above mentioned three features are allowed to overcome the challenges that are been faced by other coffee delivery services easily.
Final say
By now you might have got the knowledge about your on-demand coffee delivery application. Having a presence online is just one step ahead you can make sure the growth of your business. 
Get your Free Demo: Whatsapp | Skype
Still, why are you waiting? You can gain visibility of your business with our software. A simple step to contact us is to fill the below form or through [email protected] so that we could know about your idea and we will catch you soon.